[dropcap style="font-size:100px; color:#992211;"]K[/dropcap]agoule (Cai, Lucy and Lawrence) lured Trebuchet's elite team to witness them headline The Garage on a balmy evening in July.
After being teased by the spine crunching Pearl Harts and the amphetamine energy of Spoilers, we were woefully unprepared for the Kagoule delivery.
We stood and imagined aliens crash landing in Nottingham, absorbing the Wiki page on music and heading off to a London stage thinking that's what humans do.
Art meets rock, shakes hands with pop, fondles a plethora of sub-genres and fucks post-punk in a jumbled bed of melodic swaying, sometimes robotic, sometimes dark, occasionally explosive and often hypnotic tunes.
Rocking the pudding bowl Joan Of Arc-esque haircut, the female bassist undulated and rippled her petite Venusian frame like a creature possessed whilst the love child of Andy Warhol parried her throbs and deflected her thrusts with a rapier like guitar and vocal Attaque au Fer. The combination of male and female vocals over the Americanised wall of sound added a trancelike quality to this extraterrestrial performance.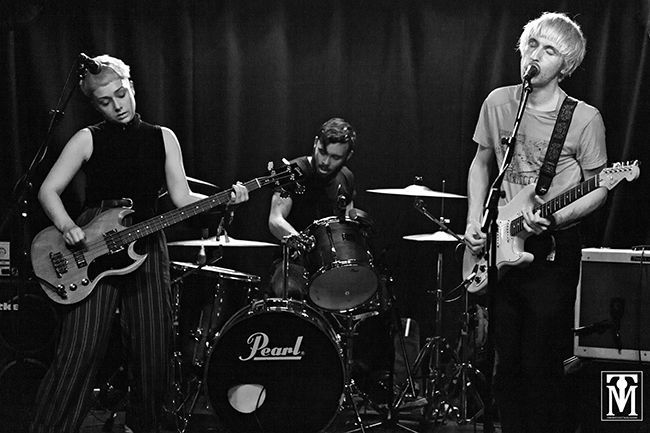 We strongly recommend you volunteer for a probing and see them for yourselves before the mother ship takes them away.
This is what the band said…
Another gig overflowing with lovely people who made it well worth the travel from Nottingham. Pearl Harts and Spoilers were great. It was a night of killer guitar tones. There were a fair few faces there that I hope we pleased. Can't wait to be back at The Garage.
Nearly confirmed a tour for September time, which we're very excited for. Expect an announcement on our websites soon. A few unreal opportunities are coming through at the moment. Apart from that we'll be doing what we always do… write, record and gig.
– Kagoule
(and probing, possibly.)
All photos by Carl Byron Batson. Not to be reproduced without express prior permission.

Photographer, published poet, former party animal, body builder, grave robber
to the stars and renowned chainsaw juggler, Carl can often be spotted on his
Harley Davidson pretending to be in Terminator 2. He is also frequently seen in
the press pits of old London town, camera in hand, avoiding being hit by bottles
of wee and crippling his opposition with secret Kung Fu moves.