Joshua Roman is a Los Angeles-based artist who plays with various themes in his portrait based illustrative works.
While the precision he employs conveys an almost photorealistic sensibility, the way in which he accentuates his subjects suggests that he's more of a surrealist at heart.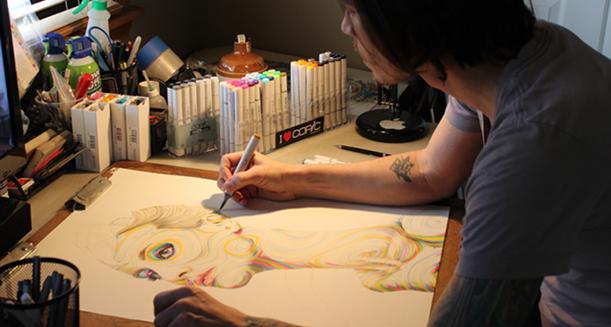 Roman outfits most of his subjects in Elizabethan corsets, collars, and ruffs, but he also adorns them with an intriguing array of items that reveal his reliance upon the subconscious as a means for inspiration. While one of his figures gazes at viewers from behind a deep-sea diving helmet, another remains trapped inside a fishbowl.
There's no denying that the subject matter of Roman's work is
strong enough to prompt curiosity on its own; however, one truly intriguing aspect about his illustrations in marker concerns his use of colour.
How Roman manages to employ such a bright palette to communicate the facial contours of his subjects' faces remains a bit of a mystery. Yet, his uncanny ability to do so amidst a monochromatic selection of greys that colour the remaining constituents of his compositions is what ultimately lends a definitive edge to his work that is difficult to ignore.
Roman's work will be next on view in the group exhibition, Memento Mori at Penunbra Gallery, Lisbon 16 Nov – 16th Dec 2015.