[dropcap style="font-size:100px; color:#992211;"]A[/dropcap] strong album from a respected musician that solidifies a reputation, if never quite eclipsing earlier glories.
One of the longer titled releases from Justin Broadrick, Every Day I Get Closer to the Light from Which I Came begins with a strong if basic distorted guitar premise on 'Homesick' that conjures the musical and emotional wasteland of downtempo Helmet and 90s indie of that ilk.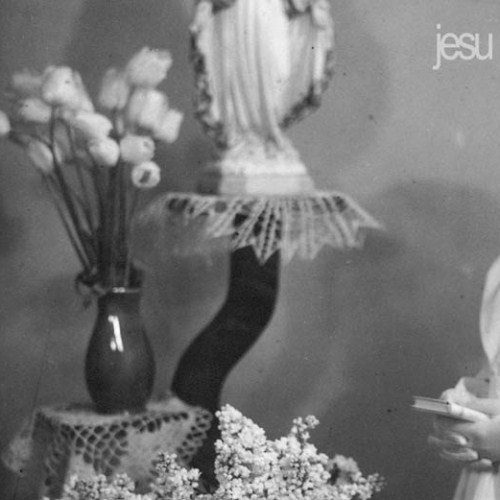 Machinelike drums hammer out a driving tattoo while a pointillist single string melody is eked out above all.  It's nice enough and the production feels tight, however the song never really seems to go anywhere.
'Comforter' is one of the great Jesu compositions with layered samples and choral background vocals pushing the composition into noisy plateaus. As with most of Jesu, the specific subject matter never comes into focus. However, the emotional tone of yearning, doubt, and promise is immediate, recognisable and passionate. The soft verse, hard chorus, drift and then elevated hard chorus kinda mirrors the emotional journey that Broadrick is spelling out, so it works.
The challenge for Broadrick is how to use his recognisable style with other emotional subjects when they don't map so easily to what might be thought of as his template.
The Great Leveller
'The Great Leveller' is undoubtedly the title track of the album regardless of what the album is actually called. Coming in at seventeen and a half minutes, it's epic. Starting with a hesitating piano figure and with strings, drums and guitars being introduced slowly, there is more than a little (coincidental) resemblance to the opening of 'Handbags and Gladrags', before we're brought into a chugging section of music that will satisfy heavy bangers but came across muddy and unrefined through this reviewer's  speakers. However, given the breadth and sweep of the track it's an emotional movement rather than a defining statement.
On atmosphere alone 'The Great Leveller' ranks highly and the middle horn and strings section (around ten minutes in) are a real and definite success and it's leading into the final stretch where it really gets going. In the mind's Fantasy Band we can see Broadrick and Mark Kozelek working together (Kozelek released Jesu's previous album Ascension) to nuance a shared perspective and to create the uber-melancholy symphony that 'The Great Leveller' alludes to.
With traces of Kozelek's epic songs like 'Void and Gentle Moon', from nine minutes on, we're in hugely satisfying musical territory that feels like Kozelek is right there in the room cheering Broadrick on. Associations aside, 'The Great Leveller' is a high watershed moment for Jesu, and fans will hear a clear reference to what we must consider the right way forward for the band.
The band, of course, being Broadrick isolating his preoccupation with indie melancholia from his other musical forays.
Fatigue
Is the success of 'The Great Leveller' enough to elevate this release? More of an EP with filler than an album, so arguably not. On the whole, Every Day… owes much to Kevin Shields without capturing the central attitude and pouting posture that made My Bloody Valentine so much fun.
Jesu has always been Broadrick's ode to denouement but with 'The Great Leveller' and 'Comforter' standing out as new and true musical developments, we can see the old template (i.e. the other tracks on the album) showing signs of fatigue. This is one to buy the individual tracks from iTunes rather than shell out for the Vinyl (which, when directed, you MUST do).
Recommended with caveats.