[dropcap style="font-size:100px; color:#992211;"]A[/dropcap] sea of greasy quiffs and Betty Page fringes of varying heights greeted the eye.
At the same moment, the waft of pomade and cheap lacquer greeted the nostrils at Islington Assembly Halls on the 22nd of January.
Gentlemen in their 50s style work shirts and ladies in their best Vivian of Holloway couture had gathered to make JD McPherson's sold out London show a vintage night to remember.
Supporting the McPherson ensemble and adding some frosting to the cake were two wholesome-looking country boys going by the name of The Cactus Blossoms.

Two guys with guitars was all it took to transfix the appreciative retro style audience. Authentic country with some outstanding harmonies and guitar picking that sounded just like it was oozing out the front door of Sun Studios on a balmy summer's day, or a ghostly echo from the Louisiana Hayride. The whole Cactus Blossom sound was just……….well it was just right.
JD McPherson took to the stage with some whooping and hollering and ripped right on into their set without any fussing.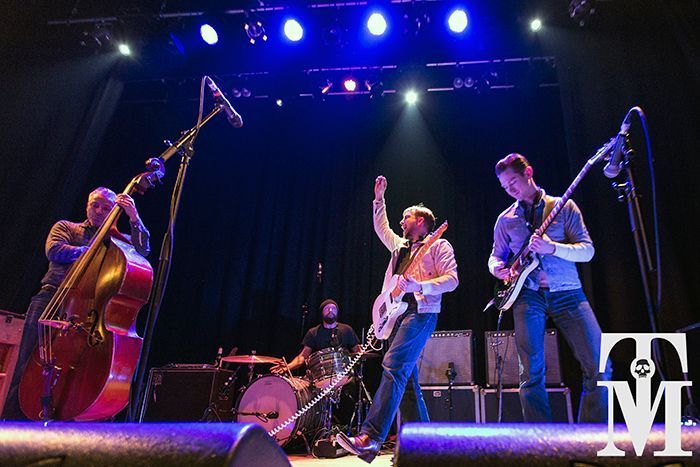 Not much can be said that hasn't been said before. An authentic rock and roll, rockabilly and rhythm and blues sound that sounded great on Bob Harris' radio show en route to the venue but sounded outstanding live. It was easy to see and hear why this show had sold out.
This was instant toe tapping feelgood music and JD and the boys looked like they were having a genuinely good time up on stage. From 'North Side Girl' to 'Fire Bug', the whole show was just one big rockabilly party and I've honestly not seen an audience filled with so much joy for a long time.
Let the good times roll.
Photos: Carl Byron Batson. Not to be reproduced without express prior permission.

Photographer, published poet, former party animal, body builder, grave robber
to the stars and renowned chainsaw juggler, Carl can often be spotted on his
Harley Davidson pretending to be in Terminator 2. He is also frequently seen in
the press pits of old London town, camera in hand, avoiding being hit by bottles
of wee and crippling his opposition with secret Kung Fu moves.