[dropcap style="font-size:100px; color:#992211;"]R[/dropcap]eptile Youth are not your average indie dance act.
After touring China and Europe extensively and gaining a reputation for frenetic live performances, they were booked for festivals before even releasing a record. A Danish duo consisting of Mads Damsgaard Kristiansen (vocals) and Esben Valloe (bass guitar) their eponymous debut album is now out, a lively blend of electro new wave pop with hints of The Rapture and The Faint.
Currently touring, they played a rare London gig at the self-consciously hip Hoxton Bar and Kitchen, accompanied on stage by their guitarist, drummer and synth player. I spoke to them before the gig and asked them if, given that they are being hyped as one of the bands to watch for 2013, they felt under pressure to deliver:
Esben: I think we've been delivering for a long time so it is nice that there is an audience.
Mads: That's actually one of the things that I think this band is really great at – delivering all the time. Also putting a lot of heart into the concerts and into whatever we do. We like that, the more pressure the better. I like a lot of people, a lot of eyes. But I also think it's nice to have diversity in the gigs so sometimes if you play a concert to 500 people and then another day just 10 people, it's also kind of nice.
Unusually for a new band, big name producers have been queuing up to work with them. The album is produced by Dave M. Allen (The Cure, The Sisters of Mercy and The Human League) and Hot Chip producer, Mark Ralph. I asked them how their songwriting process works and how much input they have on the production.
Esben: We're really keen on working with other musicians. Most of the songs are co-written with one of our friends and now we're doing different collaborations at the moment to sort of challenge ourselves to get something even more fresh.
Mads: We like to have input on the production and that's kind of hard. It all starts with friends and I've been in a summerhouse by the sea in Denmark for ten days completely alone just writing songs and reading books and that's how the songs start, like with the lyrics and some melodies. Then we go together, me and Esben and most of the time a third guy as well, making a song, start with guitars and pianos and finding the chords and building the drums and putting on synthesisers or whatever, and then we record a demo… go into the studio and focus on the sound.
With regard to the future, they told me that they would love to work with Flaming Lips, Beck, Damon Albarn or the Chemical Brothers. Do they feel that is now within their reach?
Mads: Actually we kind of decided to take it the other way because the record was with these really hot shots so we're thinking about doing the next record in Copenhagen with our good friends and making it more ourselves with just good friends. I think the producers for the first record were amazing and we really liked those guys, and it's not because we don't want to do something like that again, but I think we just have a feeling that it could be nice to try it out and see what happens, because potentially it could be great.
Esben: I think it's key for our project to change the collaboration partners once in a while and shake what we've got in order to stir it up.
Mads: That's another nice thing about this band, we never really know what's going to happen. We've done a lot of really stupid things, or at least weird things that somehow made sense in the end. Like we started our career in China, it's a wrong thing to do because China is such a hopeless country for musicians. Probably the worst country to start a band would be China. We looked at each other and we were, I bet it would be nice to do that because nobody does it and it would create something within the band.
Given their reputation as a live act rather than a predominately studio band, do they always intend to make a sound they can replicate live?
Esben: I think we try to keep it out of our heads when we're in the studio because in the studio we have so many opportunities and we'd rather not restrict ourselves to just being a live band when we make a record.
[quote]I think you owe people to just kill yourself for them wherever it is[/quote]
So which do they prefer, recording or playing live?
Esben: It's like which do you prefer, beef or chocolate?
Mads: I think there's magic in both. I think people can tell that we care, I think people can tell that every night we give everything we have and it means a lot to us and it shines through and we're pretty ambitious about it. We want to give people something they don't get every day because there are a lot of bands out there and a lot of concerts.
It's still strange to me, it has been a little bit harder for us to break in Britain than other places. We've had a long tour and suddenly when 400 people in Berlin pay £20 to see us, I think you owe people to just kill yourself for them wherever it is. That's how I feel. I think it also grew out of the fact that we were going to too many shows where we were like, 'I really like this band', but when I see them it's like they don't care too much. I really like when I go to shows and I see people and I think, fuck, it means a lot to this guy or this girl that we get the full experience of what they can do.
Do they feel drained after their notoriously energetic stage performances?
Esben: For some time, but then it fills us up again.
Mads: After the show I have to take half an hour where I don't speak to anyone. So I feel really drained but in a good way. When the show is finished I sometimes feel a bit mellow somehow, I don't know why, I feel very empty, but then I get back into the world again. The worst gigs for me are the ones where I don't feel I was able to put myself completely into the show. That is way harder for me than breaking bones or smashing something.
Each of the tracks on the album has its own video, each with a different director – how much input did the band have in the videos?
Esben: We try to delegate as much creative responsibility as we can but of course we like to have videos that reflect who we are so it's always very key to have the heart of the video director in the video project.
Mads: It's actually like an art project because we decided to make a video for every song on the record and have 10 different video directors and very much put it into their hands, let them do whatever they would love to do about the song. I think you can see it already that the videos are quite different in style. But it's just like the record is, the record is already pretty broad and it is our debut album and I guess in a lot of ways we're still trying to find out who we are musically and visually and all that, so in that way I like it quite a lot.
Can they see themselves branching out into other types of art?
Mads: I can very much see us branching into other stuff. I think the band could turn into more like a movement maybe. We're very open to those kinds of things. I would love to have Reptile Youth being also paintings and installations or whatever, if we could keep it all under the same roof, it has to make sense.
Esben: It's what I feel is happening already with the music videos, it's just collaborations that make sense.
The album swings from joyous exuberance to intense melancholy, from the intoxicatingly upbeat tune, 'Shooting Up Sunshine', which expresses the sheer joy of being alive to 'Dead End' with its dark, intense, apocalyptic verse followed by an equally intense yet catchy chorus with disco drums. Are they happy?
Mads: I think we are in both ends.
Esben: The lyrics on the record are very split tempo-wise.
Mads: Some of them are very happy; some of them are mellow or depressed. I think in the beginning when I wrote a lot of the first songs for the record, I was in a point of time when I didn't feel too happy and then I slowly built my way up out of the darkness and all the happy songs came.
So what's the story behind one of the standout tracks on the album, 'Be My Yoko Ono'?
Mads: It's a kind of nice story. We were in China, it was a Sunday and I decided to go to this jam bar in Shanghai. I was there and there were these horrible American guys, conservative guys really masturbating on their instruments, really trying to show off and I hate that part of the music scene. I was getting pretty annoyed and then this young Chinese girl jumps on stage and she takes the microphone and she starts this long poem and sometimes she sings a little bit.
It seems as if she's just inventing stuff as she goes and I thought it was amazing, her words were so right and also because it was so brave of her to stay up there because these guys didn't want her to be there, they just wanted to play their things and she completely took over somehow. While standing there, me and my friend came up with this line, which was like, "Please be my Yoko Ono, for you I'll break up my band," and it was just a line that came in and I was like, fuck!, I've got to go out there and sing it to her.
Then I jumped up on stage and sang it to her and she got really scared and jumped offstage and I was like, ah that wasn't supposed to happen, but then I just went offstage and I was sitting in the bar, she came over and we started talking. She had this book with poems in it, she started reading these poems and I really liked her poems. Then at one point I said to her, let's write a poem together and we started writing a line each.
So she would have a line and then I'd have a line and we did that for a long time then somebody in the poem wrote, let's not talk any more, let's just write. We started communicating through the poem and it was half poetry and half like, 'do you want another beer?', and trying to be poetic. It just kept on going.
The bar closed and we went back to where I lived. I lived in this apartment and we broke into the ceiling of the skyscraper and it was 35 storeys high, an amazing high building, and we were sitting on top of it and we continued doing the poem and then we went down into the apartment and we slept together and then we woke up the next day and continued and then I followed her to the bus and just continued and then she left. And then that was it. I have seen her since.
Actually I wish I hadn't, but then again, I was so curious it was so hard for me not to. But I didn't talk to her for two weeks and then I met her again. The chorus is what I sang to her on stage, and then I took the poem and I just found the best parts and twisted it a little bit. That is the verses, so it's kind of actually the poem. But it was a 10 page, really long poem, so I just took some of it and squeezed it into verses. We've just decided not to play this song tonight.
Oh well, you can't have everything.
Continuing the Yoko theme, their live set tonight does however include a cover of John Lennon's 'Gimme Some Truth' which Mads introduces on stage as being "more relevant than ever." So are they political?
[quote]we really like the energy in riots[/quote]
Mads: We really like politics for the energy because there's so much energy in politics. It's about trying to form a society or form a world together and just a lot of emotions and a lot of thoughts and hearts and all that, and we like that. I think that one of the inspirations for the first record was riots; we really like the energy in riots. Like for instance what happened in the Middle East or in North Africa.
Esben: And the riots in London.
Mads: Exactly, like the student riots. The energy of it for musicians like us, the energy of it is very compelling and interesting.
There was certainly no shortage of energy during their performance in Hoxton Bar and Kitchen. Despite his unimposing stature and babyface surrounded by curls, Mads has a compelling stage presence coupled with extremely versatile vocals, with more strength and depth than most dance acts. Striding onto stage, he tempts us with an introduction laced with yelps before launching into the anthemic groovy disco funkiness of 'Black Swan Born White' with his arms outstretched like a latter day prophet.
The theme continues with the aforementioned 'Dead End', which he introduces as a song about depression. As he sings about being deserted by god and feeling like Moses on the mountain waiting for the truth, he propels himself into the crowd and up onto the shoulders of one of the audience.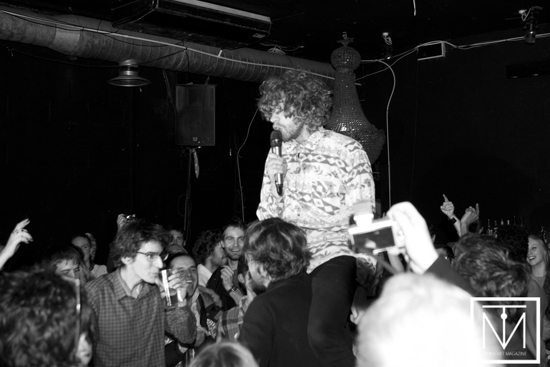 Back onto the stage and the tempo ups with brooding and emotional (yet indie danceable) number, 'Fear' with a sweeping melodic chorus and 1980s style bridge leading into a crazy crescendo which sees Mads bopping around the stage like an over wound-up toy woodpecker. After a committed, earnest performance of 'Gimme Some Truth' we are treated to the pure ecstasy of 'Shooting Up Sunshine'. The set ends on electroclash number, 'Speeddance', which sees Mads dancing with the kids in the middle of the dance floor before exiting the room, followed by the musicians, one by one.
Although elements of the audience were dancing their plimsolls off, a Tuesday night on a mixed bill in Hoxton was perhaps not the best night to showcase Reptile Youth and some of the half-full room were too busy posing at the bar to lose themselves in the music. However this band have taken European festivals, not to mention the Far East, by storm and one can't help feeling that with the right support slot or festival appearance, they could capture the hearts of the UK too.
Reptile Youth capture the intense nature of early adulthood – fragile yet enduring optimism versus the existential angst that haunts over-thinkers; the excitement of the endless possibilities of life versus the insecurity of freedom. They embody the feeling of all that is solid melting into air, both politically and personally, and take that dizzy vertigo, remix it and throw it back into the crowd. This is a soundtrack for the euphoria of your first pill, of staying up all night looking at the stars, of writing poems with complete strangers, but also the dark emptiness of the subsequent comedown.
Do you need to destroy to create?
Mads: Yeah I think you always need to destroy something to create because you always need to destroy some darlings or some bad habits to go forward.
Esben: Even in politics, if you have a country where the same old guys have been in power for a long time then it's going to be a shit country.
Indeed. Destroy Hoxton, get Shanghai high, bring on the Reptile Youth movement.
Photos: Carl Byron Batson
[button link="http://www.reptileyouth.com" newwindow="yes"] Reptile Youth Homepage[/button]