[dropcap style="font-size:100px; color:#992211;"]A[/dropcap]rtist Ephrem Solomon explores death, faith and freedom in Silence, at Kristin Hjellegjerde Gallery.
Focusing on portraiture with a socio-political theme, Silence presents Ephrem Solomon's subjects in masterfully characterful manifestations, their faces tellingly etched with emotion and a sense of witness in thickly laid black paint. Ethiopian script laces the background of one canvas, each translation – 'sun', 'rain, 'black', 'white', silence' – conveying themes present in the exhibition as a whole. An exhibition borne from the artist's personal loss of a loved one, the spectre of death unmistakably suffuses Silence, yet a life-affirming quality of shared experience is simultaneously central to the work.
[quote]Solomon employs both the universal and the abstract,
from the black power fist to blood red boot prints.[/quote]
The central piece of the exhibition reads as a timeline where an intricate, naïve dotwork serves as a backdrop to each image. Beginning with a symbolic representation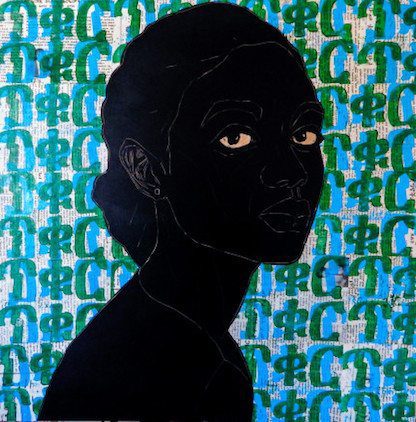 of the artist's sister, it continues into the cultural motif of the banana, here proliferating to celebratory, dynamic effect as if to emphasise the joy found in sharing. Moving starkly onto a depiction of a family of women, the impression given is one of maternity and matriarchy; life givers, yet here shrouded in black, a bird signifying death and the spirit hovering above. As the work reaches its terminus it explodes from one bird into a flock, as if to emphasise the freedom of the spirit in death.
Although Silence presents as deeply personal, there is a strong socio-political purposing to the work. Densely layered both materially and conceptually, Solomon employs both the universal and the abstract, from the black power fist to blood red boot prints. Notions of silence and being silenced come into play and nowhere is this more apparent than with the image of a chair: presented as a symbol of authority, it is notably overturned in upheaval as the artist reflects upon past, present and future.
Ephrem Solomon at Kristin Hjellegjerde Gallery 6th January-3rd February 2018.
Image: Ephrem Solomon, at Kristin Hjellegjerde Gallery until February 3rd 2018. 

Crystal Bennett was a ship yard worker in northern Italy, a royal butler in Casablanca and a movie star in the Republic of Georgia before joining the Trebuchet team as art editor. "Truth is stranger than fiction." – Mark Twain