A new collaboration has seen artists come together with scientists, architects and engineers to create a full-scale house for the future, in Bristol.
The house is the outcome of an ongoing public art project, Building A Martian House, led by local artists Ella Good and Nicki Kent, who for the past few years have been working with a multidisciplinary team from the city to explore how we live today and stimulate visions for new ways of living here on Earth and on Mars.
Once installed beside Bristol's M Shed in April 2022, the project will be accompanied by a five-month public programme of workshops, events and research that will influence the interiors of the house, which begin as a shell. It will also coincide with Think Global: Act Bristol, an M Shed project that aims to foster positive action to address the climate and ecological crises.
"Despite working on data from NASA's InSight Mission, I still find it difficult to envisage what it would be like to actually visit and live on Mars," said Dr Myhill, seismologist and mineral physicist from Bristol's School of Earth Sciences. "What might the first settlements look like? What would day-to-day work and social life look like on another planet? How will the first settlers deal with the harsh conditions and the isolation? Ella and Nicki's artistic vision is to use over 60 years of scientific knowledge and engineering advances to construct a real Martian home that can help us better understand and answer those very human questions. I can't wait to walk inside for the first time!"
The house comprises two levels with an external staircase and platform lift taking visitors to both levels. The upper level is designed to sit on the Martian landscape and is formed using a pressurised inflatable gold-coated foil, making it lightweight enough to be transported to Mars.
Once there, the foil would be inflated and filled with Martian regolith (soil) to provide protection from galactic and solar radiation. The house has a glazed elevation, with views towards Bristol's Princes Wharf standing in for the Martian landscape. Inside, a hydroponic living room is designed to surround occupants with plants to aid relaxation. This could feed into the circular waste water system; these systems, such as waste treatment, water recycling and energy production, are currently being developed with input from Hydrock.
The lower level of the house is designed to be built below the ground, and so the prototype in Bristol will be surrounded by a scaffold hoarding, printed with information about the project and illustrations from Andy Council, who documented the workshop process. Inside, the lower level is designed for flexible, private living spaces and services to support the hydroponic grow room and provide air filtration. The interior will be further developed with the public and filled once the exhibit opens, as part of a programme of events, research and talks about rethinking life on Earth through exploring the challenges of life on Mars.
Image: Artists Ella Good and Nicki Kent dressed in astronaut suits at the Mars Desert Research Station in Utah © Satori Photos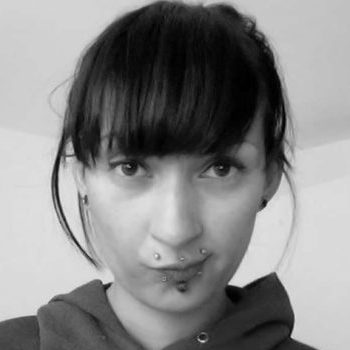 Naila Scargill is the publisher and editor of horror journal Exquisite Terror. Holding a broad editorial background, she has worked with an eclectic variety of content, ranging from film and the counterculture, to political news and finance.