[dropcap style="font-size:100px; color:#992211;"]Y[/dropcap]ork singer and musician Heidi Widdop has fronted Stolen Earth, Breathing Space and The Secrets, as well as having been a member of a very early incarnation of Mostly Autumn.
Following the recent dissolution of Stolen Earth after just one (well-received) album, Heidi has announced a new band. Trebuchet caught up with her just after the announcement, and talked about the new project (and a lot of other things as well).
Let's start with a simple one. Why "Cloud Atlas"?
I had been searching for a name that felt right, everything I thought of was already taken several times over. I had a taken a photograph of the sky above York on a really beautiful day, there were some amazing cloud formations and I logged on to the ne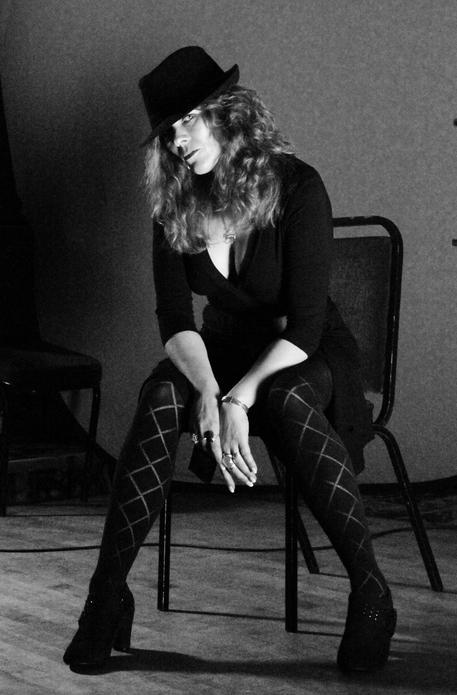 t to identify them, this is when I stumbled across the phrase 'Cloud Atlas'. It felt right, so I thought about it for a week maybe and then decided it was the one. A Cloud Atlas was used as a way of predicting the weather and I like the mystery and unpredictable nature of the weather . . . .
What sort of things can we expect from the forthcoming album? Is your song "Searchlight" on YouTube an indication of how the rest of the material will sound?
I'm extremely excited to start recording, I'm not sure if 'Searchlight' is a good pointer really, I think most of the other material is perhaps a bit more prog? Dark? My feelings are that 'Searchlight' should definitely feature with Cloud Atlas as it was never taken to its full potential, never played live and only recorded as a demo, although the chances are it wont make it onto the album.
The thought of "Searchlight" not making the album might raise a few eyebrows. Have you already written a whole album's worth of stronger material, or does it not quite fit the mood for the record?
I'm unsure about 'Searchlight'. It fits with the material well but despite the fact it was never played live or recorded properly with Stolen Earth, I get the feeling some people look on it as a Stolen Earth track, although I don't feel it is. I haven't made a final decision either way.
"Prog" and "Dark" sounds intriguing. You're not worried about any stigma associated with the p-word?
No, not worried at all, it is what it is, it's what I have written and Martin also, You have to be true to yourself, you can't please everyone and whatever your style of writing is, you should embrace it and go with it.
Will there be more of your low whistle playing?
The low whistle may appear from time to time, I think many things are going to be decided during the recording process.
Not that we'll hold you to it of course, but have you got a release date pencilled-in yet?
No date as yet but we're aiming for early next year. I was fortunate enough to have a friend who recommended someone to me, and having met with that someone and visited the studio, without doubt it is the place to record. The process will not be rushed, we keep going until its done and it's right. Many creative decisions will be made along the way, rather than before we hit the studio.
Tell us a little about the other musicians. What sorts of musical backgrounds do they come from, and what can we expect each of them to bring to the table?
I'm incredibly lucky to have found the guys that will be working with me, of course Ive worked with Martin Ledger briefly in Stolen Earth and in the past when he and I gigged as The Secrets, playing Mostly Pink Floyd covers. Martin is an incredible guitarist and I think people are going to be bowled over by him, he also has a song that will feature on the album and has co written two others with me.
Stu Carver is a great Bass player, he was a member of Mostly Autumn in the early years and featured on a number of their albums. Neil Scott is an amazing percussionist, I first saw him play in a duo called Encouraging The Loony, he is totally versatile and professional.
Dave Randall joined Stolen Earth in the latter stages and unfortunately never reached the gigging stage. He is a beautiful pianist, young, keen and totally untainted by the music scene.
Can we expect some live shows with the new band in the near future?
As soon as the album is available, we will have a launch where the entire album will be played live. After that there will be a big push for gigs in and around the UK, hopefully some festivals and our manager is looking into some dates overseas. I think we are all really excited about getting out there and performing!
It came as a bit of shock when you announced you were leaving Stolen Earth. From an outsider's perspective at least, things were looking very positive for the second album, then it all fell apart. What went wrong?
For me, Stolen Earth had become too much of a compromise, I wasn't happy, musically or on a personal level and life is just too short, so I knew it was time to go.
A Far Cry From Home got some very good reviews; how satisfied were you with the album as you recorded it?
I didn't have much input into the recording and producing of A Far Cry from Home. I think, had it been my own material, I would have pushed to have more input, but as it goes, I only wrote one track and some lyrics. Paul Teasdale was responsible for the majority of the material and of course Adam Dawson had a couple of tracks on there too, both very fine songwriters.
If we want to remember Stolen Earth by the good times, what was the high point of the band for you?
For me, the high point of Stolen Earth were the two gigs at Cambridge Rock Festival. We did have some other great gigs, the album launch was a cracker, but those CRF performances will stay with me.
Having been in Stolen Earth, Breathing Space, and an early incarnation of Mostly Autumn, you're sometimes perceived as being part of an incestuous York "scene" of bands with a shared history and heavily overlapping fanbases, even though everyone has their own distinct sound. Is this how you see things yourself, and is it a good or bad thing when it comes to building your own audience?
You know it does surprise me how many people have contacted me just because I was a member of Mostly Autumn and it certainly does get your name around but, you have to be fairly good at what you do to hold people's interest in the long term.
[quote]Had the internet
been around more
in those days I
think they would
have advanced a lot
quicker than they
did[/quote]
Are you all competing for the same audience anyway, or is a bit of friendly rivalry a healthy thing?
I don't see there being any rivalry, if some of the people who love MA or any of the other bands in the genre also love what we do, that's cool. You try to book gigs around other bands' schedules, makes no sense to clash does it? Although sometimes it is unavoidable. But I think many of the bands out there are very friendly and they are confident enough in their own abilities and crowd pulling to be able to accept other bands into the fold.
Going right back, can you tell us a little about your time in Mostly Autumn in the very early days of the band? What was the band like way back then, and what songs did you play?
My time in early MA is a bit of a blur to be honest, the band was just starting out, nothing like it is now, but Bryan always had big ideas and he knew where it was going. Had the internet been around more in those days I think they would have advanced a lot quicker than they did. In the early days we played quite a few covers but the original tracks that featured were 'Heroes', 'Winter Mountain' and 'The Night Sky'. The latter was first recorded way back in 1991 and Bryan played all the instrumentation and we shared the vocals, I still have a copy of it kicking around somewhere.
Can you remember any of the covers you played?
It's such a long time ago now that I have forgotten most of the set but I do remember we played The Gold It's In The' by Floyd and 'White Room' by Cream.
A few more general questions: Who has strongly influenced you as a singer and songwriter over the years?
I would say that my biggest musical influences were the bands I grew up listening to, from a very early age, I was lucky because my Dad had awesome taste in music and he has really educated me. Pink Floyd, Barclay James Harvest, The Moody Blues, Jethro Tull, Lindisfarne, Wishbone Ash, Fleetwood Mac and many many more. I still choose to listen to those bands now over most other things.
Are there any vocalists who have particularly inspired or influenced you?
Most of the vocalists I have listened to from a young age have been male, So trying to emulate them has been fairly impossible, but you can only really work with what you've got, much better to have your own natural sound. I love listening to Al Stewart, Roy Harper, David Gilmour and the BJH voices.
Lately I've returned to listening to a lot of The Moody Blues and the voices and harmonies in those tracks are like butter! Of late I think my favourite female vocalist would have to be Nikka Costa, she rocks with real emotion, terrific songwriter as well. An outstanding male vocalist who's voice is for me out of this world, belongs to Chris Cornell. There are very few people who have a gift like this, his voice is raw, yet beautiful. His control and emotion are faultless.
[quote]I don't expect
bad things from
people and that
has caught me out
on occasion[/quote]
What artists have made a strong impression on you recently and what do you like about them?
I have been so busy over the past eight years, raising my son etc. that I think I have missed out on a lot of music doing the rounds. I always mean to see more live bands but I just never seem to get round to it, family has to come first at the end of the day. I'm sure there are many great new bands but I'm ashamed to say, I haven't heard many of them! I aim to change that. But I would like to mention a band called The Ravens from Yorkshire. I heard their EP Sound of Ravens today. It's fantastic, very early Floyd style.
Like many of your peers, you're quite active on social media; how do you handle the boundaries between personal and professional?
It kind of fell on me to network online when I was in Stolen Earth, I was probably the more chatty member of the band and I found it easy to connect with people. I tend to just be myself and perhaps that means I'm not so professional in my approach. I do get very friendly with people and I just like people on the whole.
I think one of my flaws is I'm too trusting, I don't expect bad things from people and that has caught me out on occasion. I have made some great friends whilst networking and met some excellent people.
And finally, any parting thoughts?
The excitement I am feeling that finally I am in a position to record music that I have written, that I can produce it to sound exactly as I feel it should, is just massive! The time is now, and both myself and Martin Ledger (who is also writing some of the material) are just chomping at the bit to crack on with the album and take it out on the road.
I count myself incredibly lucky to have such fine musicians and human beings involved and the support from all the listeners is immense. After all, without them, what's the point of it all?