[dropcap style="font-size:100px; color:#992211;"]T[/dropcap]he lights are on full and the band are pouring gasoline over the set for their upcoming US tour supporting Nick Cave and the Bad Seeds.
Nicole Atkins stands in the centre of it setting fire to the mix with a voice of honeyed lava.
Bouncing around the stage, first she weaves a bit of Joplin around  her Plant, then some Morrissey into her Motown. It's an act on the edge of polish: loose and happy. It kills and you can't run.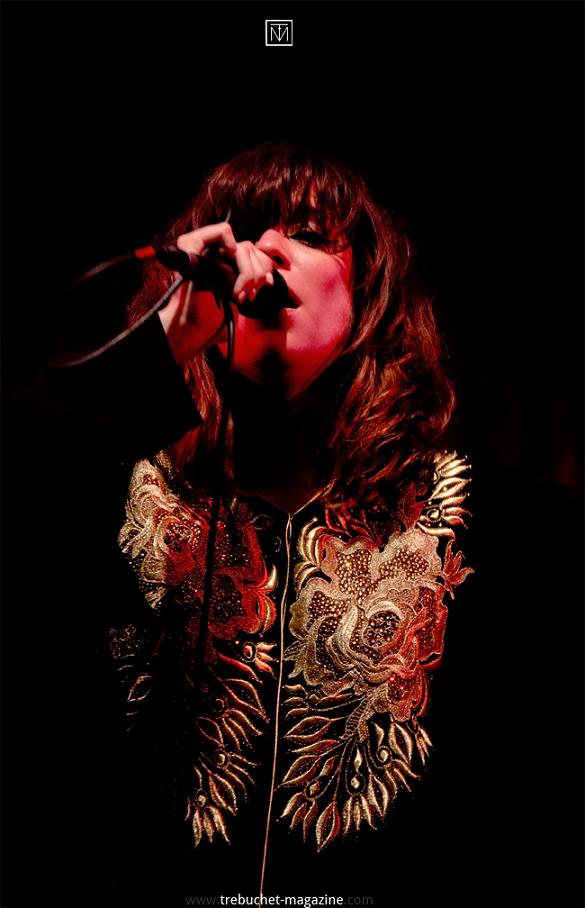 The background to Slow Phaser, recorded in the wake of Hurricane Sandy,  contains strains of resilience, hope and growth acoustically grooved together on record, Live, it becomes an electric beast; a soul rock revue that reaches for that righteous gospel feeling.  It feels like a lifetime away from her quirky folk-pop roots and marks a move into wholly conscious and confident song writing.
Explaining how 'Girl You Look Amazing'  was inspired by a dream, Nicole recollects:
"It was being played in a big dance club and David Byrne was singing it. I woke up and recorded it onto my phone. It took a while to figure out what "Girl, you look amazing" could mean, as I've never been one to be that positive. So I wrote it about a girl who is the last one to shut the party down. Whose life is just an absolute mess. She might look amazing, but she misses all the real things that used to make her happy."
Misery loves company for only so long. With Slow Phaser Atkins has sweetly fermented the proverbial lemonade into a triumphant brew of rare satisfaction, and with that in mind she leads Trebuchet from the studio to a eccentric West London pub, replete with Ducati motorcycles and taxidermy. Nicole looks content, her soft east-coast American drawl sits pretty amongst the huge flowers on the table. Her already ebullient manner, buoyed by an English pint, gets animated as we discuss the video for 'Girl, You Look Amazing':
"We were originally going to go with this film maker that wanted to do a really dark concept; the girl's getting drunker and drunker throughout the night and then she throws herself into the ocean, becomes reborn. At first I thought 'alright, cool' but then I had to say 'No! it was just a bit too… (makes an expansive gesture with her hands)'. Later I was eating dinner with my husband, and he wondered 'What if you did a funny video?'
After months of hanging out on Skype practising  messed up faces (ahh, the romance of the road) – he was like 'You have a rubber face, you could do a comedy thing. What if you went on a date with a guy, the invisible man, the only person who could see him was you, and everybody just thought you were just drunk and crazy?'.
So we went with it. It was just so much fun too because we needed extras and we just got all of the local bands in Asbury Park in New Jersey. All the locations were different venues in Asbury, so it is both a funny video, and also a love letter to what's happening in Asbury Park right now. "
Asked whether that is reflected in the song itself Nicole replies thoughtfully:
"Yeah, you know when you break up with a dude, you say things like, 'I'm fine, I look great!' And then meanwhile you're just drinking by yourself. So when I started the song, the chorus came first 'Girl you look amazing…' and I thought, this is awesome, but I can't sing a song that means you look amazing, literally.
So how do I do this? I thought about New York nightlife and these chicks that come out with a bunch of famous people looking great, but then they're crying in the back. They're going 'Ahh, he doesn't love me!' and then crying even harder while trying to put their make-up back on.
So it's about that, but it's funny, though. When people are like, 'My seven year-old loves to get dressed to your song!' I'm like, 'Oh, if she only knew what it was about!' But then that's fine too. They should make them their own.
"In the gutter you discover
All the things you miss"
That was the line that actually came last. I was writing it on the last tour and I started working  on that turnaround at the end of the song, and it just came out of nowhere. That was the big fish for that song.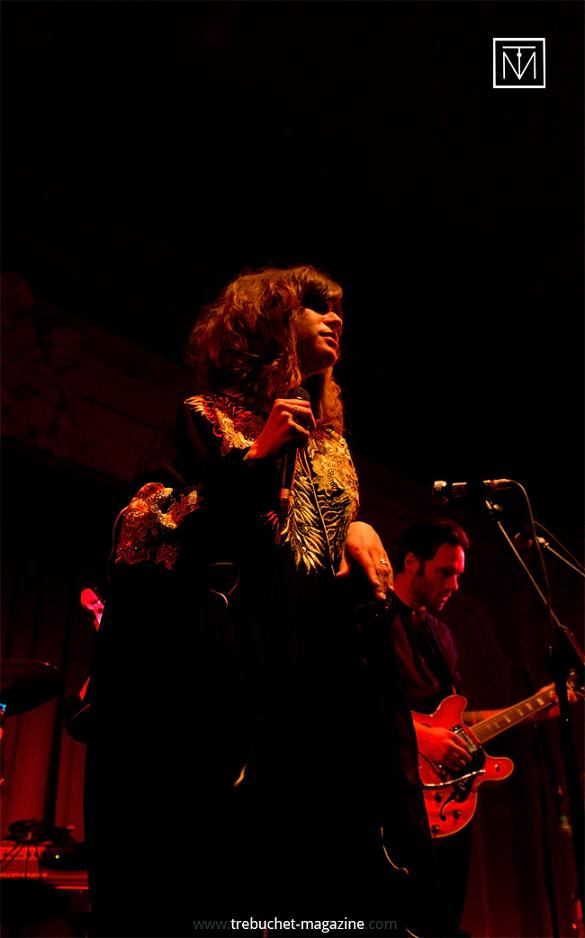 It kind of makes you realize what the actual song is about. It's like: OK, let's go down and party, and she looks amazing. But thinking about the times that I personally felt that way, I'd be sitting at home like, 'Man, I used to love just spending a weekend with my sketchbook making comics.' That's like the safe zone, it's the creative thing, and you only realize how much you miss those things when you're completely…bereft."
On Slow Phaser, Atkins has returned to her early collaborator and producer Tore Johansson. A close working relationship that gets something vital out of Nicole's creativity , it's a jump-off point for revelation, pushing and limiting, with a flair for devil's advocacy. It seems rare to have such a good working relationship and it's an obviously a mutual friendship that both find rewarding.
"I did my first record when I was on Columbia in Malmo with Tore . He was the one producer that called me. He told me 'I heard your demos, and you know how children and dolls are, beautiful but creepy. That's what your songs remind me of.'
So I went there, we did that record (Neptune City), and I did another record on my own on an indie label. But after Hurricane Sandy, my town kind of got washed out. My house included. Tore emailed me 'We should make another record if only because it sucks what's happened to your house'. I told him I didn't have any money. He was great, 'Well, did Columbia know they've got two for one ? So don't worry about it, come over.' So I went there, he gave me a place to live and we made the record while my ground floor was getting redone.
It was nice. I ended up living a mile away from the studio (in Malmo) and it was winter, so he put me up in his girlfriend's pad and they stayed at the studio. There was no place to eat, or bars, or anything where I was, and I would just go home by myself. Luckily, I found this Greek restaurant with a bar, and there was this older couple: she was from Greece, he was from Sweden, and they had a karaoke machine.
So one day I'm eating there and she's like, 'Who are you? What are you doing here?' So I tell her, you know, I'm making a record, and she was instantly asking questions: 'Are you famous?' What could I say? 'Maybe I used to be, I don't know.' But she kept asking so, you know, I eventually showed her the YouTube videos of me on Jools Holland, Letterman, whatever… and she was like, 'Oh my God!'. She just hooked up with me every night and it was like, 'Okay, now you can come. Let's drink wine and sing ABBA karaoke together.'"
Is that where you met Jim?
"I met Jim Slacvunous here in London. I was having writer's block really bad and going through a break-up. So I knew I had get out. I needed to do something. I needed to get out of Brooklyn. So I went to London. My old manager Don was friends with Jim and so he suggested we write  together and we ended up writing those three songs in a day. ('Red Ropes', 'Above as Below' and 'We Wait Too Long'.)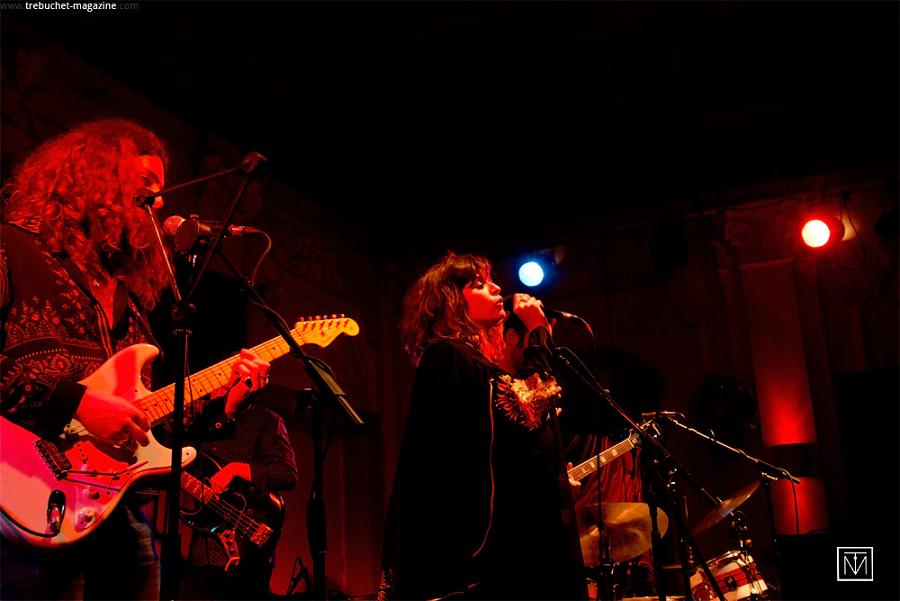 We wrote 'Above As Below' on my rooftop in Brooklyn. I went to London and met him, but he ended up coming to Brooklyn several times to write with me. It was funny, because my roommates would be like, 'Oh, who is this giant?'!
We wrote so many songs together. He was like, 'alright, what have you got?', and I was looking through an old journal, and this one line said 'Skeleton ships/Shells go on the bright side'. It was just one single line, and he was like, 'That's cool, let's do that!'
[quote]My old label had some suggestions
that I sing like Alanis Morisette! I said,
'F*ck that, I don't want to make a
break-up record like that'[/quote]
I always said, 'Let's try to make it sound like what it'd be like if you were in a boat in the middle of the river and there was nothing left, everything was gone except for you and the sky and seagulls.' So that's what it is."
I point out that a lot of her songs seem to gravitate towards the topic of water, even if it's not the main focus.
"Yeah, like that song, 'The Worst Hangover'. I didn't have any lyrics for that, and we started: "Operator give me the number for 911, I'm dying".  And I said, 'I don't want this just to be about a hangover.' I started thinking about the hurricane and the rain and how that was the worst hangover that my town ever felt.
Yeah, the weather always gets in the lyrics. I live literally in front of a river, so any little thing affects me. I'm not a Pisces, though, I'm a Libra. [laughs] "
The subject matter of the album swings around a bit, and whilst she generally sings in the first person, there is a sense that these are reflections on character rather than Nicole herself. Her press bio mentions that she drew inspiration from Jodorowsky, prog rock and other sources. What is it about El Topo's mythical Western madness that could possibly inspire a pop song?
"I love that movie (El Topo). I actually can't get through to Holy Mountain but I love the writer that that book was based off: Daumal, who wrote A Night of Serious Drinking. That book was written in the 40's. The way he writes about other writers, he was like; "These clowns have a rhyming dictionary and book on the occult and they call themselves writers. God, I'm thirsty!" And I was like: 'Oh my God, that's like Brooklyn! F*ck all you fake witches!'
Before I went to Sweden, my friend Glen was out in L.A. He and I were writing for a project that we have together called Very Night. He was super depressed and it was like, 'You need to come out here and we need to make music'. He was living on top of a porn studio, slash electronic cigarette place (of course, right). But mostly it was a…. (lights camera action…)  porn studio.  In exchange for paying them nothing they were letting him live above it. But when they were shooting, he couldn't go downstairs, he couldn't even use the toilet.
So when I got there, I pointed out 'What's that?', it was a pee bucket, 'Glen, this is disgusting'. And he goes, 'You don't wanna know' Then when I figured it out  I was like, 'Where is my pee bucket?!' So we holed up in his room, writing a bunch of music. He was super into prog rock , which was cool, and then we watched El Topo. All of this was going on when suddenly… holy crap!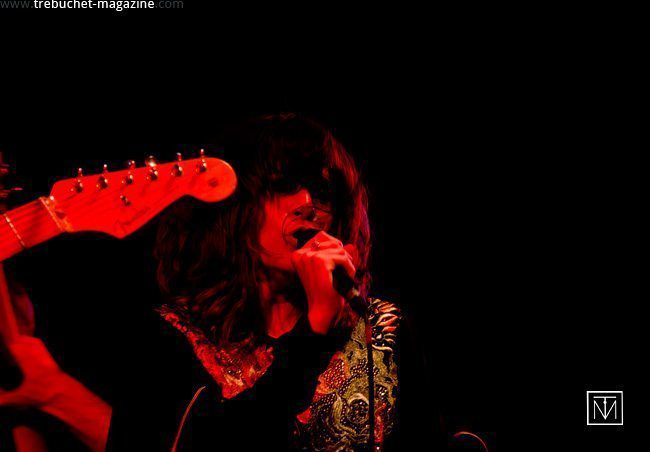 It just hit home this guy (in El Topo) has everything, and then he loses everything, and then he has a spiritual rebirth. I felt a lot of people I knew at that time were going through that, and I've been through that since. Also I wanted to look like the lady in black in my photos.
But going back to the songs, before I went to Sweden to make the record I had had the songs written, but I didn't have an idea for that certain prog sound, and you know, the theme, and going there and hearing that music and seeing that movie really locked everything in.
In some way the record's about growing up. You know it's not cool but sometimes you find you're sleeping on a friend's couch at 35. You've got to do it sometimes, but not all the time.
I was big and hard on the first record because that was the first group of songs that I made for an actual record. So it was like, 'Oh yeah, let's start with Sopwith Camel – a weird 60s band with their ragtime sound…let's throw that in there'. A very 60's focused record. I wanted it to be like Roy Orbison and Mama Cass had a baby. And then the second record, I got really into the whole British blues, like Derek and the Dominoes and Eric Clapton. And also I was going through a break-up, so it was only about a break-up.
My old label had some suggestions that I sing like Alanis Morisette! I said, 'F*ck that, I don't want to make a break-up record like that'. So the record, I made it's still heartbroken but it wasn't a stab at anybody. Now with this one, I've dealt with so many things that it's like a combination of a whole variety of things in my life.
I have all of these influences and they keep turning up in whatever music I do. So many different types of music. Or by writing with somebody like Jim. Or writing with Tore and being able to trust in myself to be able to use those influences. It's not purposeful genre-hopping, but my brain is a combination of my record collection and the people I meet. So it shouldn't sound like one thing unless I want to do a something like a concept record.
However, if it's going to be a solo record, it's going to sound like me, which is everything."
Relaxing into chatting about our favourite albums, it's clear that Nicole is knowledgeable about a wide variety of music and literature but doesn't put much of a premium on that stuff. She knows what she knows and she likes what she likes, the moment is an important place for her. Something she alludes to in the songs 'Cool People' and 'It's Only Chemistry'.
"The song 'It's Only Chemistry' is about a break-up I was going through. The guy I was dating was this ex-junkie that was obsessed with Marcel Proust and all these writers. He gave me Swann's Way and he said 'You should read this', and that is f*cking big book, and not only is it big, it's f*cking boring. And I tried to finish it over the for the nine months that we dated. Sometimes he'd come in and say 'That's still on your shelf', or if I'd be reading it, he'd be like, 'It makes me really happy that you're reading this', and I'd be like "What the f*ck dude?"
He was also this songwriter that would just copy off his literary heroes. He'd be championing this or that guy and he'd be like, 'Oh my god, he's so brilliant! And so I wrote the song, in part I think, about how I think Marcel Proust is boring. Ha.
"The ideal is not real and you'll seek but never find"
That's the line I got from Marcel Proust! And I was like, 'Thanks for that Swann's Way, I'm going put you back on the shelf.' But when I broke up somebody else said, 'Oh, don't be heartbroken about that guy, it's always raining in his world'. And that's the other line.
"It can't rain all the goddamn time"
….
And it doesn't. To say that Nicole Atkins has reinvented herself would not be accurate, she's got better at her craft and also at being herself. And she knows it. Slow Phaser is a brilliant life-affirming record that rocks from start to finish. The same songs have qualities that can be appreciated alone or with company, because like the singer, they are true and genuine.
Qualities that persevere and preserve, whatever the weather.