[dropcap style="font-size:100px; color:#992211;"]H[/dropcap]
aken are in the vanguard of the most recent generation of progressive rock bands.
The six-piece came of age with their acclaimed third album, 2013's The Mountain, on which they moved beyond the obvious influences on earlier records to develop a musical identity of their own.
A breakthrough album is always going to be difficult one to follow, and Haken have chosen not to make another full-length album but an EP. Although with a running time of 33 minutes it's not far shorter in length than many a vinyl-era LP.
There are just three songs. Opener 'Darkest Light' is dense and complex stuff, all spiky staccato metal riffs and off-kilter vocal harmonies. In complete contrast, 'Earthling' is a thing of fragile beauty, mellow and atmospheric, a sweeping vocal melody atop shimmering interlocking guitar arpeggios, which breaks and changes gear at exactly the right moment. The record closes with 'Crystallised', a kaleidoscopic 19-minute epic with jazz-inflected instrumental workouts, a cappella vocal harmony sections, eventually building to a huge anthemic climax.
You can still hear some of their influences; the frenetic left-field jazz-rock of Zappa, the quirky harmonies of Gentle Giant, the technical riffery of Dream Theater, even a hint of the Canterbury Scene at one point.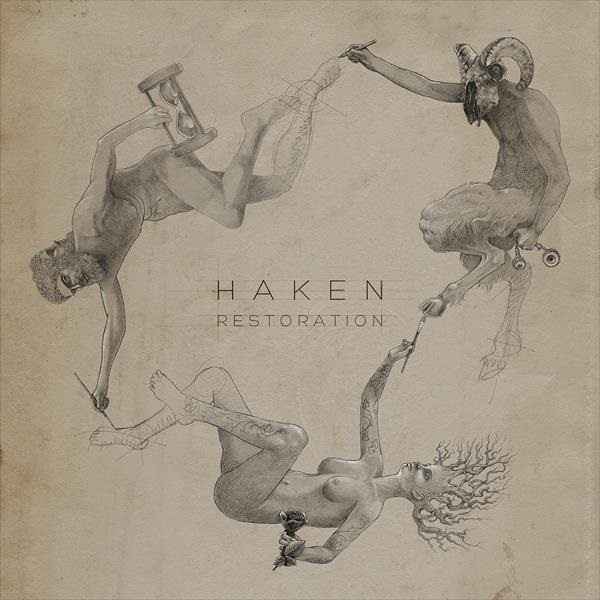 But ultimately there's nothing derivative about this record, and they stand head and shoulders above most generic prog-metal bands; their undoubted instrumental prowess is always in service to the song rather than flashy showing-off.
An important element of their distinctive sound is Ross Jennings' vocals; neither the traditional rock or metal frontman, nor the whining style of much contemporary indie-rock. Add to that the fact that the whole band sing and you get the potential for interesting use of vocal harmonies.
Restoration is an impressive record. Haken have the instrumental virtuosity and musical scope of the best in progressive rock, but unlike some other bands they aren't content to create reverential pastiches of 70s greats. Instead they create ambitious and complex music that actually sounds like something from the 21st Century.