[dropcap style="font-size:100px; colour:#992211;"]C[/dropcap]

oming on stage to the band's voiceover statement of intent, lead singer and guitarist of Ferocious Dog, Ken Bonsall is minus his trademark Mohican but on trend in a flat cap.

These days the only people below retirement age sporting such headwear tend to be Hackney hipsters cherry picking from working-class culture while voting Tory and listening to the bland pseudo-folk of Mumford and Sons. Ferocious Dog and their audience most certainly don't fall into that camp. Tipping said cap to the audience, he reveals his newly shorn head.

Sometimes described as a punkier version of The Levellers, that doesn't really do justice to Ferocious Dog. Sure, there are similarities between the two bands, both musically and lyrically, and they have shared stages. But Ferocious Dog are not only punkier, they are also folkier, angrier and more staunchly political. Both bands sing about the treatment of the travelling communities by the criminal justice agencies (Battle of the Beanfield / Criminal Justice). Ferocious Dog make the link with Thatcher's attempts to smash the organised trade union movement. Both bands sing of those driven to drink (15 Years/ Slow Motion Suicide). Ferocious Dog situate the narrative within mass unemployment and the pit closure programme. The Levellers sing of libertarianism and muse that justice doesn't come from the barrel of a gun. Ferocious Dog rally for solidarity and call the working class to arms.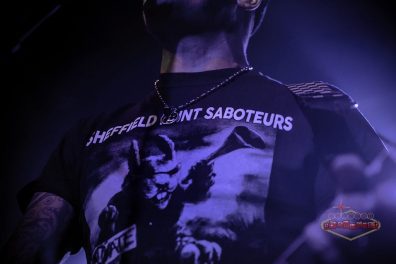 There's a melancholy mixed in with the anger, on both a personal and political basis. Ken's young son, Lee committed PTSD-induced suicide after leaving the army, inspiring the emotive The Glass. Additionally, Ken is a former miner and the band hail from Nottinghamshire, a county divided by the miners' strike, giving a gritty passion to their foot-stomping rendition of English folk classic, Blackleg Miner.
Collecting donations for food banks from their fans and supporting animal rights causes, there is an authenticity about this band. Ken sports a Sheffield Hunt Sabs t-shirt on stage to promote the cause (although I'm not sure how the hunt sabs feel about the leather bracelets for sale on the band website). Speaking of Sheffield, if you're in that area, check out the thought provoking 'Who We Are', Martin Jenkinson exhibition at the museum for some iconic photographs, many of the miners' strike. Check it out here .
Aside from the obvious comparisons – The Levellers, New Model Army, The Pogues, The Waterboys, The Men They Couldn't Hang, The Wonder Stuff during their later, folky period – there are wider influences. Freeborn John has heavy dub underpinning stark lyrics reminiscent of 1990s crusts, RDF, Culture Shock and Citizen Fishnet interspersed with furious violin. Set opener Cry of the Celts has beats with elements of traditional folk, rock and ska all meshed into a coherent whole. And therein lies the strength of Ferocious Dog. Their musical tastes are sufficiently wide to be interesting yet tight enough to hang together with lyrical content that has meaning and relevance.
In all the excitement, it's easy to overlook the musical talent. Dan Booth is a mightily accomplished violinist, playing with tone, rhythm and intense speed, seen to great effect with a catchy riff in Fake News and some furious action on Gallows Justice. Multi-instrumentalist John Leonard fills the sound with mandolin and guitar strumming, banjo picking and tin whistle jingles. Meanwhile baby of the band and dreadlocked drumstick twirler, Alex Smith brings his own bottle to the proceedings through his varied musical tastes. Withs nods to indie, reggae, hard rock and dance, he gives an extra twist to the folk sound.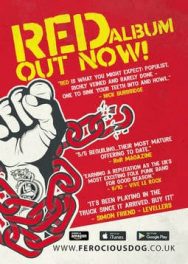 John Alexander is a safe pair of hands on bass keeping the numerous sounds together. On guitar is none other than Fruitbat from Carter USM. No longer 30-something, he fronted the main support band and gave us stories of being too old for rock 'n' roll which, judging by his performance with the headliners, was clearly a lie.
In essence, Ferocious Dog are what would have happened if The Clash had listened to folk as well as reggae, or Rage Against the Machine had spent their formative years in miners' community centres alongside attending hardcore gigs. From telling the untold tragic tales of lives torn apart by the forces of global capital and alienation, to uplifting tunes of the enduring human spirit and hope for future social justice, Ferocious Dog give us music to provoke tears of sorrow, pride and camaraderie.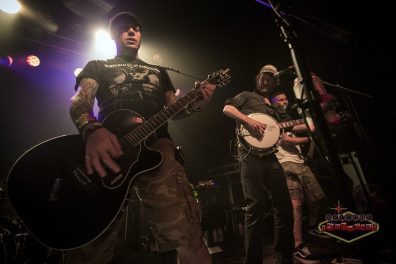 Could Ferocious Dog be any cooler? Well, it would be good to see some women on the stage. The line-up including both supports is entirely male. A poster from a previous gig posted on the internet commendably says, 'no dickheads, racists, homophobes or violence' but the glaring omission is sexists. That's not to accuse the band of sexism in any way (and I know that not all of their supports on the tour are male) nor to doubt their political sincerity. There was certainly a strong female presence holding their own in the crowd. However, given that some women can find a music scene based on sweaty topless male bodies slamming against each to be a bit intimidating, a more pro-active inclusionary approach might be something to consider.
Notwithstanding that gripe, Ferocious Dog are one of the most interesting bands around. Their loyal fan base (known as the Hell Hounds after the song of that name) is set to swell. Surely it can only be a matter of time before they are closing the main stage at the likes of the Cambridge Folk Festival.
FEROCIOUS DOG TOUR DETAILS AND MORE
Words: copyright Sarah Corbett-Batson
Photos: copyright Carl Byron Batson (not to be reproduced without express prior written consent)