[dropcap style="font-size:100px;color:#992211;"]N[/dropcap]ew London venue Grove Square Galleries will merge digital innovation and physical exhibitions to offer a year-round programme of on and offline dynamic talks and events, to run in tandem with an artist-led exhibition programme celebrating contemporary art practice worldwide. Also on offer is an independent and impartial art advisory service which works to build private collections and source secondary market pieces, under the helm of art director Serena Dunn.
The space launches with an inaugural exhibition by Berlin-based artist Christopher Kieling, a former recipient of the BarTur photography award. Sierra, a significant body of new paintings, was created during the lockdown of spring 2020 and presents a visual reduction of the artist's surroundings, drawing on the canvas as a place to explore both real and imagined landscape.
Flat planes of colour characterised by muted pastel tones provide the backdrop for works which explore the balance between realism and simple form. Taking architectural details found within his home, Kieling places the sinuous, organic figure of Sierra, his partner, in multiple scenes against patterned, hard edges as he blurs the lines between public and private. The patterns reflect the artist's interest in mathematics, geometry and crystallography, their limitlessness alluding to an expanse that is in stark contradiction to the stillness of the restricted space.
Influenced by the mathematically inspired works of Escher and Uglow, Kieling explores the pure language of painting–form, colour, composition–through layered imagery. He begins by precisely sketching out his complex compositions and processing them digitally before starting to work on canvas. Using a mix of both acrylic and oil mediums, he combines hard geometric patterns and flowing simple lines to create the illusion of depth, drawing the eye into and across the surface and into vistas and interior spaces.
Sierra runs at Grove Square Galleries from 8 October – 15 November.
Image: Christopher Kieling, Sierra_S_32_V, 2020. Courtesy of the artist and Grove Square Galleries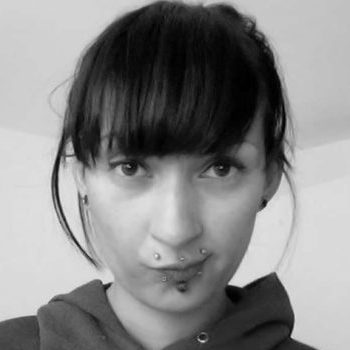 Naila Scargill is the publisher and editor of horror journal Exquisite Terror. Holding a broad editorial background, she has worked with an eclectic variety of content, ranging from film and the counterculture, to political news and finance.