[dropcap style="font-size:100px; color:#992211;"]M[/dropcap]onday's weather was better than Sunday's squalls, but still mostly overcast.
Once or twice old sol poked its head out, but not for long. By this time, we'd seen quite a few acts, so it was time to concentrate on those we had missed or who had not yet hit the stage. I sat down with beer and in my chair and watched as La Bomba gave a dance class on the Zoo stage. As a family passed by the father remarked 'You look like you are thoroughly enjoying yourself, sir'. And I was. A glass of Coopers in one hand, a touch of mellow sunshine, gel protecting my feet and the sound of flying foxes and children playing mingled with some Latin beats onstage, what more could one desire?
Everywhere at Womad you see kids and flags. The flags are a long tradition and there seem to be more of them this year, the kids have their own area, but they are also everywhere and it was nice to see them not submerged in electronic devices. Instead they were dancing, wearing face paint and dress ups, playing with parents and siblings or new friends, running chasing and singing. I only saw one bored lad sitting looking at a screen the entire weekend. This is probably a GOOD thing….
More competent groups follow. Spanish act Fuel Fandango had a lots of verve and a good stage act as well as a large yellow fan, but are they outstanding?
Hmmm. Not yet.
Natalie Rize from Blue King Brown has a powerful stage presence and some nice material, but what she is doing isn't all that different from her work with the Kings. She's presenting "Deep Reggae" and I can see where she is coming from. Fellow BKB bandmate Salvador helped her out in a guest spot, there was lots of dancing and a good time was had by all, but I'm not that sure that her solo venture is achieving anything particularly new, apart from giving her more autonomy.
Israeli /Palestine combo The Piyut Ensemble had oodles of collective charm and much symbolic presence, but I wasn't that interested in their chants and dancing (although photographer Ian loved them and even bought their CD). I also wanted to see home-grown rapper L Fresh the Lion (pictured)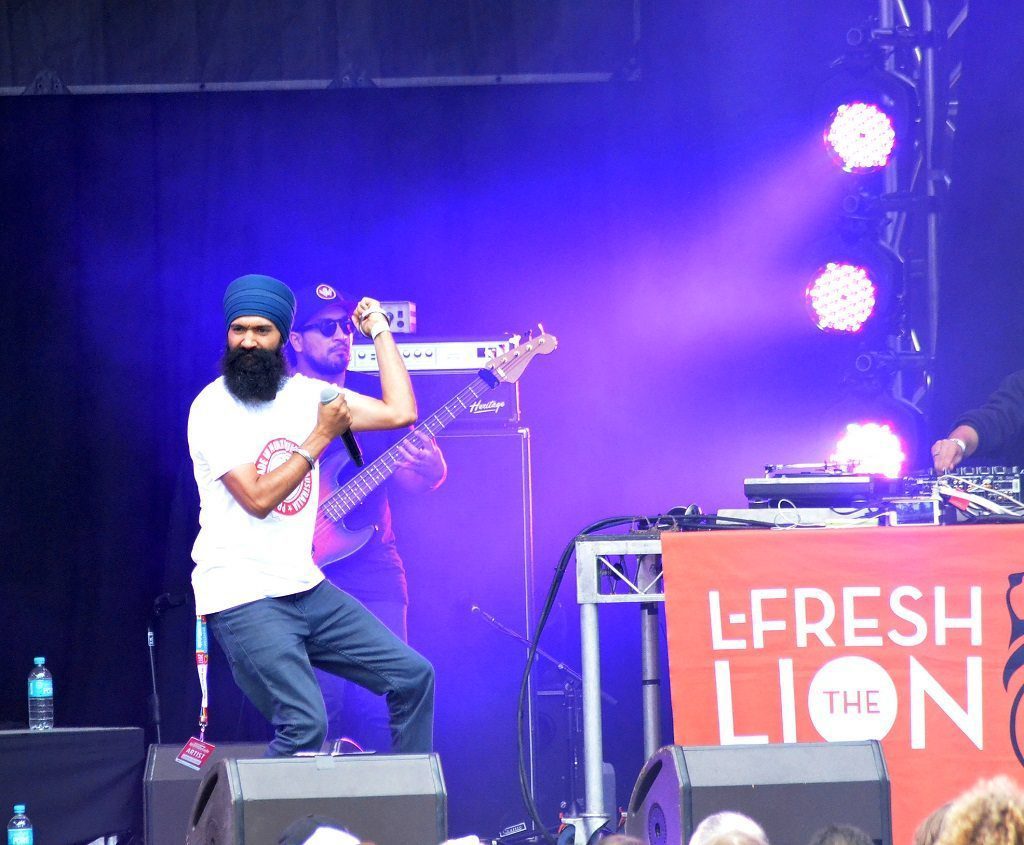 and he proved to be a gas. A positive message from a rapper is pretty rare, so it was cool to see L Fresh (Forever Rising Exceeding Sudden Hardships) embracing themes other than gang-banging and chauvinism. A great live performer with some hip dance steps, he was a nice change from the procession of bands that seemed to be more or less doing the same thing with slight variations.
But there was still some outstanding music to consume in the final hours of the festival. I'd yet to experience the full majesty of Baba Zula. As soon as they dedicated a song to the late Can drummer Jaki Liebezeit ('He was playing Turkish music beats really well and loving it') I knew we were on the same wavelength.
Saz is the key, this traditional Turkish stringed instrument is wired with pickups and it makes a bloody great substitute for an electric guitar. Founder member Murat Ertel, who was gussied up in lurid psychedelic garments, coaxed some great sounds to complement his co founder member Levant Akman's superb drumming. Beefy electric Oud player Periklis Tsoukalas has great stage presence and along with vocalist Melike Şahin, is responsible for whipping up the audience. This ancient/modern psychedelia has great appeal, they initially appeared to be something along the lines of a Turkish Hawkwind, but they were so much more than that.
A demented reed instrument played through a tablet drove my feeble brain into the stratosphere and then the Saz took over, mixed with shrieks, vocal scats, madness, chanting, Beefheartian/Zappaesque/Can undercurrents, jumpy nervy rhythms. This was raw, visceral stuff that made me clench my teeth (I didn't mention I'd had toothache most of the day did I? Well, this cured it for a while). Then the band launched into a beautiful chanted piece with a dangerous Turkish backbeat, thunderous drums, keys and madness.
We were given lessons in how to say 'HEY'. Then there was a wild bellydancer beat, wailing keys and strings, incessant dancing onstage and in the audience. My notes state that this was a MAJOR SONIC SHITSTORM, and who am I to argue? All stops were pulled out, the Saz was relentless, drums pounded, riffs upon riffs, repetition with variation, this fantastic epic beat and vocals was taking over my brain. Was this nirvana, could I be seeing GOD ?
Not really, it's just music. But music can do THINGS to you.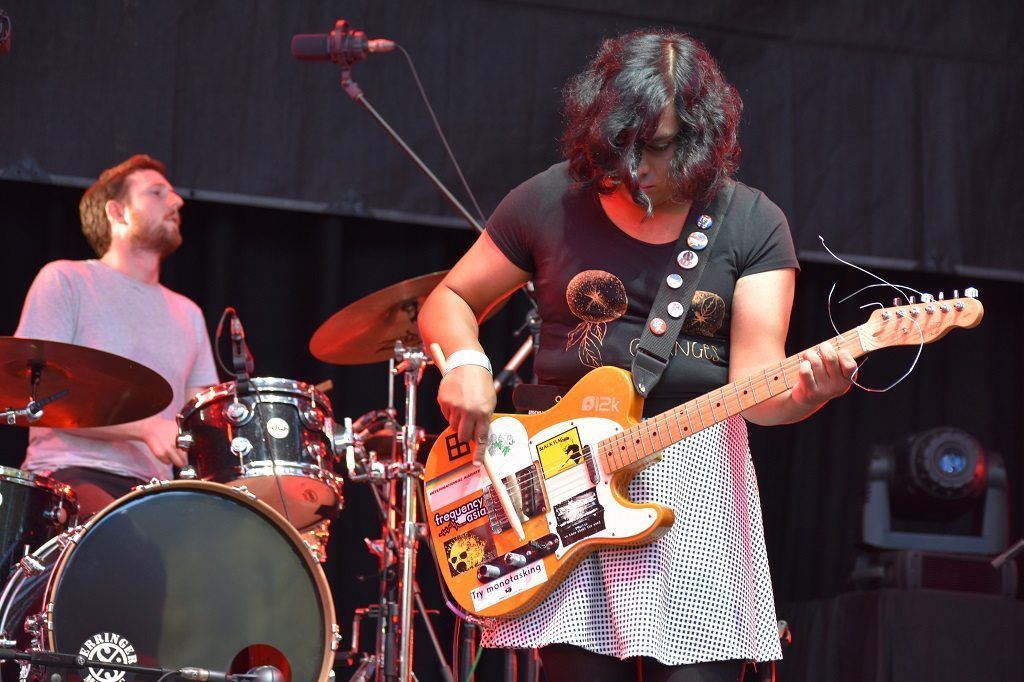 Now how could it get any better than that? Well, it didn't, but it got close. I was reeling towards stage 3 clutching my aching jaw, which then proceeded to drop as (pictured above) Aussie improvisational giants Tangents (on stage 3: the stage where they take chances) floored me with 60 minutes of total improvisation that was just GREAT. This band are improvisers of a high order, their music flowed like a great lava stream all over me and I just lay back and let it take me. Not a lot of people liked it, but this is stuff that you can probably only see at Womadelaide. This band have greater variety than The Necks. Seek them out and listen to them, you WILL be illuminated.
But even then, there were two more great bands to experience. La Mambanegra (pictured), who remind me of vintage Santana without the guitar emphasis, proceeded to undertake a stunning performance that had the band members gazing at themselves in wonder, amazed that they had surpassed their best. It was full-on bossanova rhythms, hiphop elements, driven brass, funky bass solos, a big percussion jam where congas were brought to the front of the stage and the drummer was driven by his fellow band members to ever greater heights.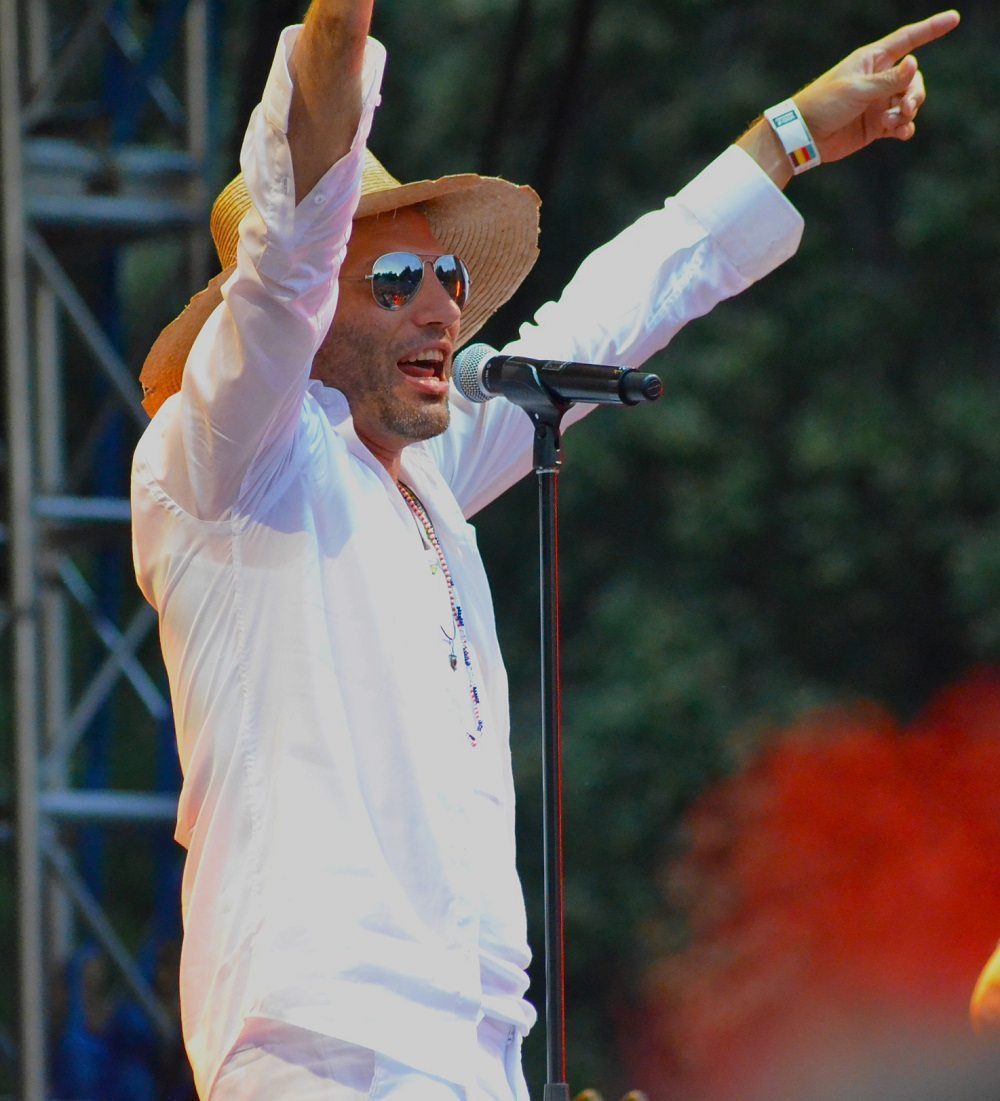 Brought back for a rare encore, they were joined by members of the dance team La Bomba for a complete freak out that had audience and band both exhausted and deliriously happy. A wonderful set!
The final surprise was Inna Modja, another Malian artist. I'd not been particularly impressed when I saw her on The Music Show, but this set was a revelation. This lady is SO good, accompanied by no less then three Mac laptops and keyboards, and a guitarist who doubled up on talking drum and a very sophisticated slide show on screen. Modja was a knockout. The visuals enhanced the lyrical messages: songs about her county, riven by war and chicanery; songs dedicated to the music festival of Timbuktu which no longer exists due to political machinations.
This was strong stuff, delivered in a format that made her music stand out from the crowd because she broke the mould, did something different. This is what I want see more of at Womad, it's when we get great breakthrough artists like Inna Modja, Tangents and Baba Zula that I know this is one of the best vehicles for delivering new music ever.
Everything else was something of an anticlimax. The Specials were fun and crowd pleasers, but ultimately doing nothing new to develop their art or push boundaries. They are needed to bring in bodies and as long as they can carry the pioneers then I'm happy to see them there, bringing in the shekels.
After all, Tangents ain't ever gonna be headliners are they?
Over at Novatech, the mysterious masked Xanga, was not only not wearing a mask, but he was smoking a fag onstage and his sole mixing contribution was to turn down the bass for a few seconds every now and again.
He should have left it where it was, it sounded a lot better.
Still he played some nice grooves and I was almost forgetting that had aching feet, bad hips and a toothache by dancing along to 'Celebrate' when I saw Ian dragging himself to the gate.
The fruit bats were still chittering to themselves when we left, but they shouldn't relax. As we told them.:
'We'll be back!'
Photos by Ian Fry
Trebuchet's 2017 Womadelaide archive can be read here.