[dropcap style="font-size:100px; color:#992211;"]T[/dropcap]
he Great British Tattoo Show, a relative newcomer to the tattoo show scene, pitched up its wares in North London's Alexandra Palace during the late May Bank Holiday weekend.
From traditional to nu-school, from full-on Oriental colour back pieces to more subtle black and grey, from photograph quality realism to the more abstract avant garde with some Pollock style splashes of colour, it was all there for the taking.
In addition to the tattoo artists with drills buzzing like mechanical grasshoppers on a hot summer day and sweets to lure you in, there was an array of merchandise, including beard oil for the Shoreditch types, silver CarterGore stylish tattoo themed jewellery, Smash custom mirrors for those who prefer their skulls reflective and hanging on the wall, Jewellery of the Earth from Camden market, and fake skin for budding tattooists to practise on.
If the faded glamour of the magnificent Alexandra Palace matched the diminishing colour of your beloved but aged tattoo, help was at hand with a selection of tattoo balms to revive and brighten your weary old ink. An enthusiastic purveyor of tattoo preserving CrocodOil pounced upon me and proceeded to rub his product all down both of my arms. While it undoubtedly enhanced the green of my ivy tattoo, as a vegetarian of many decades I was distressed to learn that rather than being merely a marketing name as I had assumed, it was actually the by-product of farmed crocodiles. Yes, I had reptile fat all over my arms.
In a distressed state and searching for the vegan balm that I had spotted early, I dashed around the corner and was confronted by a stall of stuffed dead animals, including a couple of beady-eyed squirrels in a compromising position. It was time to seek sanctuary outside.
One halloumi burger later, I had recovered from the ordeal. Ally Pally, with it leafy woodlands, perfect picnic areas and breath-taking views over London, is an awe inspiring setting for any event. The atmosphere outside the venue was bustling, with a combination of those there for the tattoo event and those enjoying a sunny day in the outdoors, jostling in the heat and smoke at the varied food stalls.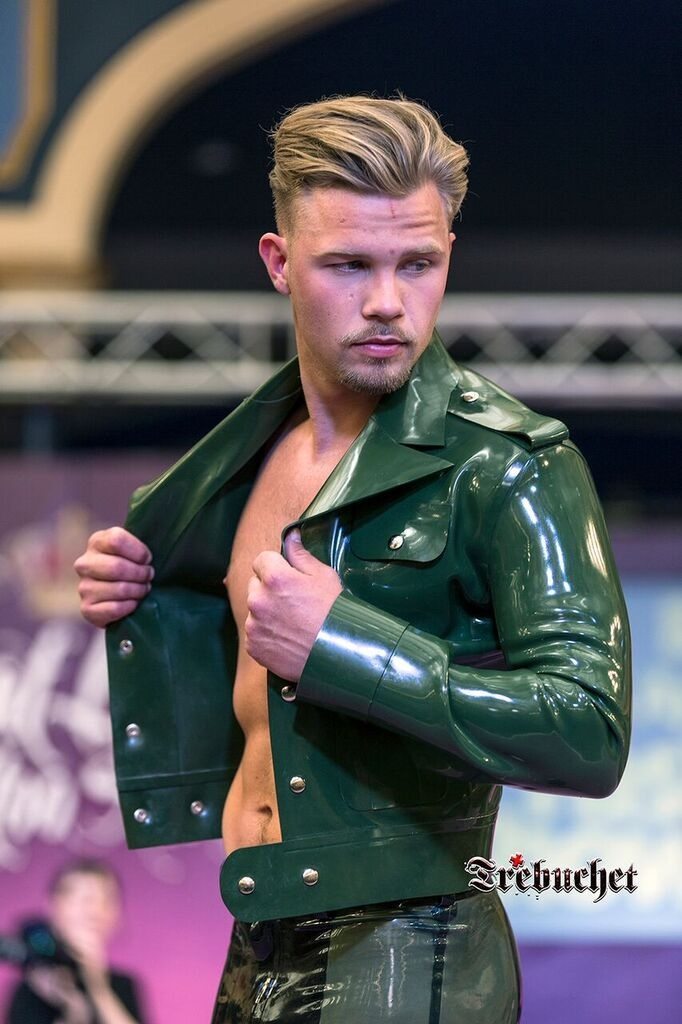 Back in the tattoo show, female and male tattooed models were strutting their stuff on the catwalk to an industrial soundtrack. The array of rubber outfits including the standard fare, such as military dresses and a zip-up catsuit which must have been murder in the heat, to more offbeat offerings, including a baseball jacket and latex tracksuit type designs, combining fetish with street wear. On the subject of urban outfits, a later fashion show had the models in some eye-catching t-shirts and jackets. It started slightly later than planned due to complications getting the female models into the highly intricate rope underwear. It was refreshing, as is common in the alternative scene, to see models with a variety of body types, from skinny to curvaceous.
Others taking the main stage included burlesque dancer and fire-eater, Aurora Galore and freak show troupe, the Circus of Horrors with their cringingly dangerous escapades, including sword swallowing and stapling tarot cards to the face. After reading the programme, we were curious as to what Gay Bum might be – was it a joke that accidentally slipped into publication or some type of objectifying male beauty competition? No, it was a singer and guitarist. The live and unplugged stage showcased some new performers but for me, the music was the one unsatisfying aspect of the weekend. A few bands, maybe some rockabilly, surf or country, would have enhanced the atmosphere.
These days some extremely talented female artists are taking the traditionally male dominated tattoo world by storm. A particular mention must go to Ali Burke from Stallions and Galleons in Neath, South Wales, who was the overall winner of the weekend. A glance at the pictures on her studio's Facebook page shows that it was anything but a fluke – highly recommended.
Another favourite of mine was Maya Vavoom from Atomic Tattoo in Switzerland, who specialises in traditional pin-up girl style and was inking a few lucky ladies. Meanwhile in addition to her highly detailed and intricate designs, Scotland's Gillian Badger was doing her bit to raise funds for those affected by tattooing the Manchester bee logo, with all money going to the appeal.
Smaller than some of the other tattoo shows around, the Great British Tattoo Show was a good introduction to tattooing for the relative newcomer or ink virgin but had enough going on to satisfy the more experienced customer. Although there were some inks and machines for sale, the overall feel was less industry, as well as being less crowded than the bigger shows, which made for a relaxed atmosphere. Many of the star tattooists were fully booked all weekend so my advice is to book plenty of time in advance in future years if you are hoping to have any work done by the international artists.
It is, however, a good opportunity to see the work of UK artists with a view to booking an appointment in their more private tattoo studios for those who don't want to roll up their sleeves and take the pain in full public sight. All in all, following the distressing events in Manchester earlier that week, an event that challenged conformity and promoted diversity was a fantastic way to celebrate individual freedom and creativity.
Photos by Carl Byron Batson. Not to be reproduced without express prior permission.