[dropcap style="font-size:100px;color:#992211;"]P[/dropcap]ost-rock and post-metal have lurked on the boundaries of my musical radar, but have never really registered as something I could devote a lot of time to in the way other genres like thrash, death metal, doom and progressive metal do for me. That being said, I can appreciate the influences the latter genres have on post-metal and even where post-metal elements surface in bands of these preferred genres, especially in the progressive rock and metal circles where aspects of their sound and songwriting also emphasise breaks from the widely accepted norms and have a wide variety of influences.
Norway's Grant The Sun is the latest post-metal band to come to my notice. Having resigned myself to experiencing something I have little interest in as a genre, having seen bands like The Ocean who are massively loved, given listens to offshoots of industrial titan Godflesh, Jesu and Isis, and shook my head and fiercely protested that Tool and The Melvins aren't post-metal bands but merely artists who have some post elements about their sound in places, Grant The Sun sparked some curiosity, given their background in the more extreme realms of metal. Formed from musicians who featured in Insense and Beaten To Death, two of Norway's many underrated acts, this trio focuses on instrumental work and Simmar Ur Bild, a four-track EP, is their latest musical release.
Before going into further detail about the music, an interesting note is that the release's producer is Danne Bergstrand, who has worked with numerous bands, including Strapping Young Lad [City], Meshuggah [Destroy Erase Improve], In Flames, and current 'extreme metal flavour of the month' Behemoth. Given this pedigree and reputation of the man producing the release, it is safe to say that there might be something for me in it after all.
Title track "Simmar Ur Bild" opens the release and the atmospheric impact is right in your face. Heavily down-tuned guitars lumber away like colossuses, stomping through a swamp of polyrhythmic currents. Subtle melodic layers have a dissonant feel to them and the gratuitous use of echo/reverb/delay makes the whole thing sound massive. You can hear the Meshuggah-like influences there; the down-tuning hitting the bass regions of the spectrum and thundering away with tight and shifting drums draws some similarities, but the slow pace of the release, minimalistic on heavy distortion and aggression, gives it more of its own identity. It doesn't have that drawn-out building feel like most post-[genre] tracks have, but it works well atmospherically, giving a sense of unease and anticipation.
"Ondskans Vaktmästare" is less doomy in its sound, instead coming over as more entropic. Atonal, angular and jarring, it is rhythmically tight and has no real melodic flow to the progression, favouring stabs and chugs of rhythm with intermittent arpeggios which flit in and out, nestled between the musical layers. It mellows out on the harsher tones as the track progresses, giving a cleaner and more expressive section, allowing for some freeform lead work, coming together to give a musical feel similar to that of the Devin Townsend Project's later releases, carefully balancing the progressive elements with shifting pseudo-djent rumblings.
"Tje Kjonoj" is probably the most metal-friendly track of the release; more straightforward in terms of the delivery, it is a groove monster which surges forth with massive polyrhythmic shufflings and thundering guitars. From traditional metal riffs like chugs, gallops and pedal-tones, to crashing drum rolls and subtle melodic lead augmentation, it's a hard-hitting track which evokes memories of Strapping Young Lad and Meshuggah. I wouldn't be surprised to hear that the 'wall of sound' method was employed in the recording of this track!
Closing the release is "Sjuttonde Maj" which leans more to the fusion side of progressive metal. Rhythmically intricate and vibrant with its odd-tempo feel, this track focuses more on the lead delivery than the previous three, with the ringing guitar lines being the main melodic voice over a turbulent backing section. Bursts of atonal melodies give way to some extremely technical and proficient musicianship, especially with the lead guitar solo sections which have a very distinct Steve Vai feel to them. Wailing guitars, odd melodic sequences and lightning fast runs act as the voice for this chaotic and somewhat relaxed track and act as an intriguing way to close the release.
With a huge range of atmospheric impacts, from doom-laden and imposing to vibrant and suspenseful, Simmar Ur Bild is a well balanced release. It is short which leads to a good replay factor, and whilst it has the traits you associate with post-metal, it is easy to follow for those not accustomed to breaking with the norms of music composition. Sure, it will appeal to those who are huge followers of bands like The Ocean, but there are some elements of this release which will appeal to those who like a little more structure or familiarity to their music.
Simmar Ur Bild is out now on Mas-Kina Recordings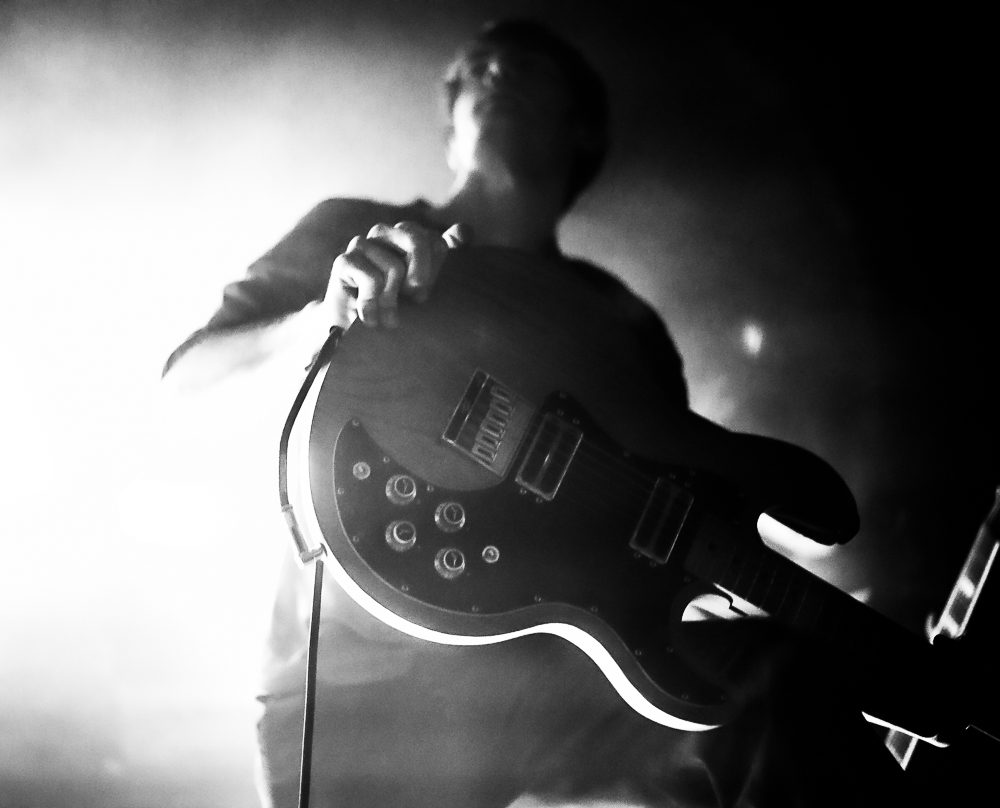 Born in the 80s, grew up with the 90s and confused by the millennial generation, I am Peter, more commonly known as Fraggle (long story, don't ask, details are a little hazy!)
With a degree in biochemistry, an ever growing guitar collection and a job handling medication, things are far different to how I expected them to have turned out, but the one thing which hasn't changed is how important music is in my life—it is one of my main passions, be it playing it, listening to it or attending it and experiencing it in the live setting (the way it is meant to be).
Blessed with a 'proper punk/metal spirit' (quote from Kailas), you will often encounter me at gigs or festivals with a beer firmly clutched in one hand and shirt in the other… Or these days, a pen and notepad too, maybe a camera if needed.