[dropcap style="font-size:100px; color:#992211;"]O[/dropcap]nce in a while, it's good to get out to an event that broadens your horizons somewhat.
A phone call from one of my old MA tutors (or maybe he just shone a giant flashlight in the shape of a gumpy, album-panning bastard in the sky), and on this particularly stuffy Thursday night I'm headed up the M61 to see one of Manchester's greatest musical exports in action. It's Acid House pioneer and 808 State founder Graham Massey, with one of his more musically far-flung projects, Toolshed.
The history of Toolshed is a distinctive one, spanning two decades. Since starting in Manchester's Northern Quarter in the late 1990s as an Electronica night house band (of sorts!) directed by Massey, Toolshed has played host to a uniquely idiosyncratic lineup of musicians both local and international in a tag-in-tag-out style ensemble ranging from a 3-piece 'power trio' to a 28-piece 'big band'.
Tonight, the Toolshed experience is defined by six musicians. Between these six lies a multifarious offering of individual and collaborative projects and the format of the night allows us to get a glimpse of three of these before a full Toolshed set to finish proceedings.
I arrive while Skeltr are on stage. The seating area is full, so I stand off to the side a little and let myself get sucked into their mesmerising sax and drum interplay.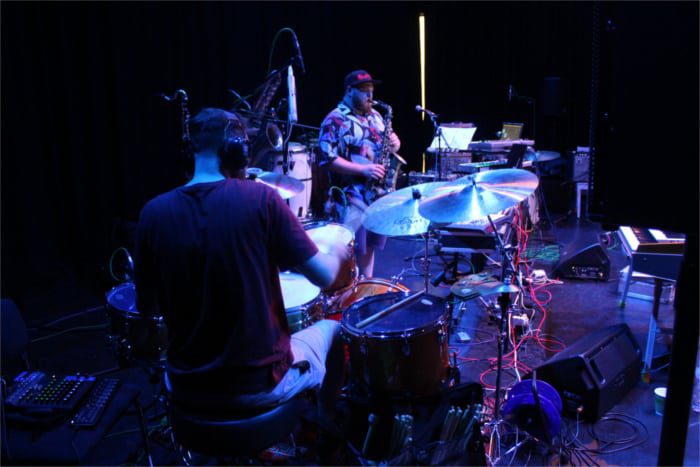 There's periodic intrusion from sax-man Sam Healey's synth keys, all of this caressed atop a synth, sample and occasionally vocal backing aspect. Skeltr's music is a refreshing twist on contemporary jazz, the structure to their pieces interplaying with the freeform freedom especially allowed to a sax and drum two-piece musically and spacially attuned to one another. Healey noodles himself into a frenzy on the alto sax, before stepping back and allowing drummer Craig Hanson to move into his more nuanced rotations. They end with drum solo vs a doctored Mr Bean theme opening. Remember, that choral opening from the old Bean videos? I probably still have them in the attic. No, you can't borrow them.
Next in line is soloist Afrodeutsche, the alter ego of Manchester-based musician Henrietta Smith Rolla. It's at this juncture that the lighting is stripped back to the bare minimum – a disquieting red glow – before Afrodeutsche starts in earnest. All I can see is a hypnotic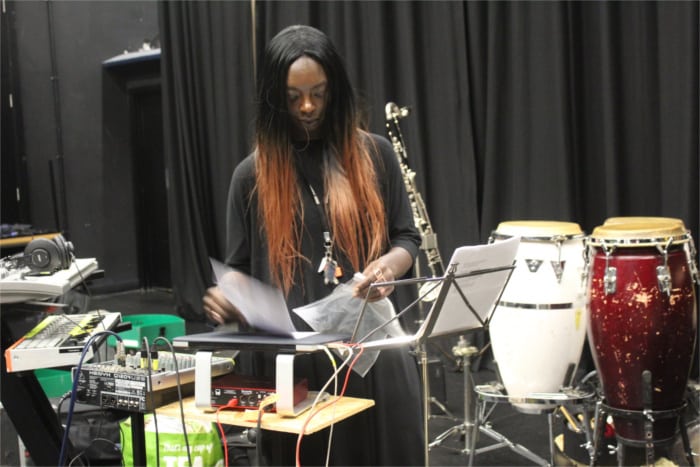 whip of hair across the synth setup as she works the crowd into a sense of cautious anticipation. I can't really pretend to know a lot about Techno and its affiliated sub- and neighbouring genres, because I don't – it's very much a depth of musical knowledge I have yet to plumb. I shamefacedly resign my commission as music editor, and accept for now the lesser role of 'guitar music scrub'. Also, it comes with double pay.
Tonight, the British-born composer, hailing from a truly multinational base of roots spanning Ghana, Russia and Germany, certainly generates a bit of atmosphere. There's a pulsing, yet brooding, groove interspaced with lithe synth sounds from her keyboards.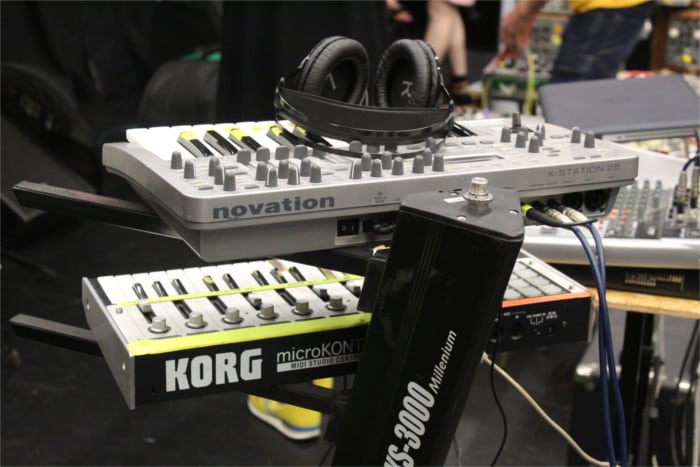 Slower sections throb their way into funkier elements, before breaking out into those climactic peak sequences that just feel like home (regardless of your prior generic affiliations). To be honest, I can't help but feel it's a strange venue for a performance of this nature – I've frequented underground clubs in Germany where I'm sure they'd happily be ripping off shirts and sweating away to Afrodeutsche for a few hours, yet the ambiance here is entirely tilted in favour of the audiophile. They seem to be enjoying themselves too, albeit in a much more Pinot Grigio sense of the word.
How to describe Paddy Steer, beyond eccentricity personified? The former Biting Tongues man comes on stage, resplendent in a golden robe with a huge hang-glider of a camo-look collar and a hat to match. If life were a video game, this guy would certainly be the one handing out quests. "Hat" is incidentally the name of his first track. To describe everything going on here would require more words and time than either of us have, so I'll attempt a kind of elongated summary.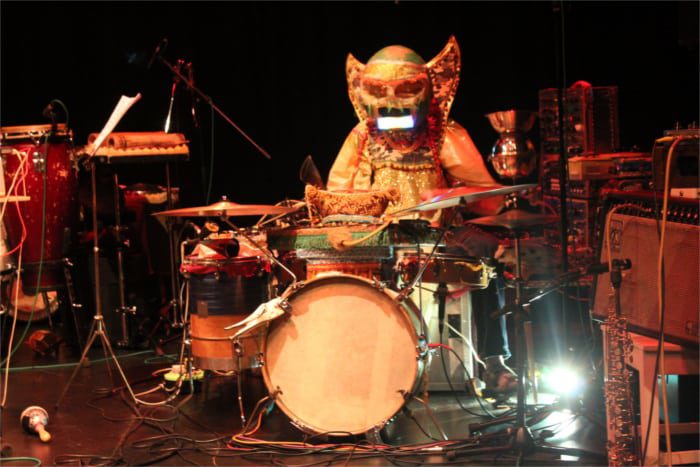 Paddy plays drums, percussion, home-made synth, electric glockenspiel and fuck knows what else. At the same time. Imagine that one-man-band guy you've probably seen hanging around a town centre. Drag him backwards through an acid trip and give him a beard and you're not too far off – particularly when he adds an alien-looking helmet to his repertoire for the second track. That one's called "helmet". I'm fairly enamoured with the chaos Paddy brings, as well as his quirkily chip-sounding synth noises. They please me. Before we know it, it's time for his last track. He gives us a choice – another "hat", or another "helmet". We go with "hat".
The vibe of the night so far has been very differently contextualised to what I'm usually faced with. It's more of a 'networking' crowd than my norm, however that's offset by a few free spirits who've availed themselves of the reasonably-priced bar. After a brief interlude, it's time to meet Toolshed as a unit.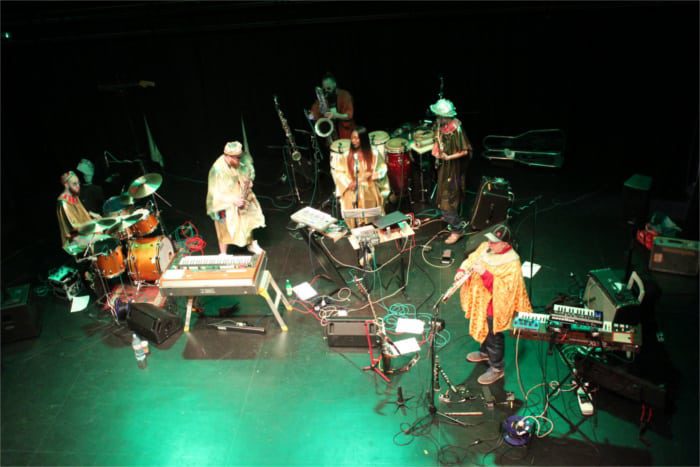 Tonight, Toolshed is composed thusly:
Graham Massey on guitar, synths, hammond organ, soprano sax, bass clarinet and iguarglaphon.
Howard Jacobs (who we haven't seen so far) on congas, percussion, clarinet, bass clarinet and bass sax.
Paddy Steer on bass guitar
Sam Healey (Skeltr) on alto sax and Yamaha organ.
Craig Hanson (Skeltr) on drums
Henrietta Smith Rolla (Afrodeutsche) on synths, percussion and vocals.
Now, as I've already mentioned, the membership of Toolshed is constantly evolving. It's that fluidity which inspires a unique touch to every performance, which I can confirm after a few hours of trawling through YouTube videos. All of these musicians (particularly Steer and Jacobs) are recurrent, but it's the difference and relaxed approach which makes the performance on the evening such an unsettling watch. Unsettling in a positive way – we've already been given the proof that each is uniquely talented in his or her own right, but this is akin to throwing the lot at a wall then seeing if we can call it a Pollock.
Naturally, I heave a big sigh of relief late on in the performance, once everything set up on stage had been blown, tapped, hit, slapped and tickled. That sense of exalted completion. It just felt right, like an excited child in a music shop. We'd had a ride that was progressive, yet reactionary. Collective, yet distinctly individualistic. A handshake with structure, through the glove of spontaneity.
Sometimes, the last minute plans are the best plans.
Photography by Sonja Gasparac. Not to be reproduced without express prior permission.

Jed the Music Ed. is a Music Promoter/Booking Agent and general fixer with Rawkus Events. Jed's interests include a constant and reckless over-caffeination, irrationally spontaneous travel plans and maintaining an over-expensive (borderline hoarder) PC/retro gaming habit.