Three bands, over 100 years of combined musical history, one night. Godflesh, D.R.I. and Goatsnake deliver.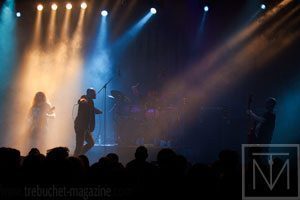 "Who the fuck are Goatsnake?"
Screams a pot bellied Swiss chemist at the point of release. Goatsnake are playing with a forceful intensity that just keeps building and bludgeoning, the audience is in awe. Goatsnake are impossible not to dig, taking the best parts of Jon Bonham's drumming, Iommi's subterranean guitar, and vocal elements of both Ozzy and Morrison, they are a masterclass in rock classicism without being 'classic rock'. It's a true resurrection of the forefathers of hard rock, authentic, enlightened and in many cases better.
It's a weird night. A diverse crowd full of industrial hippies, crust punks and snotty office workers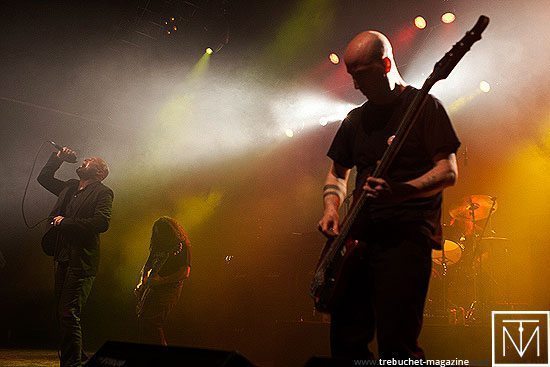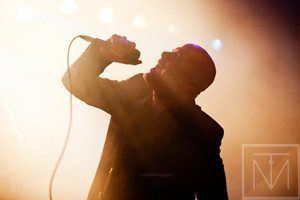 Taking notes while the crowd sways around me it becomes apparent that holding a pen and a notebook is an invitation for the crowd to share some of their more bizarre whims. As Greg Anderson's distorted chordal vestiges die away marking the end of another rock epic a giant hairy metaller declares loudly:
I have a tiny but persistent erection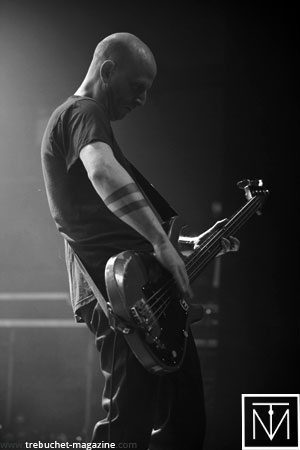 Someone close to him ventures a hug as a bearded chap sucks on his dreadlock coquettishly. It's a weird night. A diverse crowd full of industrial hippies, crust punks and snotty office workers wander around absent mindedly kicking things and screaming. I like it. It feels like a gig should. Freaks, outsiders and the eager all clumped together in homage to rock.
Sometimes you hear a band that contains so much music you want to scream it to the world, punch the air and squeezing your eyes shut slam your head into a speaker. Goatsnake move you. It's like meeting a hot new girl after eeking out time with an old flicker. So many bands are just going through the motions that finding a band that solidly puts out without resorting to gimmicks is awe inspiring. As a supergroup of sorts Goatsnake are the band Them Crooked Vultures should have been but even so they have their work cut out for them. I wouldn't want to follow D.R.I., would you?
Putting it down that you don't need to sing if you've got something to say.
D.R.I. have been around a long time. In the early 80s they pushed both punk and thrash genres hard, bringing new levels of energy, attitude and ability to the US Hardcore scene. It's fair to say that D.R.I. pretty much laid the groundwork for thrash's Big Four. Putting it down that you don't need to sing if you've got something to say.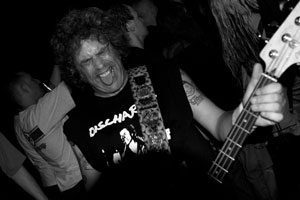 Metal doesn't have be to (just) about fairies and partying. Punk tells us that the local is real, the grind of daily boredom is as important as whether or not we have a more capital or more social economy. Not without precedent but D.R.I. brought in those larger perspectives, keeping them at a low rational level, and steadfastly refusing to appeal on a primary coloured emotional level of jingoistic generalisations. They were important, okay? Current flavours like Mastodon (who are great) might be climbing a mountain hugging the jade gallstone of a bohemian Yeti but D.R.I. burnt the keep and helped the princess do shifts at an outpatient's clinic for arthritic dwarves.
Your number's up, you have to go
The system says, "I told you so"
Stocked in a plane like a truckload of cattle
Sent off to slaughter in a useless battle
Thousands of us sent off to die
Never really knowing why
Fuck to system, they can't have me
I don't need society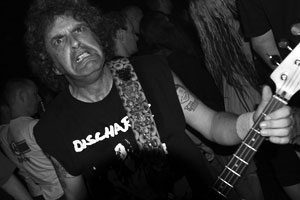 D.R.I ripped through their short set moving the early doors crowd enough to spill post work pints and pump blood. They tour constantly, see them, wear something disposable, say 'Hi' to bassplayer Harald as he invades the crowd. It's good.
Usually, when a crew changes the backline between sets things are exchanged. Big drum kit for big drum kit, Amp stack for Amp stack, One band being more or less like the first. Not this time. As Goatsnake's equipment leaves it's replaced with… nothing. Finally, an ancient Marshall Twin cab and Bass cab are edged onto the sides of the stage. A couple of guitar cases are put down without ceremony. A background projection flickers on. 'My First Video' proprietary software ticks over in the corner. Honesty. Emptiness.
Streetcleaner was big; psychically, emotionally, musically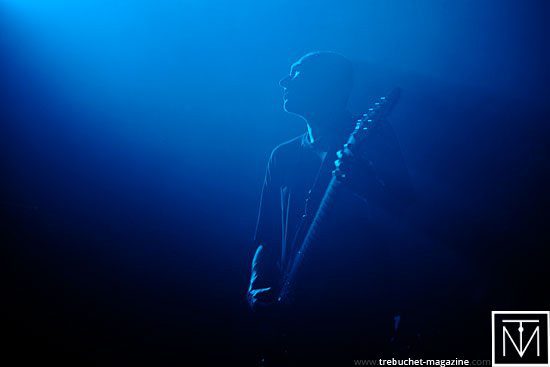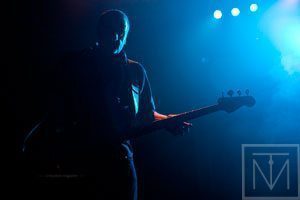 Godflesh have never been easily categorised. They are as much dance music as they are industrial as they are metal. To some extent they have been labelled more clearly by those they influenced than their own work. It's a UK thing. Hugely influenced by golden ear HipHop they stand alongside Meat Beat Manifesto as one of the 80s UK groups that took the elements of early electronic music and post-punk to create hybrid-heavy music that depicted the frustrations of dispossessed white urban culture. With Streetcleaner Godflesh left their mark on music forever, influencing countless bands and creating a taut vision that would carry on for the rest of their career. Largely written when Justin Broadrick and G.C. Green were Birmingham teens in Head of David, the bleak council estate landscapes paint a picture of anger, resentment, futility and rage. Broad themes, conspicuously male, primal and violent, but most dangerous of all – coherent.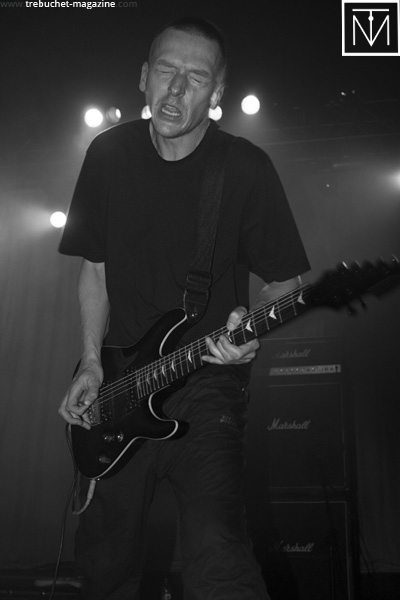 Finally yielding to promoter pressure Goldflesh reformed in 2009 (disbanding around 2002) and have played a smattering of shows around the globe. Still at the margins of genre, their reunion has been met with respectful coverage by a media largely unsure how to pitch them to modern audiences. Too dance for the metal mags, definitely not suitable for dance audiences, Godflesh remain an outsider's band by blokes simply too regular to court a scene. One thing that all press can get behind is that Streetcleaner was big; psychically, emotionally, musically, and with that as the focus this tour sees Godflesh perform the album in its entirety.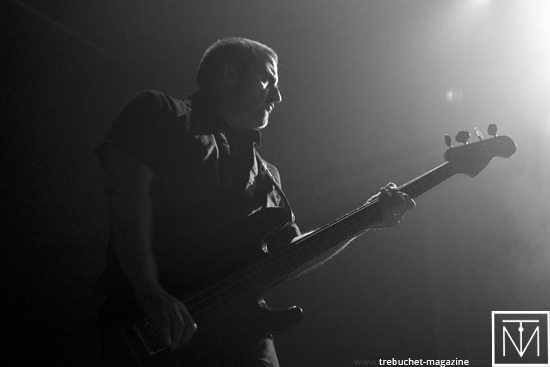 Honesty. Emptiness.
Godflesh take the stage and while Ben looks his years Justin appears like the snarling council estate teen we imagine preached anomie in Like Rats. As the opening barrage hits us the memories come flooding back, washing over contemporary events in obvious ways; gulf war, unemployment, Conservative political shenanigans, riots, and revolutionary youth.
Don't hold me back
This is my own hell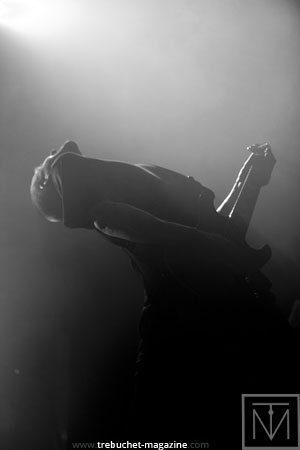 Smoke pours out of the wings in a weird way. It's too much and strange considering that Godflesh shouldn't really do smoke, or mirrors. It covers the stage as Green frowns slightly. In interviews Broadrick has spoken about how Streetcleaner is a different experience for him now. He still remembers why he wrote it; the frustration, the anomie. He still has those feeling but they're concentrated now, distilled with time. There is a focus now to his anger that allows him to step away from it. The audience feels the same. We're older but the energy is still there, untempered by ambient albums or indie based songs, Streetcleaner rocks. It's a powerful reminder for those that might have forgotten, Godflesh have 'it'. They're still relevant, it still means something and it sounds fresh, perhaps even righteous.
Live, Godflesh defines 'visceral', battering the listener in animalistic ways with machinelike sympathy. Each roar of static, attacking bassline, fraught note slams the audience with an incredibly compressed dynamic that shocks the juddering system. Once you've become slightly accustomed to the brutality the developed sense of groove which underpins Streetcleaner comes to the fore and it's time to dance.
As Broadrick's tall frame kinetic and tense slashes away at his seven string guitar, Green solemn and precise steals the show. His sense of timing and sound is immense. Broadrick has mentioned that in some respects Green is Godflesh, and tonight this is true. The tense persistent bass not only pulls the audience through the set but it becomes clear that the bass IS the album. Green's deft work carrying the rhythm and much of what melody there is leaves Broadrick to add emotional and tonal textures and, of course, more attack!
Once you've become slightly accustomed to the brutality the developed sense of groove which underpins Streetcleaner comes to the fore and it's time to dance.
True to the album, the show is intense and unrelenting. Wave after wave of jackhammer beats and blasted static cry out; anthemic and rejoicing, while Green's tight bass work cuts through creating a massive wall of sheer power. They leave the stage and are suddenly back with the most intense song I have ever heard; Crush My Soul. In the annals of heavy music this is up there with Paranoid. No question.
And then it's over. People wander about dazed, clutching empty plastic glasses in shock. A big night has come to a close and inspired audience members plan rehearsals, riffs and effects pedal purchases. Closing thoughts are that it's fantastic when a gig line-up contains diverse acts of this calibre. London promoters take note.
Godflesh, Goatsnake, D.R.I at the HMV Forum 16th June 2011.
Photos: Carl Byron Batson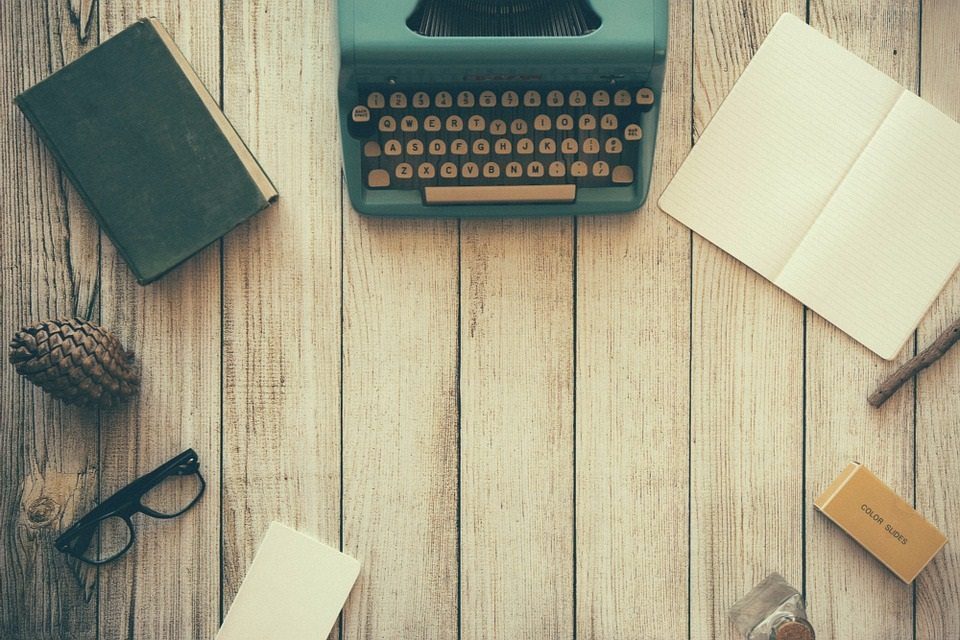 The aim of art is to represent not the outward appearance of things, but their inward significance. – Aristotle