[dropcap style="font-size:100px;color:#992211;"]S[/dropcap]

ET Alscot Road present Volcanoes & Regret, a new work by the Scottish artist George Finlay Ramsay in his London solo debut.

The culmination of a three-year project, Volcanoes & Regret pivots around the act of burning human regrets in volcanoes. It includes three films, a live sonic installation, and a Volvo 240 estate car encased in a volcano-proof suit.

In 2017 and again in 2018, Ramsay invited people through an online callout to write down their regrets, so that he could take them to an active volcano to burn them. He received more than 200 replies and began the films in 2017, travelling to Mount Etna, Sicily, Italy, then in 2018 to the remote volcanic peninsula of Kamchatka. He says: 'Our weakness connects us, when you read a stranger's regrets you feel strangely close with them, an unspoken intimate bond is formed, sometimes across continents. I wanted to take them to a volcano to burn because this seems like the only logical thing to do.'

Book of Regrets: For Kamchatka documents the 4593-mile journey to Kamchatka by train, takes in local indigenous legends about volcanoes and witnesses the moment that the book of regrets is hurled into the inferno. The second film, Stromboli: Interview with a Volcano, is a short dialogue between George and the volcanic island Stromboli. Meanwhile, Vulva to Ulva records his journey to Ulva, a prehistoric volcano off the Isle of Mull, in his car, Vulva.

The sonic installation, Volcano Lover, is described as 'an array of sound-making machines, often of domestic or geological bent, which respond to live volcanic data'. At the exhibition opening on 26 October this will be activated by live performance from Ramsay, who attempts to communicate with volcanoes using voice, drone, ecstatic movement and telepathy.

Finally, V is for Volvo, Vulva, Volcano, is an installation formed of the artist's Volvo 240, which is renamed Vulva and cloaked in a volcano-proof suit, with an ashen volcanic landscape in her boot. Vulva to Ulva will be projected onto the car's windscreen.

Volcanoes & Regret runs at SET Bermondsey from 27 October – 30 November, preceded by a live event on 26 October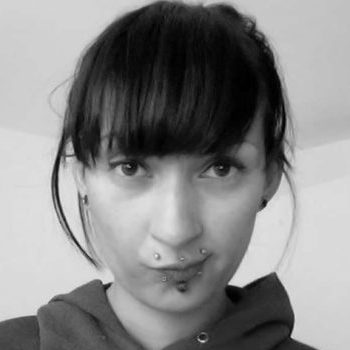 Naila Scargill is the publisher and editor of horror journal Exquisite Terror. Holding a broad editorial background, she has worked with an eclectic variety of content, ranging from film and the counterculture, to political news and finance.