[dropcap style="font-size:100px;color:#992211;"]H[/dropcap]

ayward Gallery presents a major retrospective exhibition devoted to the work of celebrated British artist Bridget Riley. Spanning 70 years of the artist's working life, it is the largest and most comprehensive exhibition of her work to date.

Riley is one of the most distinguished and internationally renowned artists working today. Her pioneering approach to painting involves the skilful balancing of form and colour, yielding a continuous but highly varied enquiry into the nature of abstraction and perception. Her rigorous and visually charged works actively engage the viewer, bringing attention to the act of looking at paintings and perceiving the world around us.

Including over 200 works and 50 key paintings, the exhibition traces both the origins and evolving nature of Riley's practice. Chronicling early works to recent paintings, it features her iconic black-and-white works of the 1960s (Kiss, 1961; Movement in Squares, 1961; and Blaze 1, 1962), an extensive range of colour canvases (among them Rise 1, 1968; High Sky, 1991; and Aria, 2012) as well as her rarely seen figurative works and studies.

The exhibition also features four key wall works (Composition with Circles 4, 2004; Rajasthan, 2012; Quiver 3, 2014; and Untitled (Measure for Measure Wall Painting), 2017) which reflect recent shifts of interest in the artist's studio work. Also featured are several large canvases that have seldom been seen in this country (Exposure, 1966; Paean, 1973; and Aubade, 1975) and the only three-dimensional work that the artist ever realised, Continuum (1963/2005).  In the Hayward Gallery foyer, visitors will encounter a rarely seen flag, Flag (Red – Turquoise – White), 1971, which has not been exhibited since the 1970s.

Alongside the exhibition, an extensive public programme has been devised spanning lectures, talks, tours, education events and music inspired by Riley's work. 

London Sinfonietta will give the London premiere of a newly commissioned work by leading Austrian composer Georg Friedrich Haas, and concerts in the exhibition itself will feature performances of Steve Reich's Drumming, which had its European premiere at Hayward Gallery in 1972.

Bridget Riley runs at Hayward Gallery from 23 October – 26 January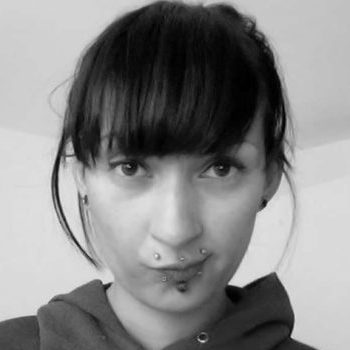 Naila Scargill is the publisher and editor of horror journal Exquisite Terror. Holding a broad editorial background, she has worked with an eclectic variety of content, ranging from film and the counterculture, to political news and finance.