[dropcap style="font-size:100px; color:#992211;"]F[/dropcap]ish has had something of a troubled year gig-wise.
First he was forced to postpone the whole of his May UK tour due to the combination of guitarist Robin Boult's severe case of chicken pox, and a new keyboard player not working out in rehearsals. Then the singers' nightmare, a bout of viral laryngitis, took out a big chunk of his extensive European tour including the entire French leg. At one point it looked as though his December UK dates, rescheduled from May,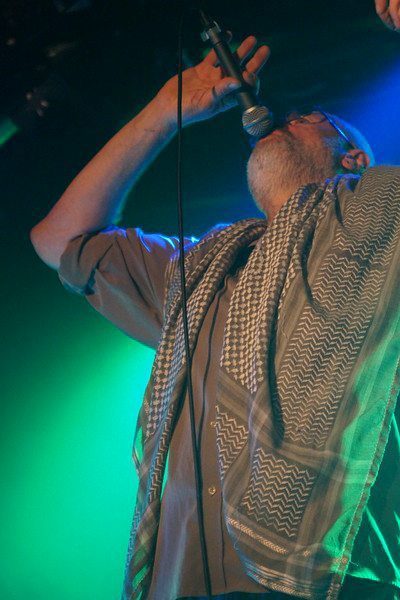 might be in doubt. But good reports from the early dates suggested things were back on track.
It's a long time since Fish came to Reading; the appearance at Sub89 was an additional date, not part of the postponed May tour. His current touring band now includes It Bites' John Beck on keys alongside Robin Boult and the long-serving rhythm section of Steve Vantsis and Gavin Griffiths.
They began with the lengthy and brooding "Perfume River", the opening track from last year's Feast of Consequences, building from Floydian keyboard washes and rippling guitar to a hard-rocking conclusion. Next came the more straightforward singer/songwriter-style rocker of the title track. The travails of Fish's love life continued as the theme of the early part of the set, for next came a couple of songs from his bitterest break-up album, 2007's 13th Star, the second of them introduced with a lengthy monologue about the way his story of his string of failed relationships left a therapist in tears.
But the centrepiece of the set was the five-song "High Wood Suite", the very moving concept piece about the Third Battle of Arras in First World War in which both his grandfathers fought. In last year's tour to promote the album they'd played the highlights, omitting the poignant closing song "The Leaving". This time they performed the suite in its entirety, and it gains far more power when played in full. It says something that in a venue that's often notorious for background chatter, you could have heard a pin drop during "The Leaving".
After that tour-de-force it was crowd-pleasers from much earlier in his career; the rock workout of "Big Wedge" from his first post-Marillion solo album Vigil in a Wilderness of Mirrors, followed by the title track itself, introduced with a lengthy rant about the Scottish independence referendum and a call to political action, and sung from the middle of the crowd rather than from the stage. A crowd singalong of the Marillion hit "Heart of Lothian" closed the main set.
The encores were an intense "Incubus" featuring some impressive guitar work from Robin Boult, who doesn't get many chances to play a big solo in this setlist, before the show ended with another crowd singalong, the drinking song "The Company".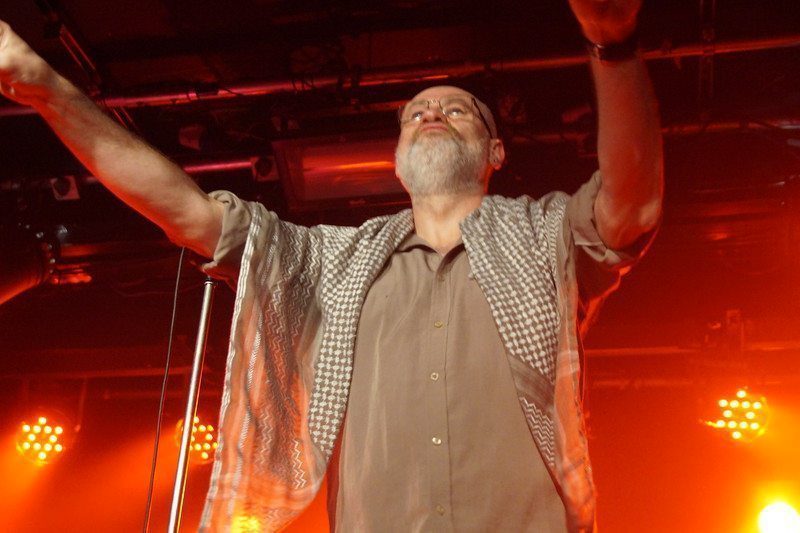 Fish was on superb form, with no trace of his earlier voice problems. It's true that he doesn't have anything like the vocal power and range of his younger days, sometimes meaning older songs need to be played in a different key. But his stage presence and force of personality is enough to carry the show. With Marillion themselves also on tour at the same time it's interesting to compare the two; Fish's band, looser but more energetic, are far more rock'n'roll, and have a quite different feel even when playing Marillion material.
The setlist made a great contrast with that of his last UK tour in 2013. Although the highlights from "Feast of Consequences" featured heavily both times, the rest of the set was completely different, without a single song in common. Like his former bandmates Marillion, and unlike far too many other 70s/80s veterans, there are no standards which you can expect to hear tour after tour. Nobody seemed to care that "Kayleigh" wasn't played.
With Fish giving indications that this may well be his final tour of club venues on this sort of scale, it's a case of "see him while you can". He's still got it, and still puts on one hell of a show.