Feed The Rhino
To say Feed The Rhino's set was Hevily anticipated (see what I did there?) would be a bit of an understatement – their ability for brutish, energetic live shows and ability to adapt to any venue and crowd size has made them the hot ticket this summer, and they have enjoyed a lot of exposure for it.
I had the fortune to catch their phenomenal set at Download in June and was converted from casual observer to headbanging fanatic in the space of half an hour.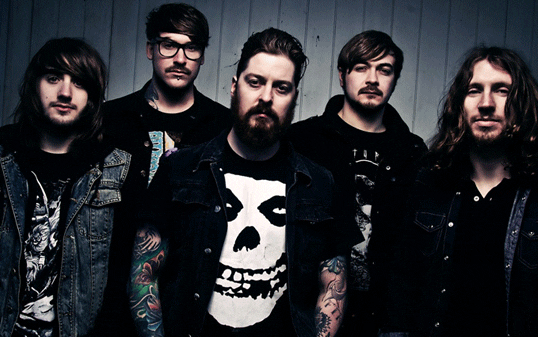 In an age where (a little sadly) aesthetics are as important to the hardcore scene as musical ability, Feed The Rhino cover all of the bases – as one hipster said to another, "we've gotta catch Feed The Rhino, man, his beard is reem". I guess frontman Lee Tobin does rock a quality beard, but thankfully FTR's musical ability seems to be the draw for most of the crowd as they pour into the tent ready for the latest crushing set from the 5-piece.
[box] frontman Lee Tobin does rock a quality beard[/box]
They waste no time as they roar through track after track, goading the crowd into non-stop moshing with every crunchy Every Time I Die-esque riff and roared vocal. This is nothing new – Feed The Rhino have a habit of livening up crowds of any size, and the brilliant movement of fans old and new demonstrates perfectly the reasoning behind Hevy's booking them as they pull in what is to be one of the best crowds of the day.
By the tail end of the set, the crowd are right in the palm of Lee's hand – and he constantly prods them into motion on command. Although the stage-work and movement is exceptional in general (so much so that the band are seen to be dumping whole bottles of water on their heads to cool off), Lee's frontmanship seems to get even bigger, better and energetic with each passing show.

The crowd respond to this, with the result that when Feed The Rhino tell this crowd to do something, they do it. It's that simple.
Towards the end of the set, the order is barked for everyone to "sit the fuck down", a move reminiscent of Slipknot's 'Spit It Out' escapades. In one of the most successful crowd interaction moments of the weekend, everyone does – then goes wild on command, surging around the tent until the song and set come to an impressive close. Another sparkling moment from the Kent hardcore mob, duly delivered. How wonderfully "reem".
[button link="www.feedtherhino.co.uk/" newwindow="yes"] Feed the Rhino Official[/button]

Jed the Music Ed. is a Music Promoter/Booking Agent and general fixer with Rawkus Events. Jed's interests include a constant and reckless over-caffeination, irrationally spontaneous travel plans and maintaining an over-expensive (borderline hoarder) PC/retro gaming habit.