[dropcap style="font-size:100px; color:#992211;"]S[/dropcap]ome time ago, I had the pleasure of meeting Dorielle Caimi at the opening reception for her first solo show Complex Candy.
Not only is Caimi a sweet, down to earth, and truly gracious young woman, but the technical aptitude evident in her eerily realistic figurative oil paintings indicates a promising future.
Reminiscent of works from the Italian Renaissance, Caimi's work highlights the female form. Dissimilar to works of this period, however, her nudes are less idealized and more true-to-life. Hardly grotesque, her women do highlight the less flattering aspects that often accompany the female form (such as tan lines, imperfections of the flesh, and poor posture). Influenced by John Currin, who employs a similar style, Caimi's work is an interesting juxtaposition between classicism and contemporaneity.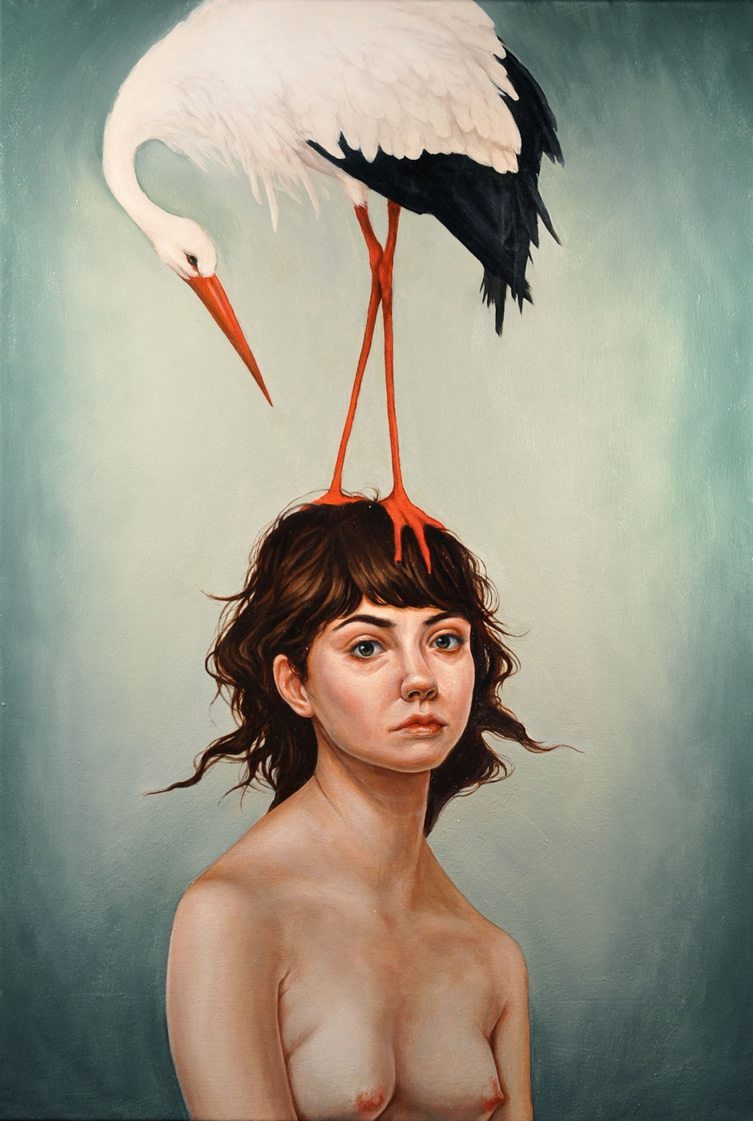 Dorielle Caimi 'The Weight'
Unlike Currin's tendency to sexualize his subject matter by placing women in provocative positions, Caimi's agenda differs in that her work "moves beyond sexual objectification," as explained in a press release for Complex Candy. "Examining the ideal of innocence as a virtue lost to soon, Caimi's nudes resist vulgarity and sexualization. The bright, vivid colors serve to draw the viewer in closer to the women, whom the artist imbues with psychological complexities."
Despite the heavy symbolism characteristic of Caimi's work, her process is anything but contrived. In speaking with the artist, I learned that that most of the images she features in her paintings come to her without warning. Sometimes she isn't even cognizant of their significance. Rather, it isn't until she gets her ideas down on the canvas that she begins to understand their meaning.
In an interview with Combustus, Caimi emphasizes how cathartic the art-making process is for her. It is a vehicle she uses to channel her inner demons. More so, it provides her with an outlet to explore and ultimately tackle the larger issues with which she has difficulty reckoning. Take for example "The Weight," which depicts an exasperated woman upon whose head stands a stork. Both the title and subject matter refer "to the pressure on young women to someday have children. It's a stork, and a threatening one at that. It illustrates the struggle women fight with their own biology."
Although Caimi's paintings place a psychological lens on the societal pressures that confront women in today's society, her ability to incorporate humor into her work is not just refreshing, but it suggests that she doesn't take herself too seriously.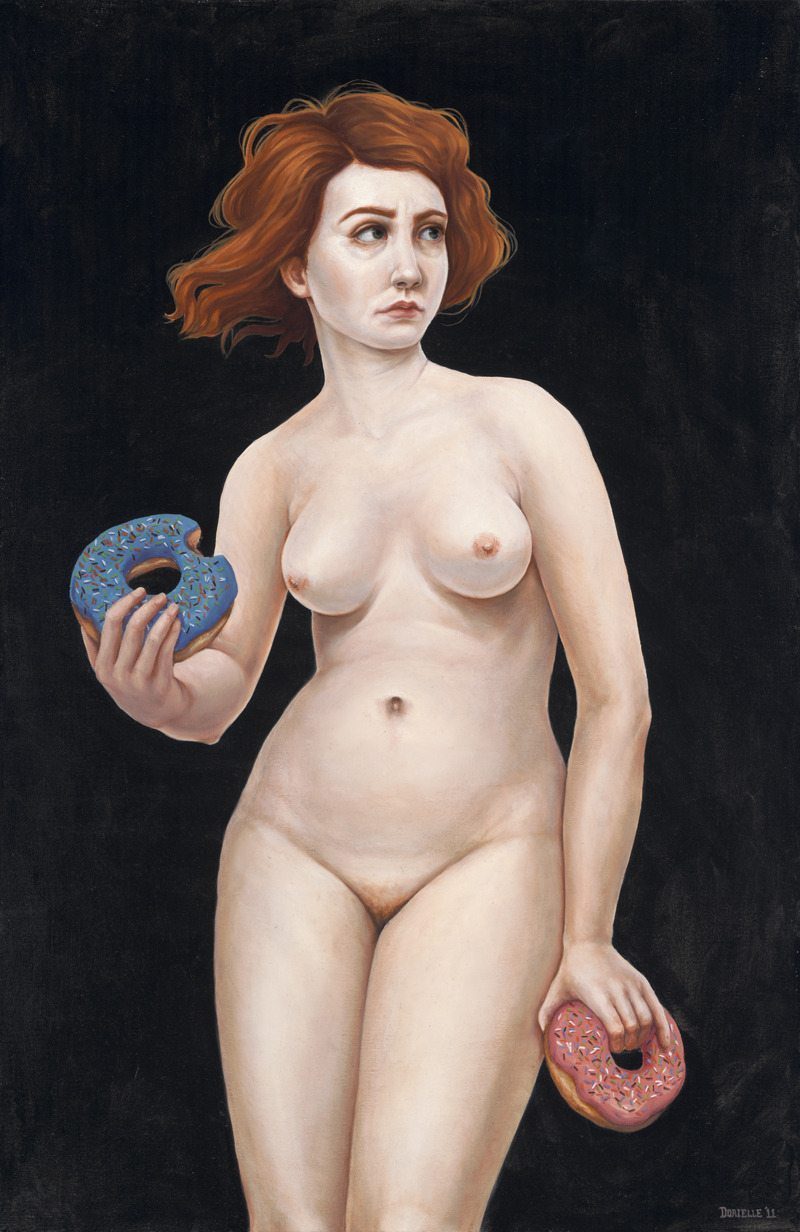 Dorielle Caimi 'If It Wasn't This, It Would Be Something Else'
"If It Wasn't This, It Would Be Something Else" is a perfect example of what Deanna Elaine Piowaty describes as the "sort of Rumplestiltskin-like glee" viewers encounter upon seeing one of Caimi's paintings. The painting features a woman whose posture alludes to the subject of Botticelli's infamous "Birth of Venus." Unlike Botticelli's chaste embodiment of beauty, however, Caimi's Goddess of Love looks more like a guilt-ridden Eve, having taken a bite out of a large sprinkled doughnut.
One of my favorite portraits of Caimi's is a recent work entitled "Our Furs." By depicting a woman sporting a fur that matches her neon pink pubic hair, Caimi pokes fun at the ridiculous lengths women go through to appear soft and feminine. While I love the way in which Caimi once again uses humor to express an issue with which I can only assume she has wrestled herself, I find "Our Furs" particularly appealing because of her model's expression.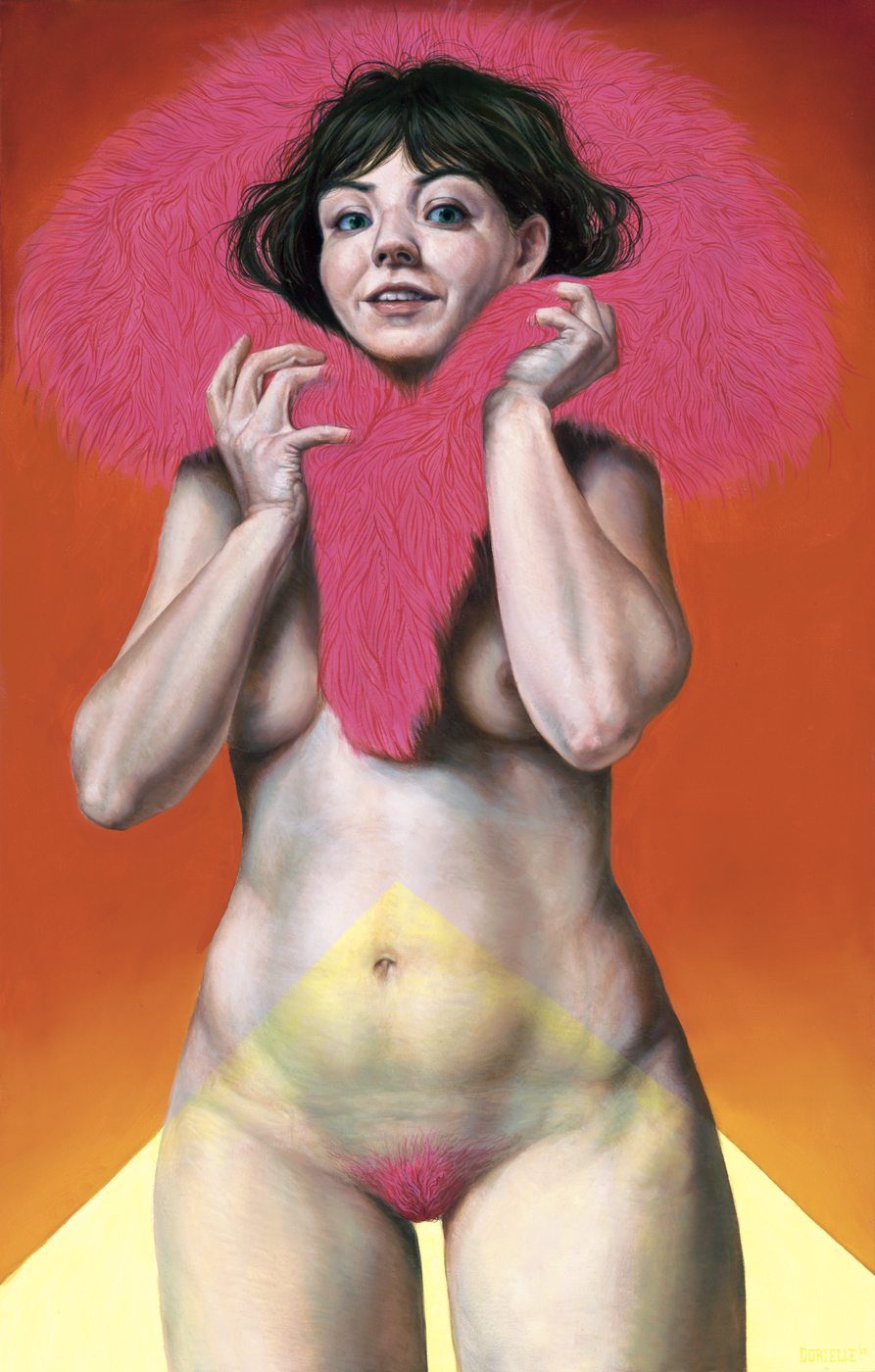 Most of Caimi's paintings feature women who appear anguished or perplexed. The woman in "Our Furs," on the other hand, is smiling. This change in attitude indicates that Caimi is evolving, as both an individual and as a painter. To see this transformation on the canvas itself is not only inspiring but a true testament that Caimi honestly uses her medium as an outlet from which she strives to grow.
[button link="http://dorielle.com/paintings" newwindow="yes"] Dorielle Caimi[/button]