[dropcap style="font-size:100px; color:#992211;"]A[/dropcap]s I mentioned earlier; not only were movie stars 'at it' in the pages of the TJ Bibles but familiar characters from the mainstream comic strip world were also frequent visitors to Smut City California.
The lithe Flash Gordon deflowered scantily-clad space virgins on the planet Mongo while Tarzan swung his athletic prowess just the wrong side of his girlfriend's loincloth. Cheetah the talented chimpanzee, included for purely comedic reasons, modestly covered his eyes when the King of the Apes got down to jungle business with Jane.
Meanwhile, back at the mansion, Little Orphan Annie rolled her blank eyes at Big Daddy Warbucks. Out on the coast in peaceful Sweet Haven, Popeye's ultra-skinny girlfriend Olive Oil gave her all to a generously endowed travelling salesman. Presumably the cantankerous sailor was engaged elsewhere with his close friend Wimpy.
This riotous outbreak of surrealistic mayhem on the California sexscape eventually led to the mad tit-flicks of Russ Meyer in the '50's and 60's, followed by an earthquake of porn spoofs in the 70's such as Flesh Gordon, King Dong and On Golden Blonde. The ensuing decades heaved up Shaving Ryan's Privates, White Men Can't Hump, Battlestar Orgasmica, Sperminator, and Pulp Friction.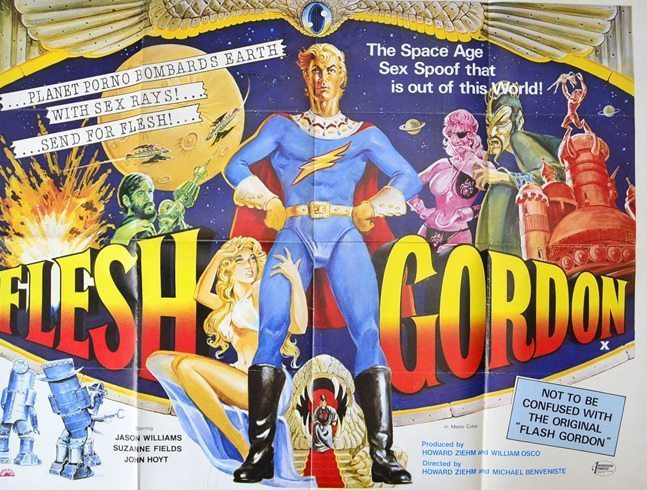 It seems that once comedy crept into the white hot beam of the California Death Ray it never quite found its way out again. Old time pornography was a lusty, busty widescreen entertainment played for laughs to an adult crowd. Nowadays it's watched by children.
Fun with a merciless edge and a ruthless desire to exploit the reader's basest impulse were the brazen tools of the greatest exponent of the Tijuana Bible cartoons. Mix in more than a smidge of racism along with a canny eye for cutie pie, and you have the work of Wesley Morse.
By 1954 the Bibles were history and Morse was 67 years old, so when the Topps Bubblegum Company offered him the job of creating a character based comic strip small enough to fit inside a gum package he gracefully accepted. Not that he had been idle in the intervening years; his portfolio contained work for advertising agencies and some extremely classy clients.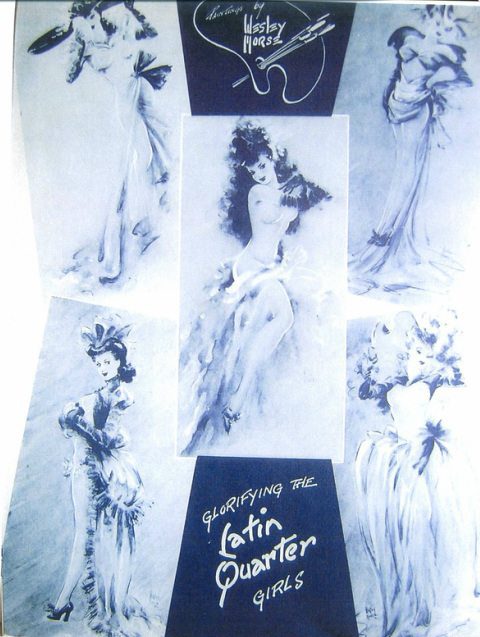 After the Second World War he designed wall murals, menus and souvenirs for upscale nightclubs including the Latin Quarter and the Copacabana. In his spare time he had dated screen stars such as Ruby Keeler and Barbara Stanwyck before settling down to a long lasting marriage.
What he created for Topps was both sly and determinedly unwholesome. The gum was already called Bazooka, and the name of the character had been decided by public contest but it was Morse who breathed squirmy life into the trademark hero and surrounded him with equally bizarre and distinctively garbed pals.
They all had cool funk-style names like Pesty, Mort or Hungry Herman. Bazooka Joe's gang simply hung out and swapped elliptical comments or 'jokes' in 3 or 4 panel stories small enough to hold in the palm of your hand.
They may well serve a better class of bubble gum today but back in the nineteen fifties the Topps product was arguably the worst on the market. It was Morse's off-key worldview printed onto cheap wax paper that sold pink goo to post war innocents.
Kids bought the gum just for the pleasure of hanging out with a bunch of imaginary pals, who were both interesting and interested in selling arcane objects of desire. Joe urged the readers to send away for his secret Bazooka Joe siren rings so that they could join the secret Bazooka Joe club and get a secret code to decipher cryptic messages which were buried in the strip's text. The whole mail-order package also included a Certificate which, apparently, you could proudly show to anyone.
After all what's the point in being in a secret club if no one knows about it?
Children begged parents to purchase the hermetic items which BJ peddled with such ruthless zeal, launching a marketing bonanza that spread like a California wildfire. All around the world kids went crazy for Topps product and merchandise. The strips were never that funny anyway so the humour lost nothing in translation.
This innovative gum/cartoon pairing, masterminded and rendered in primary colours by Morse, rapidly became a powerful money magnet. Topps later went on to feed children much uglier material with their celebrated Mars Attacks and Garbage Pail Kids series but it was the eyepatch kid who started it all.
N.B. From the beginning Topps has consistently claimed that BJ can see out of both eyes perfectly well. Apparently the patch is simply an affectation or style accessory.
That's the mundane explanation for rubes.
Much of the strip's child-friendly appeal rested on the notion that BJ was a confident kid with a serious disability and I am sure that Topps were aware of this from the get-go.
From a classical perspective he springs from the one-eyed-god branch of the mythological tree. Like Odin, Balor and hawk-headed Horus, who lost an orb in battle with his half-brother Set, BJ's right eye is firmly closed so that he can see clearly into the essence of all things. As the right eye clicks shut like a coffin lid so the left becomes illuminated with inner-vision.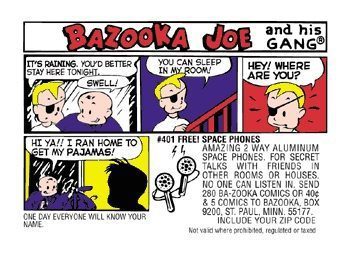 And baleful when it sees the true horror of the material world which it must first invert then finally destroy.
For the record: Bazooka Joe is a one eyed boy who heads a secret society and is named after a powerful projectile weapon. He was given life by an ex-pornographer then wrapped in wax and sold to children.
That's the power and subtle complexity of the Death Ray in action.
Morse firmly established the tone of the strip during his tenure from '54 until 1963, the year that he died. His early successors simply carried on where the old man left off, but in nineteen and sixty seven, when the California Death Ray was at the height of its power, it handed the fate of Bazooka Joe to a talented young artist named Jay Lynch.
It is Lynch who links BJ to a second wave of pornographic comic books produced in the State of California.
Join the secret SWP gang again in our throbbingly exciting next episode: THE DEATH RAY GOES UNDERGROUND!
Read on. Part One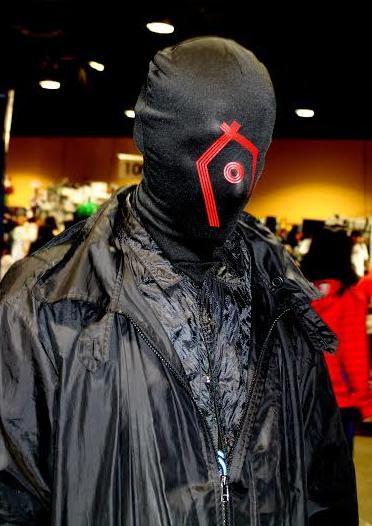 Having completed principal photography on phase one of the Sharks revival SWP is now preparing to edit the One Last Thrill feature documentary. Sharks themselves are 'dropping a big one' by releasing a double album Dark Beatles/White Temptations in April 2018.
In his spare time the author kayaks the muddy river Ouse and walks the South Downs which gently enfold his home town of Lewes.