[dropcap style="font-size:100px; color:#992211;"]N[/dropcap]ottingham band, Dick Venom and The Terrortones first grabbed my attention by the throat at Camden's Dublin Castle.
Sporting a quiff of cartoon proportions, their frontman flaunted his filthy fetish club style state of undress shamelessly as he dragged his retro micstand through the startled (yet amused and intrigued) audience whilst singing about sticky pants and looking like the long-lost love child of The Cramps.
On lead guitar was a stunningly tall and beautiful female, who towered over the considerably smaller bass guitarist like a grindcore heroine about to slice him up.  Off stage they were sweet as cherry pie; onstage there were Mental Health Act concerns.
A few years on, the Attack of the 50 Foot Woman guitarist is no more as she has moved on to other pastures, but undeterred, their feet never left the distortion pedal as they picked up another degenerate guitar-wielding hitch hiker on the fast road to Sleazeville.
The new EP, released on 9th September, is a fierce onslaught of B-movie madness. Opening track 'Invasion of the Spider Queen' is a spirited blast of pounding bass and fast, chuggy guitar.  Dick's vocals have a powerful classic rock gruffness with the occasional squeal and more rolled R's than Johnny Rotten.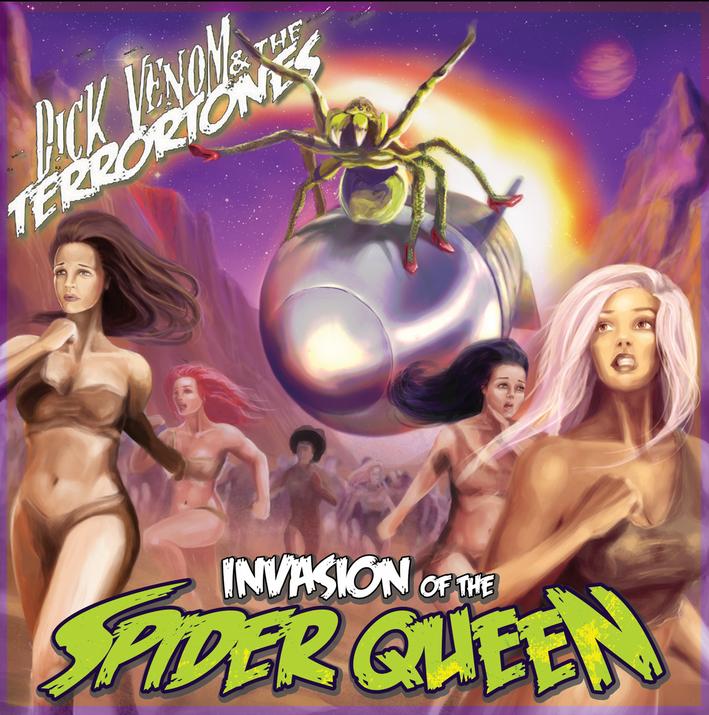 Don't be fooled by the oversized quiff; there's very little about their music that is rockabilly or surf.  The energetic hard rock edged sound nods to Motorhead and to Vince Ray and the Boneshakers as it thunders down the tracks.
There is even more cock in the rock on second track, 'Planet of the HoneyFuzz', which starts with some dirty bass guitar riffs underpinning an inflected Lux Interior style talk over, which soon erupts in AC/DC style head banging chords with strong, glammy Noddy Holder-esque growly vocals.
Final track, 'DoodleBug Blitz' opens with old school punk riffs that wouldn't sound out of place on Never Mind the Bollocks. Initially the guitar is trashy and thrashy, conjuring up images of the New York Dolls fronted by Jello Biafra in suspenders. Unfortunately the riffs and rhythms then descend into predictability making it the weakest track on the EP (indeed it features on the single but not on the download version) but is redeemed by having the catchiest chorus of the three with the line, "Don't get your pantyhose in a twist," boring into my brain like an alien spawn.


The record comes with an illustrated comic booklet ramming home the B-movie theme but this is not a band that needs to be illustrated in order to look larger than life.
The real strength of Dick Venom and the Terrortones lies in their live performances.  Whilst the EP conjures up a snatch of their down 'n' dirty rock 'n' roll adrenaline, this is a band that should be seen as well as heard, so turn off the stereo and get yourself down to their gigs.
Unlike the live experience, the magic ingredient missing from this EP was the element of risk.  The riffs work well but are a bit on the safe side.  As their sound develops, hopefully they will push the boundaries further and create something really interesting.
If you expect bands with quiffs that sing about vintage sci-fi to have twangy Gretschs and a double bass, this might not scratch your itch.  But if you want hard rockin' metally punk with catchy choruses, then get on board.
'Invasion of the SpiderQueen' is released today on Jailhouse Morgue Records.
[button link="www.dickvenom.com" newwindow="yes"] Dick Venom[/button]
[button link="www.jailhousemorgue.com" newwindow="yes"] Jailhouse Morgue[/button]