[dropcap style="font-size:100px; color:#992211;"]I[/dropcap] have seen many things in my years of gigging.
Some were merely strange. Others, I would have put down to other things influencing me if there weren't any photographic proof: people suspending themselves with meathooks and swinging through the air for the duration of their set; a man dressed as a giant robotic crustation getting thousands of people to imitate a crab; a man wearing a gimp suit playing keyboards and having his own personal slide to get down off his platform mid-set, and a man dressed as a tube of toothpaste with a green flare in hand leading the customary circle pit procession.
None of these quite measure up to seeing a skullet-sporting, catsuit-wearing man plant a blow-up doll crotch first into the face of a midget wearing a sailor suit with flames emblazoned on the cuffs and legs.
Then again, this is Tragedy: The All Metal Tribute To The BeeGees And Beyond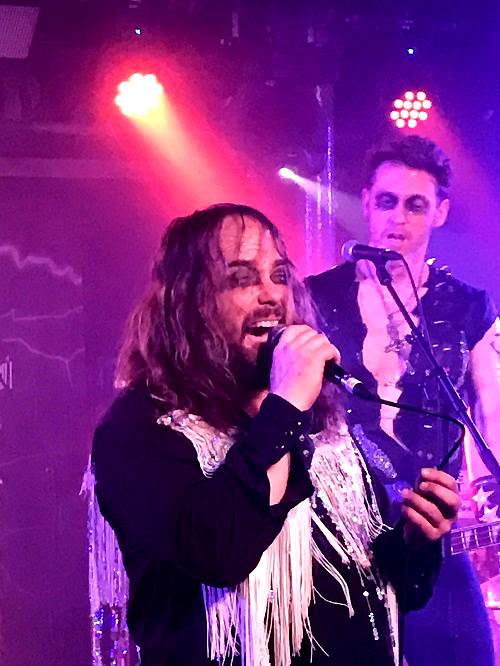 we are talking about, and having seen them numerous times since 2009 I can say with confidence, that each time, they get a little stranger.
Tonight, the Disco-Metal outfit play Liverpool's O2 Academy 2, 'the sweatbox' as it is commonly (and perhaps lovingly) referred to. It's a small venue and when the gig is at least 3/4 full, it certainly leaves you a little moist. Nevertheless, it's a great spot, even if the drink choices and prices are very questionable and limited. It also has decent acoustic qualities, so the bands can get a really solid sound. Opening band Big Foot took advantage of this.
The five-piece hard rock/stoner rock outfit from Wigan who played the Jägermeister Stage at Bloodstock Open Air 2015 took to the boards and brought with them a rather sizable travelling support. With an energetic vibe coursing through the music combined with powerful vocals (reminiscent of Miles Kennedy), crisp guitars and some serious thunder to the rhythm section, the stoner-tinted hard rock went down well. Utilising the tactic of memorable hook laden choruses, twin guitar melody lines and plenty of straight up rock and roll swagger, the band easily claimed the crowd and owned the stage through their performance.
"Borderline" halfway through the set was a fantastic example of this, with animated vocal delivery and gratuitous confidence and style oozing from the band as they managed to employ some tight sounding gang vocals, singalong sections and the obligatory twin-guitar power stance for the harmony leads. "Blame It On The Dog" got a real cheer from the travelling fanbase and it even allowed time for the bassist to channel his inner-Glenn Hughes and let loose with a bass solo – a chance to show the guitarists what happens when he is allowed the spotlight!
In all, the five-piece were well worth watching and do have promise. Their take on hard rock works rather well and their abilities on stage, in combination with their ability to write a damn good track, has certainly got them on my musical radar now. But enough of that, let's get to the reason I was there.
From the make-up of the crowd and the mutterings going on both before the gig and in the intermission, I noticed that there were only a few people present who were familiar with Tragedy. A smirk crossed my face, as the majority of this crowd had no idea what to expect.
So much so that many people were confused as to what exactly was going on when a siren went off and red lights began flashing. The sight of Lance, the "Towel Boy" of Tragedy, wearing a flashing red light on his head and wielding a megaphone with his finger firmly pressed on the siren function, appeared from the back of the venue and parted the crowd as he headed towards the stage. What was going on? Tragedy were going on.
Straight away they took control of the crowd, coming right out the blocks with their traditional set opener, the heavy metal friendly "New York Mining Disaster 1941", bringing some power and thunder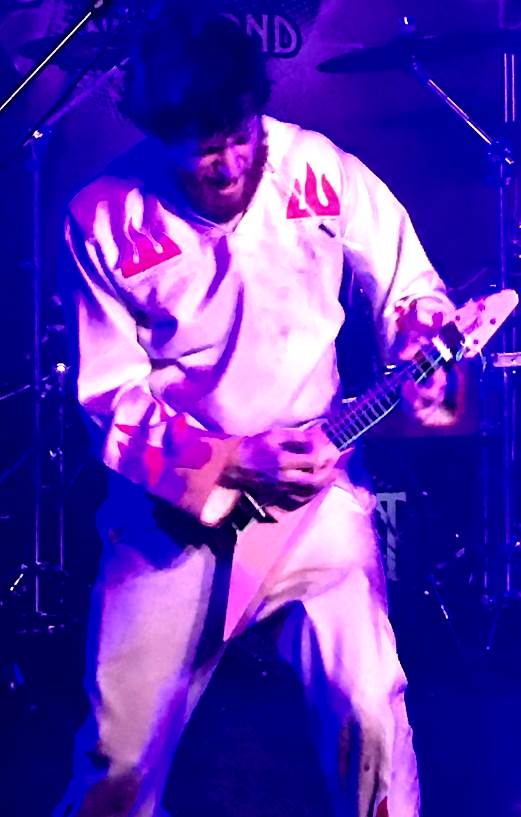 with their delivery. Shifting gears, they slipped into "Tragedy", adding a hefty dose of NWOBHM to the night (the first of many such doses). Those in the crowd who were unfamiliar with the act were instantly converted to Disco Metal.
Playing a host of tracks from their discography, it all flowed perfectly. Tragedy made sure that they delivered on the entertainment. Humourous stage banter, crowd interactions and comic shenanigans had smiles plastered across everyone's faces, and the crowd barely stopped moving when the music was on.
From new tracks such as "Funkytown" and "Baker Street" to older ones like their Power Metal rendition of Toto's "Africa" as well as the rather strange but enjoyable dips into the soundtrack to Grease, there were plenty of guitar solos, disco struts, pelvic thrusts and falsetto wails…. As mentioned earlier, the sight of a grown man assaulting a midget with a sex toy during a cover of Rod Stewart's "Do Ya Think I'm Sexy" was what signalled to the crowd that, no matter the number of concerts or festivals you have been to, there is always something which just takes things to a whole new level and somehow normalizes it at the same time.
With a host of BeeGees classics and some fine slices of 70's and 80's rock, the New York based six-piece had the crowd firmly in the palm of their hands, be it through the infectious and inventive nature of the way they have taken the songs on offer and made them their own, or the comic relief provided through the onstage interactions of the band (be it 'scissoring' Flying V guitars, gratuitous amounts of glitter and confetti being hurled at the crowd, or even a 'Ukulele' solo spot where Lance 'delivered' a serious masterclass in guitar virtuosity even if his Flying V uke was unplugged and only had three strings).
Tragedy's most recent visit to 'Liverpool City' went down much like their previous ones – a night of disco-based fun and plenty of heavy metal for all to enjoy.
Born in the 80s, grew up with the 90s and confused by the millennial generation, I am Peter, more commonly known as Fraggle (long story, don't ask, details are a little hazy!)
With a degree in biochemistry, an ever growing guitar collection and a job handling medication, things are far different to how I expected them to have turned out, but the one thing which hasn't changed is how important music is in my life—it is one of my main passions, be it playing it, listening to it or attending it and experiencing it in the live setting (the way it is meant to be).
Blessed with a 'proper punk/metal spirit' (quote from Kailas), you will often encounter me at gigs or festivals with a beer firmly clutched in one hand and shirt in the other… Or these days, a pen and notepad too, maybe a camera if needed.