[dropcap style="font-size:100px; color:#992211;"]R[/dropcap]ound Two records' continuing mission to dig out and re-release on vinyl the forgotten musical gems of 1960s/1970s Scandanavia brings us, the lucky listener, another fine reissue.
The sheer physicality of the package is worthy of note in itself. Round Two releases are weighty items, cut into luxury-thickness black vinyl of 180 grammes (at the very least). At not much more than half an hour long, Oriental Sunshine's sole album release is not crammed into the available space – the groove is cut deeply and spaced widely, showing a marbelled effect in oblique light where the track of the bass notes line up on the record's surface. This is a result of a cutting and pressing process which is more usually found on twelve-inch singles, where the cutting tool is given space to wander. On albums, where duration forces more tightly-spaced cutting, it's less frequent.
Nerdish nit-picking to focus on such details? Perhaps, but the pricing of vinyl releases sets them in the luxury purchases category, and luxury purchases demand a return on the substantial investment made. In terms of the physical process of cutting and mastering an album, Dedicated To The Bird We Love is a worthy treat.
At this point, it should be noted that the Round Two reissues are permanently marked as such. Both outer sleeve and disc labelling feature the label's identifying logo (in the sleeve's case, via the now-established yellow margin printed onto the cover imagery). Such is the label's prerogative, but it is worth knowing that there is no chance that the record could be mistaken for a rare, rare pristine copy of the original Philips pressing from 1970. It shouldn't make any difference, but if hipster credibility (or, heaven forbid, the quest for filthy lucre hoodwinked out of credibility-yearning hipsters) is a matter of importance to the potential buyer, keep digging in those crates.
For those to whom it's all about the music though, this is a true gem of late sixties dreamy psychedelia. Round Two's previous releases are all solid buys – Folque's eponymous debut of Norwegian folk melodies should be singled out as a highlight, as is the Kinks-y early sixties beat pop of Firebeats Inc. – but Oriental Sunshine's Dedicated to the Bird We Love is the first of the Round Two reissues which shucks off the novelty appeal of being a rare recording of Scandanavian music, and enters the realm of truly great albums regardless of when or where they were recorded.
With a backstory involving the recruitment of what seemed like Norway's only resident from the Indian subcontinent (how precise this perception was is open to rebuttal, but for the teenaged duo of Nina Johansen and Rune Walle in 1960s smalltown Norway, a multicultural nation was a long way in the future) Satnam Singh, it would be easy to assume that the predominance of sitar on the record was played by Singh. On the contrary, it was Walle who owned and played the sitar (again, a physical rarity in 1960s smalltown Norway, and a fair indicator of Walle's committment to the musical influences of India popularised by George Harrison and Ravi Shankar in the latter part of that culturally flourishing decade), whilst Singh took command of flute melodies and percussion arrangements.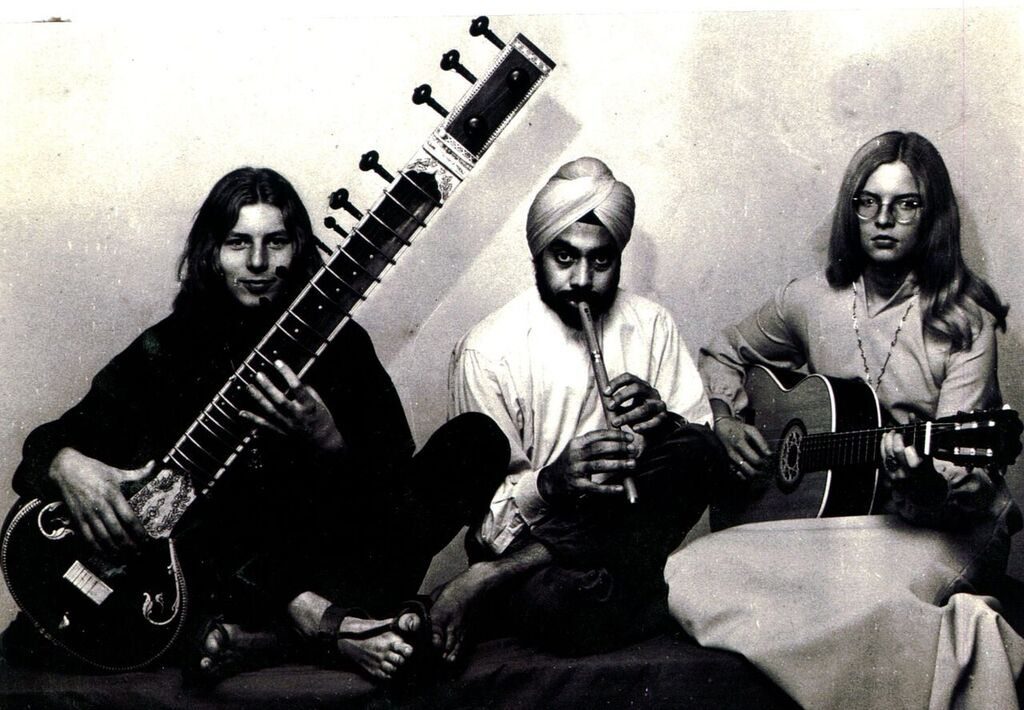 An unexpected side-effect of our own decade's laudable multiculturalism means that the sitar, flute and tabla arangements of Dedicated to the Bird We Love will almost certainly lack the impact of Otherness experienced by those who experienced the original's release. Western culture is now permeated with the two-way interchange of musical and cultural influence, and is better for it. However, few listeners to Rune Walle's sitar stylings (steeped, perhaps unwittingly, in the intervals, timings and note progressions of a European guitarist as they are) will boggle wide-eyed at the speaker cones and wonder what instrument they are hearing. Nevertheless, there remains an exotic worldliness to the eleven cuts which endures, highlighted by the otherworldly tones of Nina Johansen's fine voice.
Set against a series of sitar, flute and percussion, Johansen's melancholic and haunting vocals are at times breathy and involved, at others clear and remote. On tracks such as Across Your Life on which Hammond organ also feature, the effect is reminiscent of something by Serge Gainsbourg, until the sitar/organ wig-out which closes the track reminds of Procul Harum. Elsewhere on the album, sitar picking flits above resounding drones whilst engaging vocal melodies and harmonies create a dynamic which touches on Traffic at points, on Harry Nilsson at others, and frequently on the breathy low-register narcotic power of Jefferson Airplane (by way of Nico).
Enlisting the services of jazz musicians Espen Rud, Sture Janson and Helge Groslie for the album's recording enlivens the sitar/flute/voice formula, bringing a fusion of styles and geographical influences to the album which might easily have gone pear shaped, but is held together by an overarching psychedelic folk aesthetic which allows the freedom to touch upon slow jams, call/response vocals, flute and sitar soloing, deep groove sections, devotional chanting and wistful minor key waltzes. A description which gives the impression of messiness, but a record which is at all times focussed and enchanting.

Sean Keenan used to write. Now he edits, and gets very annoyed about the word 'ethereal'. Likely to bite anyone using the form 'I'm loving….'. Don't start him on the misuse of three-dot ellipses.
Divides his time between mid-Spain and South-West France, like one of those bucktoothed, fur-clad minor-aristocracy ogresses you see in Hello magazine, only without the naff chandeliers.
Twitter: @seaninspain