[dropcap style="font-size:100px; color:#992211;"]T[/dropcap]he Borderline in London's Soho saw the first night of a short co-headline European tour, giving audiences a rare chance to see two US artists who have been making waves of late: Dave Kerzner and District 97.
There was a definite buzz about this gig; the place was packed, with a long snaking queue outside the subterranean venue long before the doors opened in the pouring bank holiday weekend rain.
Opening the bill was Oktopus, who despite the name are actually a power trio, playing intricate prog-metal with some noticeably Zappa-like soloing. They had something of the feel of a jazz act about them, with instrumental prowess ahead of their songcraft. While they sounded as though they would benefit from a proper lead singer, which they did have at one earlier point in their career, they still played an entertaining set and did their job warming up the crowd.
Dave Kerzner is one of those musicians who seems too prolific to be confined to a single project at a time. As well as playing keys for Sound of Contact and co-writing much of the music for Mantra Vega with Heather Findlay,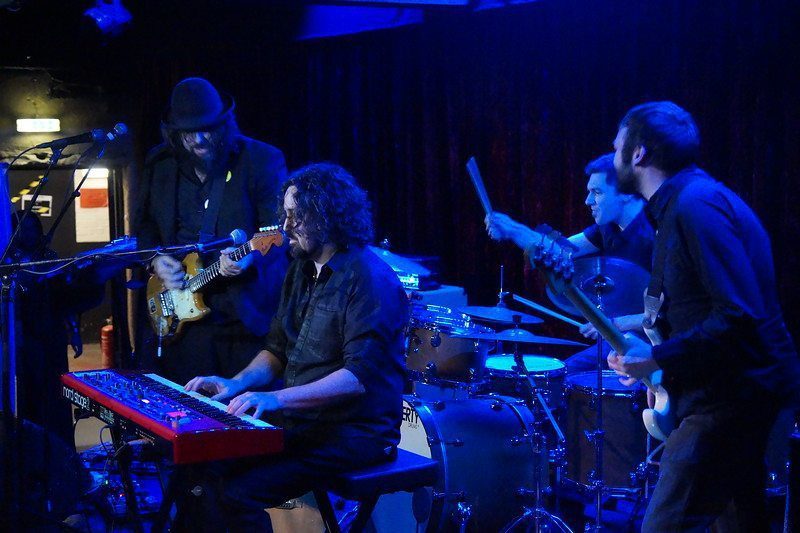 he also made the 2014 solo album New World (an ambitious work with a huge array of guest musicians including Steve Hackett and the late Keith Emerson). He has put together an Anglo-American five-piece band for this tour, featuring Fernando Perdomo on guitar, Pink Floyd collaborator Durga McBroom on backing vocals and The Heather Findlay Band's rhythm section of Stu Fletcher and Alex Cromarty.
Naturally most of the set came from New World, and the songs come over powerfully live, with Durga McBroom adding depth to Kerzner's own lead vocals. The material echoes classic Pink Floyd and Genesis with a balance between songcraft and atmospherics along with the occasional flourish of keyboard pyrotechnics. The band threw in a couple of covers, ELP's "Lucky Man", though without any daggers in the Nord Electro, and "The Great Gig in the Sky" (naturally a showcase for Durga McBroom). Added to all that was a medley of Sound of Contact material for good measure.
Aside from a low-key warm up gig the night before this gig in a Cheltenham pub, District 97's only live appearance in the UK was their one-off set at the Celebr8.2 festival in 2014, so this was the first night of their first British headline tour.
District 97 represent the opposing pole of progressive rock compared to the previous band. Their music is an intense and swirling high-energy tapestry of notes, angular metallic riffs and complex rhythms. It combines the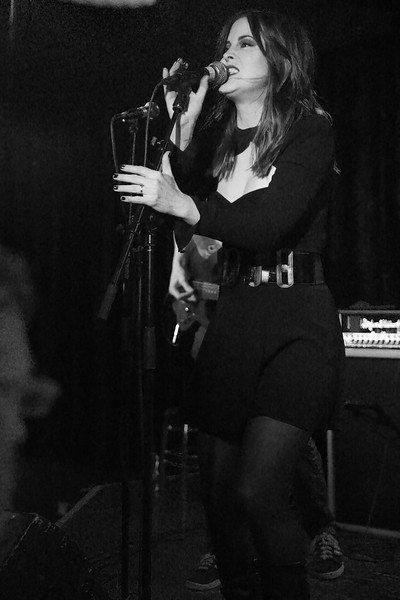 ambition of King Crimson with the off-the-wall nature of Frank Zappa (with perhaps a little of the bombast of ELP).
There cannot be many progressive rock bands whose singer first came to prominence in American Idol; their complex music is a far cry from the commercial pop of reality TV talent shows, although there's no denying Leslie Hunt's remarkable voice and strong stage presence. All of them, including new bassist Tim Seisser (playing only his third gig with the band) are virtuoso musicians, but they channel that virtuosity into dizzyingly complex arrangements rather than self-indulgent showboating.
It was all jaw-dropping stuff, throwing in a superb cover of King Crimson's "One More Red Nightmare" amidst material from their own three albums.
The pros and cons of co-headline tours are one of those things that provokes endless debate, and there have been occasions in the past where, for whatever reason, such gigs just haven't worked. But when it does work, with two very different but complementary bands with an overlapping audience it can make for a very successful show, drawing a bigger crowd than either might have pulled on their own, who then proceed to get their money's worth.
This was one of those nights.