[dropcap style="font-size:100px; color:#992211;"]M[/dropcap]ark Curran and the boys lighted the fast burn fuse on a night of acoustic rock without a moment's hesitation.
Curran whipped things up good and proper for The Quireboys at The Borderline on Sunday 9th  February, blazing through their set to a packed house like a Zippo being thrown into a barrel of TNT.
Referring to Prince, Curran said "There's a little purple man in Shepherds Bush tonight, but we don't need him". Having experienced the purple one first hand I had a fleeting moment of regret for not getting to a recent show, as there is little to compare to witnessing Prince live (any photo passes out there? Please?).
Curran soon blasted any negative thoughts away however with their own energy and passion on stage.
With an impish smile, mischievous Mr Curran appeared to be having a ball up there on stage, plotting and scheming with the guitarist, commanding the assembled masses to smile and have a good time, and inviting all the pretty girls to come and see him directly after the show (for pictures and autographs I imagine).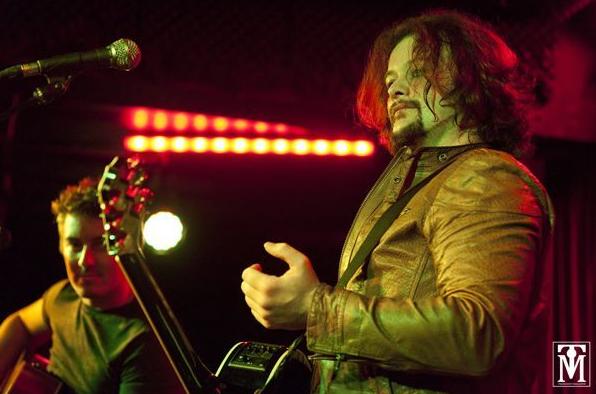 I'm not sure what shenanigans went on afterwards, but the bandana-wearing, beer-swilling audience heeded the word and rocked out with gay abandon to the Curran flame.
Alas, like a fiery comet, Curran were gone too soon, leaving you wanting just a few tracks more and with a wish they had been the headline act.
It's not too late to light your fire though. If you were too busy watching Andreas Wank at the Winter Olympics, Curran still have some remaining dates in the UK.
Go get some.
Feb 12 Zephyr Lounge w/The Quireboys Leamington Spa, United Kingdom
Feb 13 Vine Bar w/The Quireboys Workington, United Kingdom
Feb 14 The Moorings w/The Quireboys Aberdeen, United Kingdom
Feb 16 Vodoo Rooms w/The Quireboys Edinburgh, United Kingdom
Feb 18 The Cluny w/The Quireboys Newcastle, Australia
Mar 15 O2 Arena London, United Kingdom
Mar 20 Hard Rock Hell AOR 2 Pwllheli, United Kingdom
Jun 29 Les Fest North Lanarkshire, United Kingdom
Photo: Carl Byron Batson. Not to be reproduced without express permission from the photographer
[button link="http://www.curranlive.com/" newwindow="yes"] Curran Homepage[/button]

Photographer, published poet, former party animal, body builder, grave robber
to the stars and renowned chainsaw juggler, Carl can often be spotted on his
Harley Davidson pretending to be in Terminator 2. He is also frequently seen in
the press pits of old London town, camera in hand, avoiding being hit by bottles
of wee and crippling his opposition with secret Kung Fu moves.