[dropcap style="font-size:100px; color:#992211;"]T[/dropcap]his should be known as the lost Conan interview.
Not because it has emerged from the archives decades later, filled with reveries about childhood and revelations about the roadie caught in flagrante with a Shetland pony, but because – err – I recorded it and then moved house, promptly forgetting about the damn thing until now. Bite me.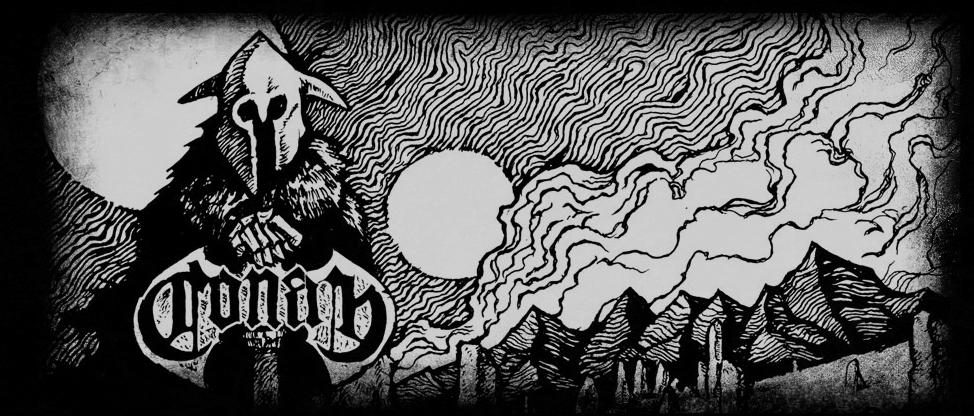 Jon Davis, the self-described Caveman Battle Doom band's guitarist and vocalist, was much more punctual on the day, Skypeing me promptly. He was wondering if this was going to be a live interview or it was going to be transcribed later (much later as it happened). He then let me glimpse into his rock 'n roll lifestyle – he was at home in Merseyside, looking after "a four year old and a one year old" for the day.
Doom and mundane domesticity
As it happens, this odd mix of WUUURRRRRRRGH-style doom and mundane domesticity seems to pose no challenges for Jon, who neatly compartmentalises the two sides of his life with what seems to be little difficulty. His Skyhammer recording studio is round the back of his house and he mainly plays Neil Young or The Streets when taking the kiddies and Mrs. Davis out on a drive.
"You wouldn't expect me to be into them but I really like the first couple of their albums" he says of the latter. The milder end of his record collection also includes Nirvana, Pearl Jam and – "don't laugh" he advises – the Cardigan's first album, Life.
"I bought it as a joke one day and ended up liking it" he admits. Though, of course, it has a cover of 'Sabbath Bloody Sabbath' on it so maybe it's not too much of a departure. Indeed, Jon's record collection and musical ascent ran along the same lines as most metallers of our generation: listening to his parent's Motown and Kate Bush records, via Michael Jackson and the Traveling Wilburys, and then graduating onto the hard stuff.
[quote]You'll never see your typical UK
doom metal band playing at a venue
that holds more than 300 or 400 people[/quote]
One such key moment was his being "blown away" by Bristolean druggists Gonga when one of their tracks was played on Radio 1 (and more on that station's playlists later). He then remembered going to a gig of theirs and being one of only 15 or so people who turned up…. Such heartbreak is par of the course when you're underground, though Jon is quick to point out that it has its advantages.
"Once it stops being an underground thing, I think that's will be when it loses its charm, because, with it being underground, there aren't millions of fans" he explains. "You'll never see your typical UK doom metal band playing at a venue that holds more than 300 or 400 people."
A certain purity that comes of being forever in opposition
The flipside, as Jon sees it, is that there is more of a community feel. "You need to work much harder at this music, because you need to dig around to find the decent bands, and that's why people like it so much, they take ownership of the bands they do find."
But could doom ever really go mainstream? "It deserves to be, but I'm not sure it ever will." There is a certain purity that comes of being forever in opposition.
Conan's music itself bears the mark of the trio's heavier influences. I was reminded, at points, of the blackened death/doom/sludge antics of Japan's Coffins. As it happens, Jon is a big fan of theirs and their former lead singer, Ryo Yamada, is even trying to bring Conan over to Japan later in the year.
"I like the guitar tone", Jon explains. "It's probably the dirtiest guitar tone I've heard from a band ever."
Conan's other influences include the aforementioned Gonga, Fudge Tunnel, Somatics, Iron Fire and Sleep, Coffins "to name but a few." Interestingly, drummer Paul O'Neil is a massive fan of technical death metal (Meshuggah et al) and, more intriguingly, New York Hardcore which has had some influence on Conan's breakdowns. Naturally, there's the slower, really leaden stuff from usual suspects Torch and Sunn 0))), but there is another surprising admission from Jon as to why they appeal.
Valve amplifiers and custom pedals
"I'm not actually a very good player" he says, which I take to mean that he's no Joe Satriani rather than him being generally crap. This does, however, influence his choice of music, gravitating him towards bands that favour tone or amplification over the more technical side of things. The viscerality of Conan's music is very important, and for this, the band has spent a great deal on good equipment, including old valve amplifiers and custom pedals.
"We like our albums to feel and sound nice and warm" Jon says, the aim being not to sound over-produced, but natural and like the band is performing live.
[quote]I think it's really important that
a band is a fan of its own stuff[/quote]
All of which brings us neatly to the band's new album, Blood Eagle, a roaring, epic beast of a record that lays waste to all before it. Jon is very happy with the end result, "and I'm not just saying that", his passion for the disc meaning that it is "the only CD in the car at the moment." (Presumably when the kids aren't there.) "I think it's fucking cool. It's as heavy as anything."
This isn't simply vanity, however. "I think it's really important that a band is a fan of its own stuff" Jon states, those who don't he compares to actors who don't watch their own films. "I think that's a real shame, because surely you should enjoy it or you're just wasting your time."
"Of course, I do listen to it with a critical ear" he adds, but hasn't found anything wrong with it so far. On an ethical level, of course, Jon thinks this sort of quality control is all-important. "People are going to be spending their wages on this album that we've made" he says, demonstrating a certain pride in his work.
Jon describes Blood Eagleas having everything that their 2012 album, Monnos, and their 2010 EP Horseback Battle Hammer had but more, adding copious chunks of heavy metal to the drone. Jon thinks the end result plays well live and the band certainly enjoys practising them. Indeed, several of the album's tracks were played live at the 2013 Desertfest, though the remainder hadn't – at the time of the interview – been played in front of an audience.
The album's polish did, however, not come for free. "It took us a while to write the album" Jon says, the process taking place over around two years of on-off work. This patient approach seems to have paid off however. "It's matured quite a lot. You can see a lot of attention has been paid to it, and you can tell it's had time to grow."
This reflects the band's aim was to create something that sounds and feels notably different from Monnos. "We were conscious of treading on the same turf" Jon explains, the problem with other bands' output being that "Album Three sounds a lot like Album Two, and that's a shame really."
[quote]You can play everything louder
at a show than you can on an iPod[/quote]Their goal instead was to create a Conan album that was nonetheless its own beast. "We think that's fair to the people who buy the album. We want them to enjoy each record in a different way."
Blood Eagle also demonstrates the band's approach to writing music, with the aim being for it to work, first and foremost, in a live arena. Some attention, of course, has to go towards how it sounds in the studio ("You can play everything louder at a show than you can on an iPod"), but what works there doesn't necessarily translate well onto the stage, whereas if it does work live, it will work in the studio.
Skyhammer Studios
It helps that the band has its own recording facility, the aforementioned Skyhammer Studios. This is based in a converted two storey coach house, with Jon running it with Conan's long-term producer and bassist, Chris Fielding. "At the heart of it all are the drums" Jon says, with Paul recording live as Jon plays his guitar through the headphones rather than an amplifier. These drum takes are then used on the album with separate bass, guitar and vocal tracks layered over them accordingly. become the drum takes for the album.
Jon is very happy with the final mix. "It sounded like a nice warm production, really nice sounding and it sounded like a band playing live." He adds that there's "a really nice vibe to it, which you don't get with a lot of other modern day metal bands." He names no names….
At present, Jon's favourite tracks on the album include 'Horns for Teeth', epitomising, as it does, Blood Eagle's distinct heavy metal sound. 'Total Conquest' has a place in Jon's heart too, given that it gave him an excuse to use his phaser pedal and indulge his passion for one of his favourite films, Lucio Fulci's Conquest. "It's not particularly well directed, and the acting's not very good, but it's got some great fight scenes and really good weapons in it" Jon says, channelling his inner film critic.
He also likes the choral vocals in opening track 'Crown of Talons', though "I don't remember recording the song so high pitched" and is impressed the last track, 'Altar of Grief'. "That's a really heavy ending" he says, impressed with the result.
I mention at this point my own favourite track on the album, a cheeky little number called 'Gravity Chasm', which can be best described as a Brontotherium made out of lead prolapsing to the roar of a supernova. Jon obliges with an in-depth summary of how the song was written.
"The drum intro at the start is almost a direct copy of 'Where Eagles Dare' by Iron Maiden" he says, reminding us once again that Blood Eagle is dead metal and all that. "And that riff, I remember us writing that one in the practice studio, and I just played that one note over and over and over, and it turned into that specific rhythm we've got there. Paul started playing along with it, and before you know it, we were going into where the vocals come in, and it wrote itself. A couple of songs on the album did, but that one in particular. It's like a cool head-banging track that gets the audience going when we play live."
Anyone for a running theme?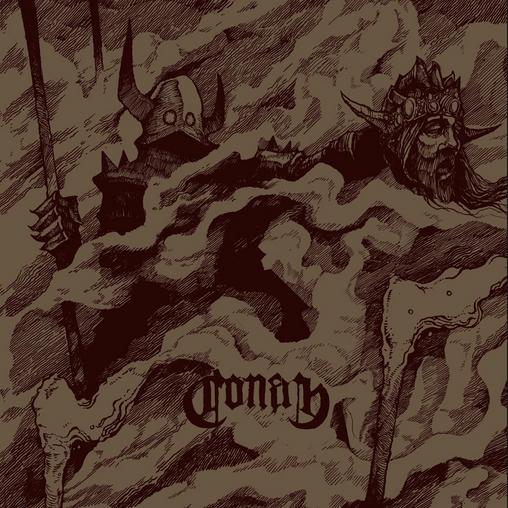 The new album also means Jon has come full circle, with Blood Eagle's lead track 'Foehammer' being played on Radio 1, albeit on the quite literally benighted Rock Show. "Twenty to two in the morning" to be exact. it's quite a coup for the band (though they also had a track played there in 2012), and Jon first became aware of its slot on the playlist when his PR man rang up, asking for 'Foehammer''s lyrics on behalf of the DJ in case there were any objectionable lyrics on it. (After all, barn owls, metallers and unhinged insomniacs are such sensitive souls….)
Jon asked if this meant what he thought it meant. "Yeah, yeah, it's going on tonight." Jon is, needless to say, very happy about this. "Most people don't get to hear their music played on the radio" he says, no doubt aware that any radio playtime at all is to be treasured these days. Still, it was an unusual experience, given that the band doesn't ordinarily court the mainstream. "We're a bit shy that way really" Jon says, summing it up as "a nice but weird thing to happen."
At the time of the interview, Conan was about to embark on a UK-wide tour to promote Blood Eagle. The band's rising fortunes are made plain by their now having to book larger venues (by doom metal standards), but with one caveat – the gigs were to take place where there was an audience for their music, rather than the usual destinations. This meant the band's gigs took place as far north as Aberdeen, which isn't the first place you imagine a metal band playing at.
"We had a really unique experience last time and we really loved it. There was a really good atmosphere, and I don't think many bands go up that way so it was good for them to have us there." Which makes a lot of sense – located as it is in the far barren north, surrounded by moors, blasted by winds from the North Sea and sculpted from radioactive sandstone – it seems like the ideal place for a metal gig somehow. (And let's not forget the Kirkhill Industrial Estate. Oh no.)
Other gigs on the tour were also based on how big the fanbase is there – hence Nottingham: "It was important for us as plenty of people were saying that we should play there." Interestingly, there's a great Conan following in Glasgow too, which in hindsight makes me wonder what the metal scene in Scotland will be like if it votes 'Yes' in the Independence referendum.
Jon meanwhile sums it up succinctly – "we've got a busy year lined up."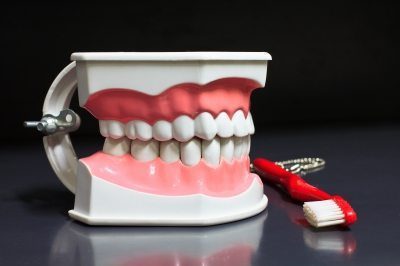 Alexander Hay is a writer and polemicist based online and in print.