[dropcap style="font-size:100px; color:#992211;"]I[/dropcap]n the first post of a new series, Sterling Carter reports from a (hideously expensive) corner of Africa.
---
Zimbabwe is the most expensive African country I've ever traveled. Prices regularly match or exceed those of any major US city. Produce is cheap, but with nearly everything else, if it's on a supermarket shelf, you can bet that it's imported and expensive. A bottle of beer will set you back a couple bucks. A sandwich will eat about $6 into your wallet. Taxi? Forget about it. You're better off walking.
[quote]a white Zimbabwean
who left a number
of years back and
traveled around large
chunks of Europe
teaching men how
to approach women.
Literally[/quote]
Unfortunately, my money ran out long ago, and I've been living skint for about two or three weeks now. I've managed not to starve, which at this point is a pretty big accomplishment, as it goes.
So have have I done it? Easy.
I've lost all sense of shame.
Let me explain. A couple weeks ago, I went out rock climbing with two other, equally skint guys: Richard and Alexei. Richard is a hustler extraordinaire, a white Zimbabwean who left a number of years back and traveled around large chunks of Europe teaching men how to approach women. Literally. That's how he sustained himself. So you can imagine that Richard's the type of guy who knows nearly everyone and can summon cheap/free activities out of thin air. In this case, he summoned fun out of a rock, as he took us to an abandoned quarry for a bit of rock climbing with the local mountaineering club.
The three of us set out with about $10 between us. We couldn't have known that we'd actually come back better off than we'd left.
It was about $1.50 to get out to the quarry via kombi, one of the local public mini-buses that ferry about sixteen to twenty cramped individuals on set routes about town. All the other climbers have jobs and an income. They can afford to drive out to the quarry. We arrived in style: spilling out of a dying kombi, hopping an electric fence, and making sure to take a leak beneath the high-voltage power lines before we were strapped into wang-constricting harnesses.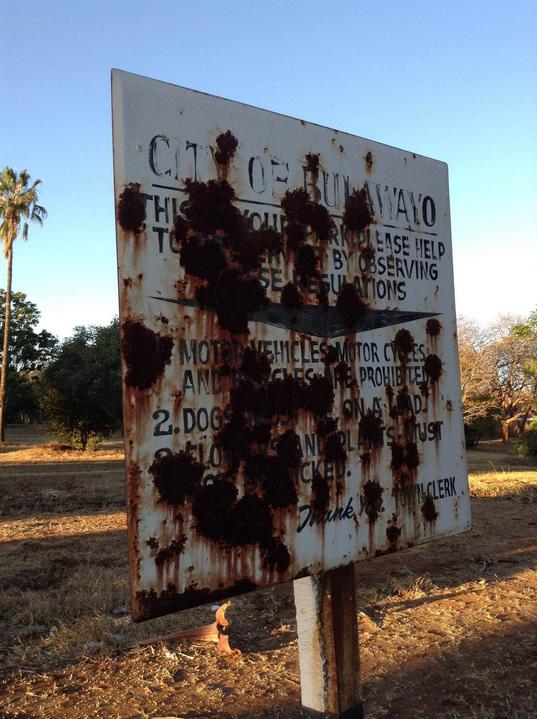 Since we were some of the first to arrive, we got first dibs on equipment and got in several routes before the sun set. Overall, a pretty great afternoon, one that would have sufficed for any normal day, but this was not to be a normal day.
"You guys going to the bar?"
We had to pow-wow a bit. None of us had any cash, so Richard had to come up with a game plan: "Guys, listen. We're just going to have to hustle some drinks. That's all there is to it."
Sold. Let's go.
We rocked up to a place called Tristan's. It might have another name, but Tristan owns the bar, and everyone knows it simply as "Tristan's Place." It's about as close to Rick's Cafe Americain as one can get without rubbing shoulders with French Resistance fighters or dyed in the wool Nazis (and race relations being what they are in this country, you'll probably find some old-school fascists there anyway.) It's a place where minister's kids rub shoulders with undercover intelligence, where they guy on your right is just as likely to be an working for the World Health Organization as he is to be running diamonds, gold, guns, whatever you need to get across a border quickly and discreetly.
There was only one problem though. We were the only ones there. It was still pretty early in the night, so we took seats behind the bar. Tristan himself lounged against the hardwood, late thirties, greying hair underneath a faded baseball cap, a cigarette burning down to the filter. "You boys feeling broke this evening?" Sure are. "Alright, Tito. Beers?" His barman, a young black guy named Tito cracked open a few bottles. Two each, in the end, before we met a guy named Mick.
Mick wasn't ready to stick around Tristan's if it was going to be dead all night. He wanted some food, and took us to the local dive – The Tin Roof – where Harare's white population took their troubles. There's a separate article about blue-collar whites throughout the Southern Africa region, but suffice it to say, walking into a place like Tin Roof on a Wednesday evening, well… people know you aren't from 'round these parts.
Mick wanted food though, so we dealt with the cold stares coming from behind warm beers.
We were starving. An afternoon of climbing without any food to recover our stores had us looking around. Bowl of chips. They've stacked their plates with a full bowl of chips sitting like a golden idol right on top. A deep-fried, delicious golden idol. If this was going to succeed, I couldn't make like Indiana Jones in the Temple of the Chachapoyan Warriors. I didn't have time to measure out sand. It had to be one quick, seamless move.
Obscure movie trivia. Remember it for your next pub quiz.
And so, I approached the table at an angle, scooped up the chips without breaking stride, and carried them off to be eaten in a corner (after, of course, asking the waiter for some ketchup. What are chips without a side of ketchup?).
Alright, so we had a bit of an appetizer. Nothing special, but on our way out, I just happened to spy a thick cut of prime, medium rare steak, without a bit of fat in sight.
Now, I've been a waiter for a long time, and I've learned to read a table. Everyone else was finished. The table was clear except for this one place. It was obvious the waiter wanted to let her finish without realizing that she wasn't going to have any more that night. I'm already halfway down the ditch, I might as well wallow. So I walked up behind her, reached around in that way that only a practiced waiter can. "Finished here ma'am?"
[quote]Roast chicken never
tastes so sweet
as when you're ripping
it apart in a parking
lot with your bare
hands[/quote]
No response. She's too involved in her own conversation to take any notice of 'the help.' "Ahem. Finished here, ma'am?" No response. I look across the table to a woman in her fifties, part of the dinner party too engrossed in their own night out. "Finished here?" She gives me a nod and a silent, "She's finished, yes. Thank you," not fully realizing that I in no way work for this particular establishment (though really, the fact that I'm white and look like a hobo should have tipped her off).
And that was how I scored dinner.
But the night wasn't over. Not by a long shot. Mick wanted to go to a fancier bar, and as we were the strays he'd collected for the night, we were along for the ride. So we ended up at The Mill, an upper-scale eatery where, lo and behold, we just happened to meet a large party celebrating some kid's twenty-first.
Now it was Alexei's time to shine.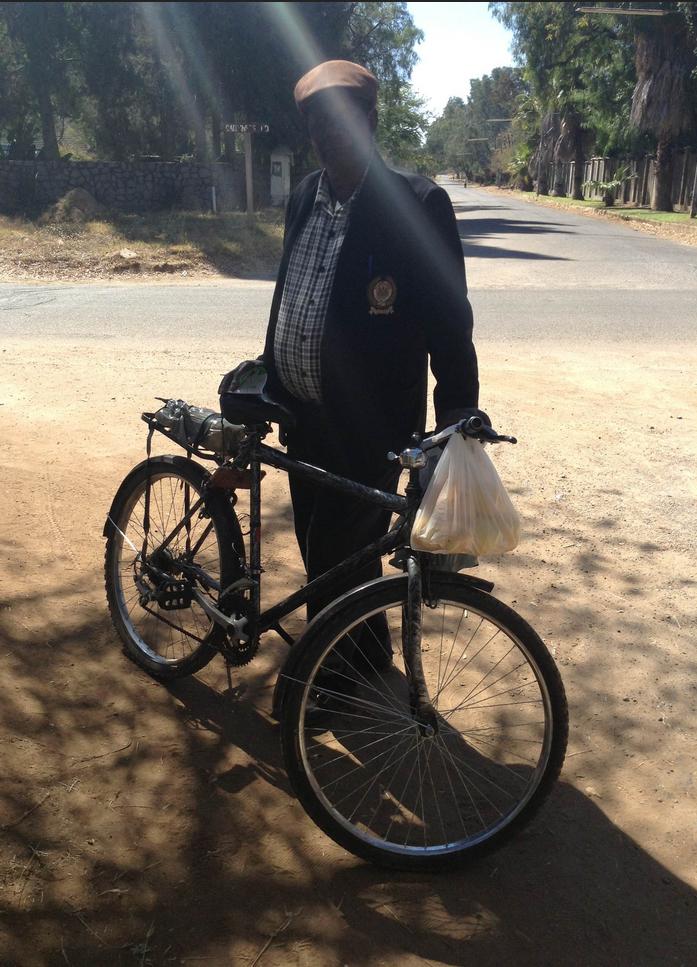 He'd held back for the majority of the night, but while Richard and I were trying to score drinks at the bar, Alexei was making friends in the private party. In the thirty minutes we'd been there, he'd pulled out a few life stories, and with that, he felt no qualms in appropriating some 'leftovers' from the party.
And that was how we scored second dinner. Roast chicken never tastes so sweet as when you're ripping it apart in a parking lot with your bare hands.
We ended up back at Tin Roof after meeting some ladies out on a hen night. Long story short, we ended up back in our neighborhood around 1:30 in the morning. Alexei came through twice, in the end, as he met a fellow American in the bar. This guy asked him, "What are you drinking?" Oh no, man. We're broke. We're just hanging out tonight. He wouldn't hear of it. He slipped Alexei a note, which he took up to the bar, only to discover that they couldn't break a $100 bill for a single beer.
One night's entertainment in Harare. Total cost: $1.50, all of which went to the initial kombi ride that took us out to a free climbing session.
Harare is one of the most expensive African cities I've ever been to, regularly more expensive than a night out in Chicago or DC. But every once in a while, with a little luck, and no shame, you can have a killer night for less than the price of a cup of coffee.
Images by the author

[button link="http://sterlinginafrica.blogspot.co.uk/" newwindow="yes"] Sterling Carter's Blog[/button]

Sterling Carter writes on the intersection of political economy, arts and culture, and human rights. He has over five years' experience on African development, violence and conflict with organizations including Human Rights Watch, Global Witness, and Search for Common Ground. He is originally from Flora, Indiana but pulled up stakes long ago.