[dropcap style="font-size:100px; color:#992211;"]C[/dropcap]arolina Niño first came to our attention when we discovered her brother's music (Santiago Nino, part of our Trebuchet Listen's series), which we noticed first because of it's amazing cover art.
Great music followed and the circle of associations, each node forming a lovely chain of occurrences that enliven our world, continued.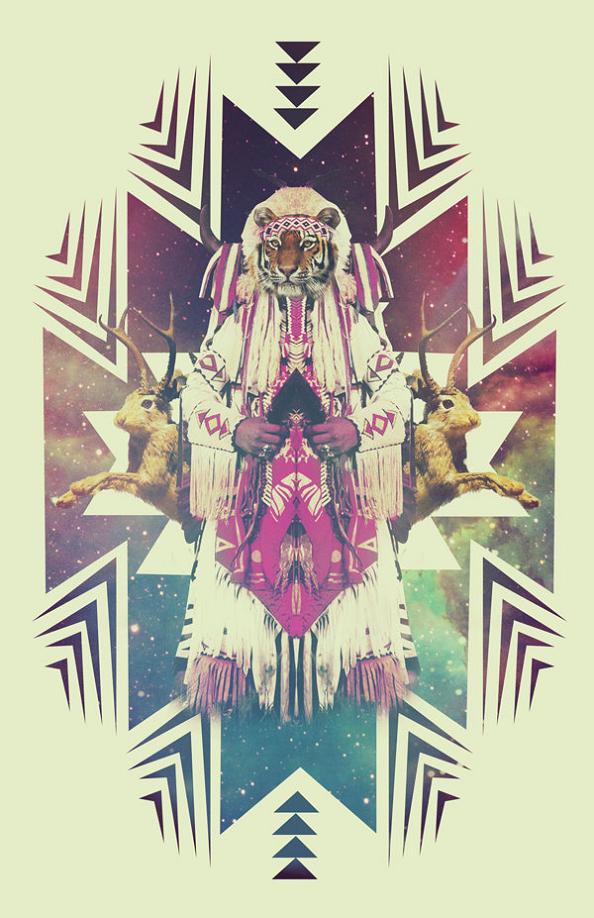 Using pure strong symmetry and tight geometry with a tasteful use of symbolic repetition, Niño's work is at the leading edge of a trend for photo collage that cuts simple shapes and then arranges them in in kaleidoscopic vectors cross the boundaries of design, art, psychedelia, and scientistic futurism.
According to Carolina, who studied graphic design in Guatemala and photography in Spain: "the space between one object and another is more important than the object itself- in this way we realize visual harmony….  sources of inspiration are nature, animals, geometry, and the harmony found in empty spaces." Her passion for colour leads her to experiment with the most subtle colour combinations.
The principle quality of art is that it transcends its materials and technique to communicate something powerful and in Niño's work we are right on the cusp of a movement.
Trebuchet: The big news is that you're work will be showing at the Athens Video Art Festival how did that come about?
Carolina Niño: Everything happens unexpectedly. Actually, I always tried to participate in different competitions where I can show my work, I am lucky that someone appreciates it and chose it to be exposed, in this case AVTF.
What will you be showing at the festival?
Lately I've been experimenting with symbolism, aesthetics and meaning of the ancient Latin American culture, and in this case will expose a piece I designed for some prints for shirts called "CamaronBrujo" and the piece reflects the Mayan culture, with its controversial Mayan calendar, and this piece will be in the festival.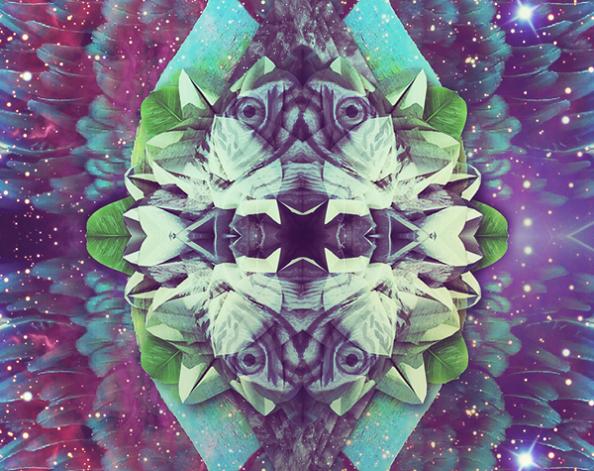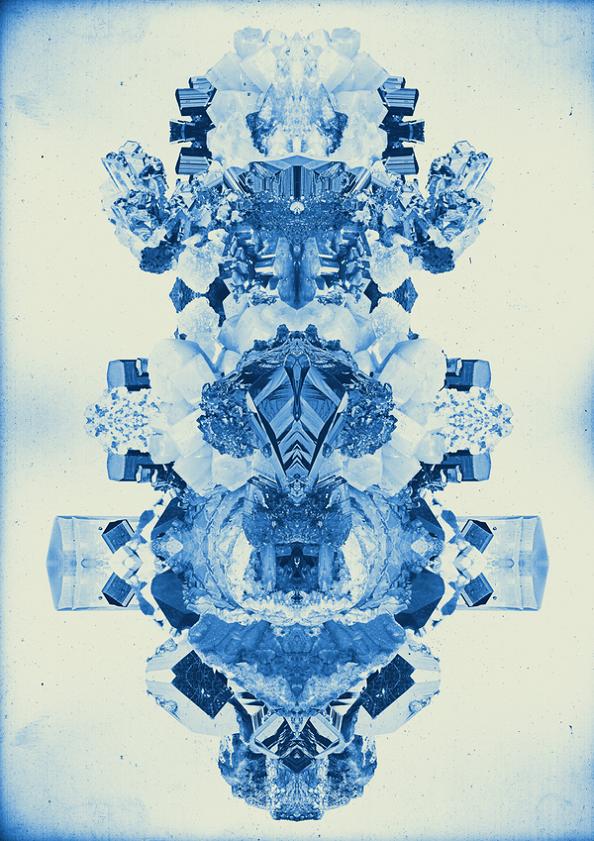 Can you tell us a bit more about your inspirations: Nature – which aspects of nature do you find the most appealing.
Everything! But what most caught my attention are the textures, the shapes, the perfection of all that surrounds us, it is amazing to see up close everything around and know to appreciate it, everything has the exact size, and is in the perfect place. For me, that's awesome.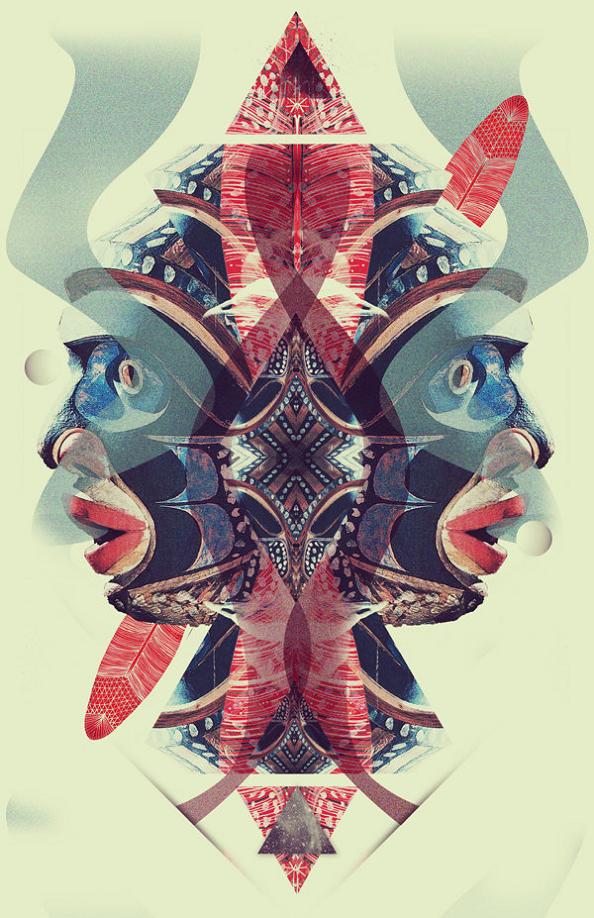 How about Animals, what connection do you have with animals?
I admire every creature on this planet, animals give me happiness, in their eyes is everything, we don't even need to speak. I am struck by their ability to survive, freedom to be, I can say without hesitation, that they are much better than us. That's why I admire them.
What does Geometry mean to you?
Everything revolves around energy.  Geometry is one way which circulates energy and can be driven anywhere. I use geometry as an harmonious atmosphere where the energy flows without interruption.
How do you interpret harmony in your work?
Each element occupies a space, that space is everything. If we create a balance between all the elements in that space placing them strategically around all the space, on balance, in the space between the elements, there is harmony.
You mix the natural and the unnatural….
We believe that everything that exists is all there is, but I like to create scenarios that exist in me, playing with reality in my mind, where anything is possible. If I could invent a colour, I would, without a doubt.
Why do you emphasise symmetry?
Without realizing it, all the time our brain looks for symmetry in everything we look at, and everything that has that symmetry seems beautiful, so I try to keep distances between elements to create something beautiful.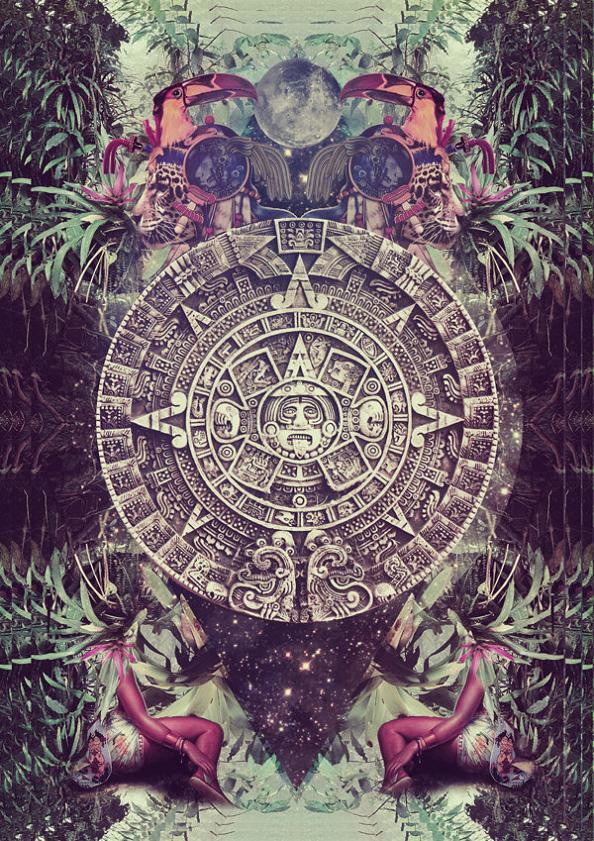 Does pure symmetry exist in nature?
It is in everything around us, macroscopically and microscopically, for that reason the nature is so perfect.
In what way should art make a statement?
It may sound a bit complicated what I say here, but when I talk about geometry, harmony, symmetry, I'm not just trying to be appreciated in an artwork, but to expand our perception and apply it to our life, creating a harmonious and symmetrical balance where we can deploy as humans and thus evolve.
There is a strong theme of the Native Americas culture in your work, why do you make these references?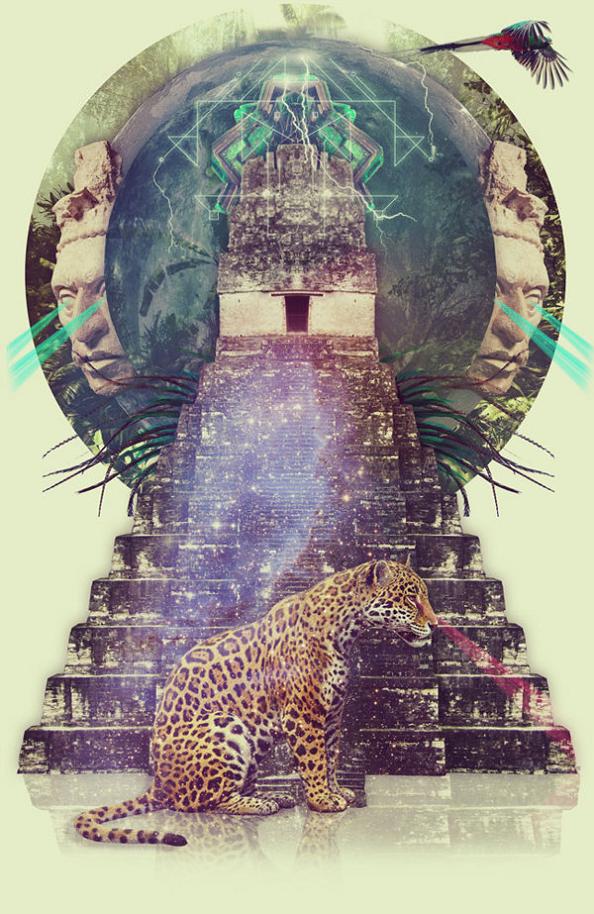 I have a lot of curiosity about ancient cultures, their rituals, their customs and their way of seeing life, strikes me how they use nature to reflect what they believe, and so I wanted to explore, and then represent it my way.
In what way do think that the distinction between graphic design and art is still relevant?
It is a complex issue. I think, depending on the approach [taken], shows what it is. For example, one piece with a commercial purpose or another with simple visual appreciation.
You have a connection to music, how does this come across in your work?
All my life I've been surrounded by music, I grew up in a very musical environment,  I could say that every moment of my life has a specific soundtrack, and I think we all do. When working, music helps me connect my senses and create something that reflects my life, my personality.
Since you mention it in your work – What is magic?
The magic is in the moments where you wanted to stop time and stay there forever, in the colours, in the senses, in the shapes.
Which artists are doing it for you right now?
I admire many Latin American artists such as Fab Ciraolo, and around the world… Yaejin Lim, Adam Friedman, Moebius, Theo Altemberg, Leif Podhajsky, among others.
What's next?
Motion graphics surely, I'd like to get everything moving.
Many thanks for your time.