[dropcap style="font-size:100px; color:#992211;"]W[/dropcap]ith an increasingly saturated summer festival calendar, punters have the luxury of being choosy.
However there is one guaranteed sell-out festival that should be at the top of the list whether you consider yourself a folkie or not. The Cambridge Folk Festival has always defined folk in the widest terms and this year was no mistake, with a delicious spread of folk from the UK, Ireland and further afield, plus blues, world music, country and rockabilly. Away from the stages, there were t'ai chi lessons, music workshops, impromptu campsite sessions, "progressive clog dancing" and plenty of face painting and story telling for the little ones.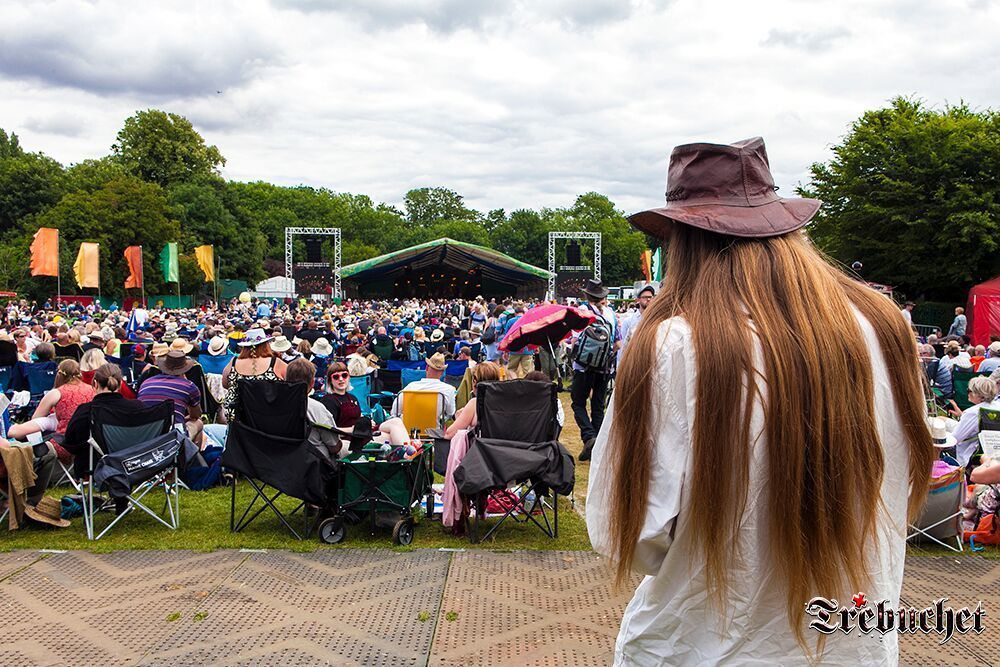 Traditionalists need not have worried, though. The purer forms of folk were well represented and not just by the older generation either. Teenage Gaelic piper, Brighde Chaimbeul with a recent BBC Radio 2 Young Folk Award under her belt, and accompanied by harp and guitar, enchanted the audience. Fresh faced female trio, Lady Maisery opened the main stage on Sunday morning with exquisite vocal harmonies, including the much forgotten art of diddling – songs without words – combined with original material and traditional songs with words, including The Diggers song. This respect for the heritage of folk and political awareness, but with a new twist, summed up the ethos of the weekend.
Applewood Road's recent, if somewhat incongruous appearance on the Andrew Marr show had expanded their fan base. Much as we loved their original material, the number that brought tears to our eyes was their cover of REM's Losing My Religion. It's rare that a cover version compels you to reflect on the lyrics of such a well-known song in a new and deeper way – to say that it was emotional doesn't even begin to convey such a sublime performance. The audience were itching to sing along but couldn't bring themselves to drown out the heartfelt harmonies, so all around me were whispering it spellbound.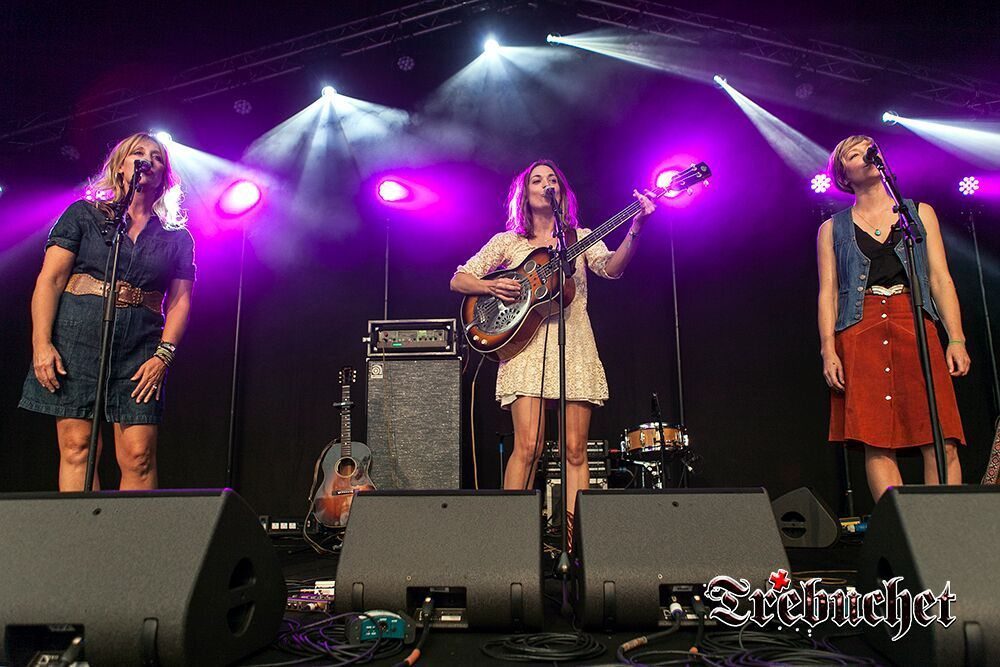 Applewood Road
Sam Kelly and The Lost Boys played a stomping set delivered with the youthful enthusiasm of lads up for the craic combined with steadfast musicianship. Heaven knows what they had been up to at the Silent Ceilidh the night before but Sam felt the need to apologise to anyone who had witnessed their shenanigans. Their award-winning brand of infectious, accessible folk rock got the crowd dancing, culminating in a sing-a-long of The Keeper. Definitely the best band to invite to your party – just keep the drinks flowing and the music will follow. Their mischievous sense of fun and audience rapport was matched by Quebec gypsy folksters, Le Vent du Nord who pulled off the feat of slotting the riff from Europe's The Final Countdown into a song based on an old English tale about a woman who asked her fiancé for his mother's heart as proof of his love. Now that's what you call fusion.
There was no shortage of big names in attendance. Eliza Carthy and the Wayward Band commanded the stage as only folk royalty can. Exuberant in a glittery band of turquoise eye shadow and a white corset, she fiddled furiously and rarely stayed still for long enough to draw breath. Irish folk legend Christy Moore headlined Saturday night with an uncompromising set reminding us of the protest song origins of folk music and its relevance to the present day. Similarly Mary Chapin Carpenter needed no gimmicks; her touching lyrics and lilting melodies had the crowd transfixed on her every word.
It wasn't just about award winners and chart toppers, however. Smaller stages the Club Tent, The Den and The People's Front Room provided opportunities for lesser known and up and coming performers, including some open stage slots. A particular highlight at The Den was sultry voiced Welsh songstress, Hannah Grace, surely destined for bigger things. Some singers were just overcome with gratitude to be there – Gerry Colvin was overwhelmed with joy that his home-penned songs went down so well in the Club Tent, although he may have come to regret his promise to buy a drink for everyone who raised their arms in the air.
For those of a country persuasion, energetic and engaging all-female bluegrass band Della Mae took the stage by storm, proving that it's not all about the cowboys. One cowboy who was worth watching however was Sam Outlaw with his laid back South Californian drawl. Chicago bluesabilly band, Cash Box Kings got foots tapping with a couple of stonking performances. Much anticipated latter day rockabilly queen, Imelda May did not disappoint. Looking more rock than rock 'n' roll, her gravelly vocals and lively stage presence were rapturously received.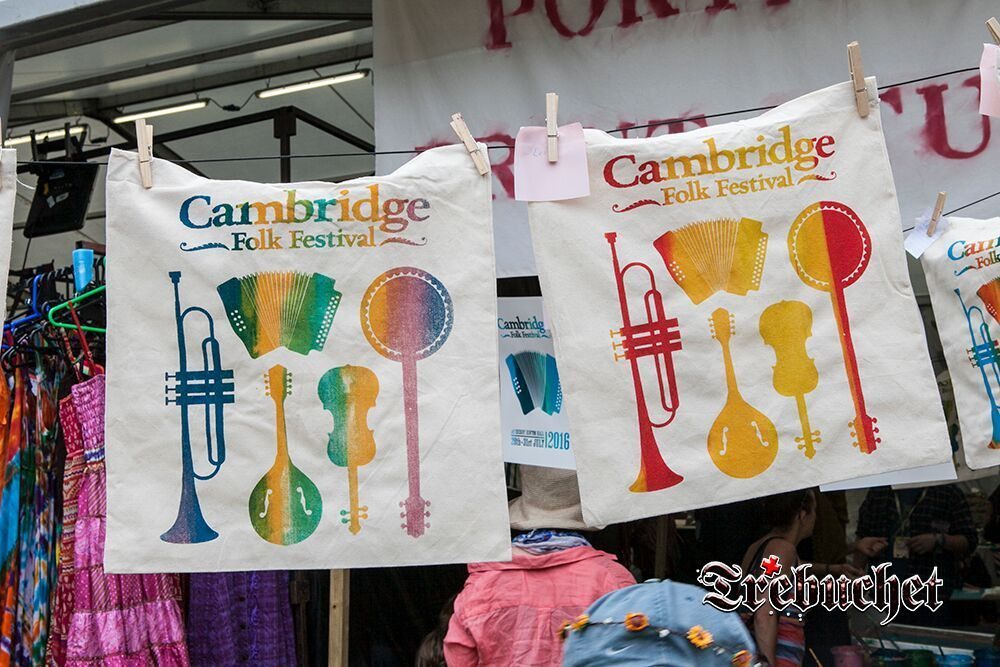 Every festival has a band that unexpectedly blows the crowd away and the undeniable heroes of the weekend were from the "other Cambridge" in Massachusetts. Sadly Charles Bradley had to withdraw due to illness and Darlingside, who had just charmed the second stage, were swiftly dispatched to the main stage where they wowed the crowd with their soft-spoken vocal harmonies. Imagine the late 1980s indie bands signed to Sarah Records, such as The Field Mice, but with mandolin, violin and banjo and you get the picture.
Outward looking as ever, the festival displayed a diverse range of cultures and languages. Striking chanteuse cello strummer, Leyla McCalla sang in French, English and Haitian Creole. The ever-popular Afro Celt Sound System set the festival alight with their celebratory fusion not only of African and Celtic music but also Asian and dance beats in an explosion of exuberance and colour. Only Varldens Band, a collective from Sweden but with a truly international sound and attitude, paralleled their hyperactive energy levels. Unfortunately their Indian singer was unable to attend, having been refused a visa to the UK despite being able to travel in Europe, meaning that they had to rework their songs, although you wouldn't have known if they hadn't told us. On a related note, Senegalese star, Baaba Maal, sang of the pleasures of travel whilst reflecting that whereas people used to travel for positive reasons, now it is often to flee persecution.
Against the background of terror attacks, homophobic murders and post-referendum racial abuse, with the rise of UKIP here and Donald Trump looming across the Atlantic, the festival reminded us of our responsibility as international citizens to overcome the discourses of hate and the politics of division. It brought home to us the enduring progressive and unifying power of music, whether for partying, reflection, loss, love or protest. Cambridge Folk Festival was a celebration of everything we were, everything we are and everything we can be.
Photos by Carl Byron Batson. Not to be reproduced without express prior permission.