[dropcap style="font-size:100px; color:#992211;"]B[/dropcap]lue Coupe comprise the brothers Joe and Albert Bouchard, the original rhythm section from the classic lineup of Blue Öyster Cult, and Dennis Dunaway, one time bassist for Alice Cooper.
They're a power trio, with Joe swapping the bass for his original instrument, the guitar.
The Mill Arts Centre in Banbury is a great venue; as the name suggests it's a former mill converted into a modern multi-purpose arts centre, a quite different sort of environment compared with the more typical grungy rock club.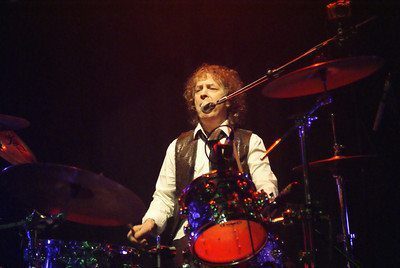 No sticky floors here, although the bar did stock some excellent local real ales. While not full, the and pulled a fair-sized crowd for a Thursday night, on a tour that saw some gigs sold out, while others were cancelled due to lack of ticket sales.
I wasn't quite sure what to expect; Blue Öyster Cult were known for their multi-layered sound and I did wonder how well a three piece band would do the material justice. The start was a tease, opening with distinctive Byrds-like guitar figure of 'Don't Fear The Reaper' before launching into the Alice Cooper hit 'Elected'. What followed was a mix of BÖC and Alice Cooper standards, with an early highlight being Albert's signature tune 'Cities of Flame', which saw Joe go walkabout in the crowd during his extended solo.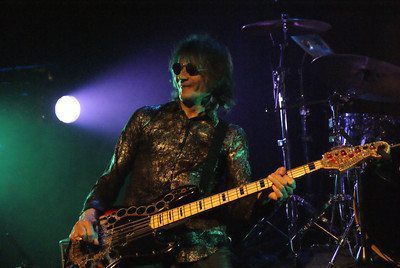 Joe's guitar playing made a very strong impression. His playing filled a lot of space, especially when you consider than many BÖC standards had two or sometimes three guitar parts, and he more than did Buck Dharma's original lead guitar parts justice. Bassist Dennis Dunaway threw most of the rock shapes, while Albert seemed to be enjoying himself a lot on drums; with a far stronger stage presence than most rock drummers.
The whole thing was very rock and roll, playing raw, stripped-down garage-style versions of some much-loved songs.
All three shared vocals, with Joe Bouchard perhaps singing the lion's share of lead vocals, while Dennis Dunaway did most of the song introductions. From where I was standing the vocals, especially Joe's, got lost in the mix at times, which was one flaw in an otherwise great gig.
It wasn't all oldies, as they threw in a few new songs for good measure. 'Dark Boat' from one of Joe's solo albums was particularly memorable, and they actually have a song called 'More Cowbell'. The new material stands up well alongside the old, and marked them out as something far more than a mere nostalgia act, rather a band who still have something to say.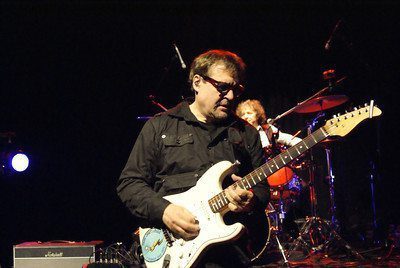 They ended the set with the biggest hits. First 'Godzilla ("Oh No! There goes Tokyo!")' with a bass solo, then Albert going walkabout drumming on the floor, the PA stack, the curtains(!) and finally returning to his kit for an actual drum solo. That, as drum solos go, had to be one of the more entertaining ones. Then it was 'School's Out', and finally, after that tease at the very beginning, 'Don't Fear The Reaper'.
They came back for no fewer than three encores, including a superb take on The Doors' 'Roadhouse Blues' (a song frequently covered in BÖC days) and of course, 'Hot Rails To Hell', before ending with 'Under My Wheels'.
It's a feature of today's classic rock scene that some of the people who once played stadiums are now playing small venues in the most un-rock'n'roll of towns. But bands like Blue Coupe have still got it, and can still put on a great show.
They've promised they'll be returning to the UK, and when they do, go and see them. You won't be disappointed.
Tim Hall saw Blue Coupe at Banbury Arts Centre, January 31st.
Photos: Tim Hall