[dropcap style="font-size:100px; color:#992211;"]N[/dropcap]ot usually one for all that foreign malarkey, but the New Year cometh so time methinks to give the taste buds some spicy new international experiences.
Hold the chilli sauce now, since witnessing failed Greek X Factor-contestants-as-re-packaged-faux-Punk rockers, Barb Wire Dolls last year I wasn't exactly salivating at the prospect of witnessing more Eurovision wannabes. However, Greek rockers BLE were gracious in inviting us along to see them play to all the London peeps at The Garage (main stage) on Thursday 16th January, so, upholding the fine British tradition of European cultural integration, it was the very least we could do to down a few Metaxas and see what all the falafel was about.
I mean kerfuffle.
BLE have had huge chart success in Greece and have stacked up a plethora of awards with their blend of rock, jazz and funk, so deep down we were hoping for good things to come.
The evening started with what was described as a comedy show, Papageorgiou/Tsouvelas. Personally, I would have described it as a mistake and a complete waste of valuable stage time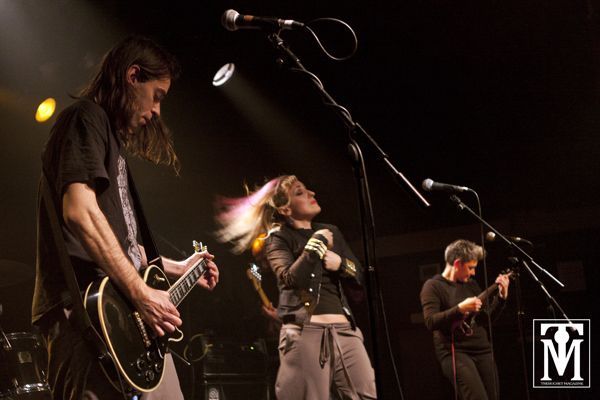 that could have been given to any one of the thousands of hard working young bands out there at the moment. Never mind, I'm sure they were very amusing, and it did give us the best opportunity to say 'It's all Greek to me' (how we laughed). Because it actually was all in Greek.
Much alcohol was consumed during this period of bemusement.
After what seemed like an eternity the annoying Papageorgiou /Tsouvelas eventually slid off the boards like oily vine leaves tipped from a plate, leaving the stage open for BLE to finally do their thing.
On stage came sax, violin, keyboard, bass, guitar, drums and vocalist Giorgia Kefala, who confidently took the microphone and beamed at the audience with the hybrid look of Celine Dion and Lisa Marie Presley. She has been with the band, which was born in 1995, since 1997. It looked like a polished act.
BLE's assembled assortment of musicians did, thankfully, produce a huge crowd-pleasing fusion of sound. It was punctuated with delicate percussion, exquisite violin tones, deep soulful saxophone and liquid guitar playing. Giorgia gave a theatrical performance, leaping around the Islington stage, entering into some Kung Fu with the guitarist and hitting some robotics as she blasted through the extensive set list, which ranged from dark and moody to pure hard rock, with her strong and seasoned vocal.
Spice up your lives and put BLE on your menu if you get the chance.
Note: No plates were harmed during this review.
Photos: Carl Byron Batson. Not to be reproduced without prior permission.

Photographer, published poet, former party animal, body builder, grave robber
to the stars and renowned chainsaw juggler, Carl can often be spotted on his
Harley Davidson pretending to be in Terminator 2. He is also frequently seen in
the press pits of old London town, camera in hand, avoiding being hit by bottles
of wee and crippling his opposition with secret Kung Fu moves.