Bedwyr Williams in a project jointly curated by Mostyn and Oriel Davies and supported by the Arts Council of Wales will be the artist to represent Wales at the 55th Venice Biennale 2013 International Art Exhibition.
The 37 year old artist born in St Asaph now lives in Caernarfon, North Wales. His comedic and poetic live performances and installations deal with Welshness, otherness and difference. He has in the past assumed different personas in his work – a one-eyed preacher, a Grimm Reaper and Count Pollen.

"I'm interested in worst case scenarios and the people that get caught up in them", he says.

The artist's work often draws upon the quirky banalities of his own autobiographic existence to develop his sculptures and performances. His work merges art and life with an idiosyncratic twist that is instantaneously sympathetic and relational. His sculpture, installations, text and photography based works and live performances explore subject matter ranging from growing up in Colwyn Bay with size 13 feet, to a mini bus crash with four other artists in residence (in which he is the only survivor).
subject matter ranging from growing up in Colwyn Bay with size 13 feet, to a mini bus crash
Bedwyr Williams' work featured in the opening show of the new and refurbished Mostyn and last year created a memorable installation in Oriel Davies of Nimrod a piece first shown at Ceri Hand Gallery. Ceri Hand Gallery represents Williams and will be launching a new solo show by the artist in their new gallery in London, during Frieze week in October. His work was also included in the Becks Futures show in 2006, and in recent exhibitions in London, Turin, Paris and Bonn. In 2011 he took part in Performa 11, New York.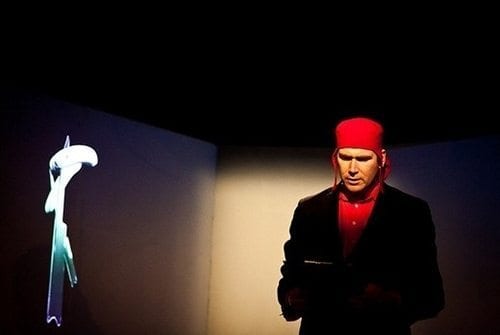 Currently Williams has a new exhibition My Bad at Ikon Gallery Birmingham continuing until 8th July, whilst the stand up performance which has become an increasing feature of his work will be showcased at the Hayward Gallery's 'Wide Open School' in London on July 6th in a lecture titled The Truth against the World. A piece inspired by his upcoming ovation to The Gorsedd of Bards of the Island of Britain in August.
Bedwyr Williams is a fitting choice for a challenging contemporary art arena such as the Venice Biennale. During the 2005 Biennale presentation of work in the Welsh Pavilion by Peter Finnemore, Paul Granjon, and Laura Ford in the exhibition Somewhere Else, Bedwyr Williams was awarded an artist placement commission by Cywaith Cymru Artworks Wales. This took place alongside the official exhibition as a complementary add-on. It built to a book and presentation on the Giudecca entitled BASTA, the Italian for "That's Enough!" BASTA was a rueful and wry reflection on the homesickness of the artist in residence.
Bedwyr Williams' exhibition in Venice will be curated by two of Wales's leading galleries; Mostyn and Oriel Davies and will be shown in the Ludoteca, midway between the critical exhibition sites for the Biennale of the Giardini and the Arsenale. This is the second time Wales has shown at the Ludoteca.
Wales's presence at Venice has been a vital part of the artistic calendar ever since the country first burst onto the International Biennale's scene in 2003 with the exhibition, Further. Since then the Biennale has provided a superb platform for visual art from Wales, strengthening its presence on the international stage and reflecting back into Wales through exhibition tours and related initiatives such as internships, the Invigilator Plus programme, educational resources and talks.
The exhibition is commissioned and managed by the Arts Council of Wales and Wales Arts International with support and collaboration from the Welsh Government and British Council.
Image courtesy of the artist and Ceri Hand Gallery
The aim of art is to represent not the outward appearance of things, but their inward significance. – Aristotle