[dropcap style="font-size:100px; color:#992211;"]T[/dropcap]he start to the Battle of the Bays was one to be remembered – walking to the venue we could see hundreds of the heaviest metalheads known to man.
Manchester's Academy 2 is a fairly big venue at 900 capacity, and tonight it was packed wall to wall with lovely long-haired maniacs. Mosh pits tend to be somewhat tamed at indoor venues, but this was one of the most hardcore audiences ever seen. Boasting an outstanding stage presence, King Parrot interacted with the crowd in so many different ways, they'd be a great opener for any tour. Even in front of those who hadn't encountered the band's material, their ability to work up a crowd is enviable and although the venue was only about half full when they kicked off, everyone present was well and truly pumped.
Throughout the night more and more King Parrot shirts surfaced, at least 40% of all merchandise sales that night must have been for the band. The only bunch with more merchandise floating about was Obituary (and they were the headliner), so on that basis at least, it's just a matter of time before King Parrot go XXL themselves.
Next up were Prong. A mediocre performance. They weren't bad… just not great. To begin with, they captivated and excited a growing crowd but their Industrial-spiked metal stylings got a little draggy after a while, meaning my gig buddy eventually got bored of the band and headed down to the smoking area.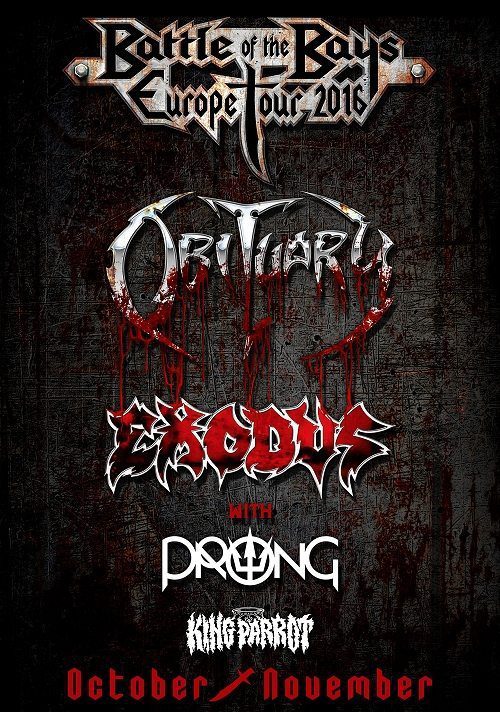 Where to start with Exodus though? They were simply incredible. I first heard Exodus at Graspop Metal Meeting back in 2015, stumbling across them by sheer luck. Again, I was not disappointed; they were incredibly heavy, super enthusiastic and had a great interaction with the crowd. When Exodus entered the fray, the pit really seemed to open up. The crowd loved the classic thrash vibe and speaking to people outside the venue it seemed that everybody agreed that they were the best band of the evening so far (and a huge draw in terms of ticket sales).
The final band of the evening were Floridian death merchants Obituary, channelling raw talent into the night, and, although they didn't really interact with the crowd too much, it didn't matter. Pure grit was enough push them through. Obituary's success is down to their uncompromising ability to play such solid and downright heavy material. James Murphy stands out on guitar and Donald Tardy on the drums makes ears bleed (in a nice way) with his ferocity.
Overall it was an incredible night. Exodus were amazing – as I'd already seen them before I knew they'd likely be good, yet the crowd was in form tonight and they have great cohesion as a band. King Parrot however, have both energetic fresh jams and a cracking stage presence. To summarise: great music, great crowd and shitty warm beer.
Sounds like a typical metal gig, but this one was just a little bit better.