[dropcap style="font-size:100px;color:#992211;"]S[/dropcap]
yrian artists, including Jumaa Nazhan, the only artist known to have worked secretly in an Islamic State controlled area, are the focus of a new gallery in London's Mayfair. The Stories Art Gallery, which opened in October, champions artists who take a non-political approach in their work to challenge violent stereotypes of the county.
Trained at the Institute of Fine Arts in Damascus, Nazhan was working as an art teacher at a school in Deir al-Zour when the town was occupied by IS in Syria's civil war. "In the first year, IS allowed people to work, to go to school and get salaries. Then they became stronger, and schools were closed; only Islamic schools were allowed," Nazhan says. The artist smuggled around 30 works out of the IS-controlled area of Deir al-Zour to a gallery in Damascus in order to raise money. "I was determined, because I wanted to continue to live," he says. "I think I would have been beheaded because I was focusing on minarets and churches." 
Before opening the gallery, director Manas Ghanem was a lawyer working across the Middle East and North Africa with the United Nations High Commission for Refugees and the UN children's agency Unicef. The project emerged from a Syrian exhibition that Ghanem staged in Greece, where she last worked for Unicef.
"As a Syrian I am a refugee myself. I live in the UK, my family is back in Syria, but I have family all over," she says. "We decided to create an opportunity for artists who were unable to present their work in public and to also show that Syrians cannot be reduced to victims, refugees or migrants. 
"We picked a number of artists who continued to produce good works throughout the years of the crisis. We selected pieces that portrayed a significant message of love and peace and hope for the future. They used beautiful colours rather than grey, images that are beautiful rather than the main images of pain and death."
The gallery's roster is not limited to Syrian artists. In November it exhibited works by Elli Chrysidou, a Greek artist who is also the deputy mayor of Thessaloniki, with paintings playing with the image of Albrecht Dürer's famous rhinoceros. But, Ghanem says, it will continue to focus on showing artists who "went through hell yet were able to produce something very inspiring. We want to see something that people associate with respect rather than pity, feeling inspired rather than saturated by mainstream images and thoughts."  
Artists due to go on show in December include Edward Shahda, Nizar Sabour and Bassem Dahdouh, veterans of Syria's domestic art scene who have also shown internationally. For further information, visit www.storiesartgallery.co.uk
Source: The Art Newspaper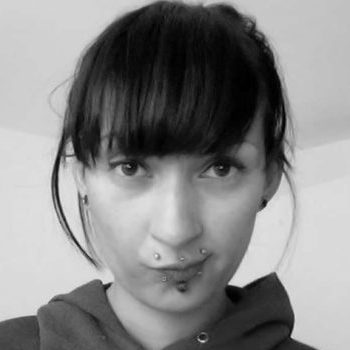 Naila Scargill is the publisher and editor of horror journal Exquisite Terror. Holding a broad editorial background, she has worked with an eclectic variety of content, ranging from film and the counterculture, to political news and finance.