[dropcap style="font-size:100px;colour:#46ffa5;"]I[/dropcap]t's not always easy making an early Friday night show after a tiring week on the guns but they told us it'd be worth it and blow me down they were correct, as they often are. Brothers Osborne set down anchor in Islington, lit the fuses on the party kegs and hit the revellers with a broadside of explosive country rock.
---
Just before we sail on any further, let's take a moment to wish Bob Harris a speedy recovery following the Aortic Dissection he suffered a couple of weeks ago whilst out walking. Aortic Dissection is when there is a tear in the wall of the major artery carrying blood out of the heart, the very same condition that felled Lux Interior so Bob is a very lucky man.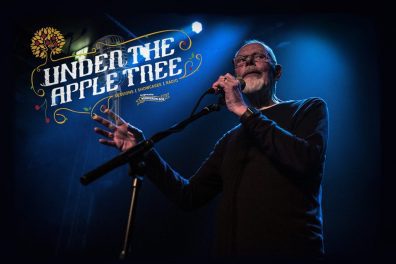 "The aorta is basically the M1 of the body and any damage is regarded as extremely serious," said Bob. "I am not exactly sure when I will be on air again but I am on the road to recovery now," he continued. "It was an incredibly scary moment and I am massively indebted to the ambulance crew who attended so promptly," he said and also paid tribute to the Intensive Care team and consultants at Oxford's John Radcliffe Hospital, his wife Trudie and his "wonderful" family.
Bob Harris is someone we see frequently on the circuit, a legend in music and broadcasting who we saw most recently with the Under The Apple Tree Shows and pulling in country legend Dale Watson for a session. We wish you well Bob.
---
[dropcap style="font-size:100px;colour:#46ffa5;"]B[/dropcap]ack on deck, Brothers Osborne walked the planks after a super early support slot for singer / songwriter Jon Green. With just a guitar, spotlight and a stomping foot for a back beat, Green mesmerised the audience with an impressive range of material including a haunting version of Springsteen's  Dancing In The Dark.
"If the crowd weren't already very over excited, Drank Like Hank sent them bat shit crazy"
Yes, it's true, we hadn't seen Brothers Osborne live but we have had their newest album Port Saint Joe on replay for some time. The album contains some stunning content, I Don't Remember Me (Before You) is one particular track I've not been able to get out my head but with that said the entire album is strong from beginning to end, beautifully produced and performed with some intensely thought provoking lyrics. Played live, the song took on a an even more romantic lilt.
Port Saint Joe really  is a treasure chest of little gems for sure. A sprinkling of Spanish guitar picking, a steamy mash of Southern blues, classic rock and country riffs by the gunny sack load and what I could swear were a few Bowie / Prince licks surfacing in the epic Shoot Me Straight.
This London layover wasn't only about promoting the new record though, this sold out sweat fest of a show was just as diverse, with tracks from their entire catalogue. Stay a Little Longer from their debut album, Pawn Shop had that  foot tapping swing, with John taking it home on the guitar solo, while It Aint My Fault had T.J. starting a call and response with the audience.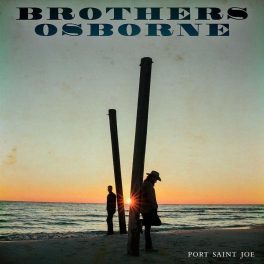 This may not wholly be what the aforementioned Dale Watson would class as 'country' but when the boys launched into the raucous Drank Like Hank, I kinda thought it would be cool if Watson strolled on half way through to take the vocal. Just to note here,  if the crowd weren't already very over excited, Drank Like Hank sent them bat shit crazy, especially with T.J notching things up on stage and fuelling the party. No matter how tired you may have been from your week Brothers Osborne nailed an extra sail to the mast and blew a fair wind to lift the bow.
As the name suggests and if you didn't know, Brothers Osborne are siblings, although you wouldn't have thought it from looking.  Red-bearded John has that half-pirate half-wild-desert hitchhiker look in his eyes. With a cowboy hat perched on top of his fiery locks, he plays his guitar mean and hard whilst unashamedly giving it some boot on the monitor show-boating, never missing a lick. Little brother and lead vocalist T.J. stomps his own exuberant path around the stage. He swirls his guitar like a tommy gun and continually revs up the crowd, as if that were needed, with defiant salutes, boyish charm and seemingly boundless energy.
They say every good redneck loves his wife and his brothers, and John brought on his beautiful sweetheart and country singer in her own right, Lucie Silvas during the encore, with opener Jon Green also joining them for a thundering finale of A Little Help From My Friends, helped of course by every member of the grog laden audience. For Brothers Osborne this party was over, but for many it would continue late into the night and drunken shanty renditions of Drank Like Hank would be heard throughout the streets of London into the early morning.
BROTHERS OSBORNE TOUR DATES AND INFORMATION HERE
Sarah Corbett-Batson
Photos copyright Carl Byron Batson – not be reproduced without express prior written consent

Photographer, published poet, former party animal, body builder, grave robber
to the stars and renowned chainsaw juggler, Carl can often be spotted on his
Harley Davidson pretending to be in Terminator 2. He is also frequently seen in
the press pits of old London town, camera in hand, avoiding being hit by bottles
of wee and crippling his opposition with secret Kung Fu moves.