A mixed bag of sugar and saccharine, the NME Emerge tour closed on a high.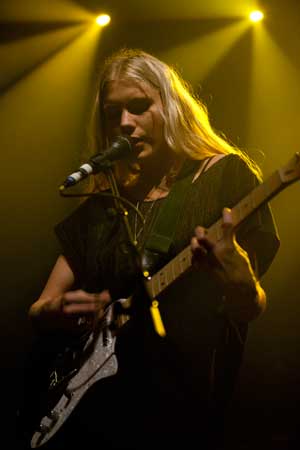 The NME Emerge tour is about bringing rising stars to new audiences. The cult of the Next Big Thing is alive and well in the venerable pop mag's pages but this tour managed to dodge the flash in the pan nature of the business by promoting some real talent. So far the tour had taken Anna Calvi, Grouplove, Big Deal and The History of Apple Pie to new ears around the country and this final show at KOKO closed the NME Emerge tour with style as all the bands, now in shape and seasoned, tore up the hungry crowd.
Apple Pie were already missed by the time I arrived and as I took my first beery sip Big Deal took the stage and started to strum. Big Deal are American born Kacey Underwood and British Waif Alice Costelloe, a group whose dual guitars conjure melodic indie music's finest commercial moments. Their brand of distortion laden singer songwriter fare went down well with the NME crowd who swayed gently as the pair ran through their repertoire of yearning angst and soaring ennui. I can't claim to be a huge fan of the music but they play with a steady confidence and using unusual dissonant chords create a strong atmosphere of dreamlike fulfilment. They are every bedroom Johnny Marr's hopeful vision; a lank hair prophet complemented riff for riff by an attractive girl that looks great with a guitar.
These are the people who buy albums and read reviews. Hello.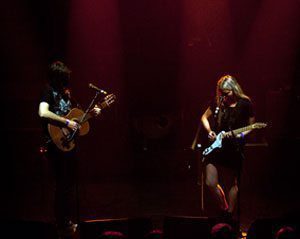 As more people piled in I noticed the lack of the usual tight trousered indie kids, it seems this event attracts the slightly older NME reader; eager, earnest and interested. I had expected more posing from an NME event and it warms the heart to see people genuinely there for the music and not afraid to appear uncool in their appreciation. Nice people; people who want to talk to strangers, people who trust others to watch their bags as they wash a wine stain out of their office shirts. Good for them and good for the artists. These are the people who buy albums and read reviews. Hello.
Grouplove have an interesting sort of backstory, according to some sources the seeds of the band started at an artist's retreat in Crete and they all have surnames that mark them as the scions of the industry (the drummer Ryan Rabin dad was in Yes for starters). So how 'real' are they?
We're Grouplove we're from LA, it's so aahhsome to be with you tonight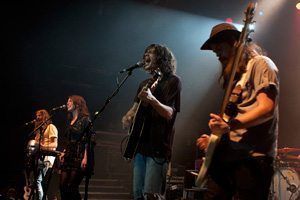 Bounding onto stage Grouplove displayed the sort of laid back American cool synonymous with the west coast and latterly Starbucks commercials. Punching into the first song without a second thought their cranked up country inflected awwwthentic rock with immense sing-a-long choruses had people bouncing up the front from the start. Grouplove preach a sermon of infectious syncopation that conjures the big stage sound of Grand Funk Railroad with a punkish attitude a la Kings of Leon. If somewhat let down by their pedestrian lyrics they do have the goods and ripped through their stomping set to big applause. Vocally the male and female leads work well together, bringing together elements of Bonnie Tyler and Europe. Big stuff that will undoubted have stateside party hungry frat-boys pounding their meaty fists against their beer sodden chests as they heave out choruses to their last man standing mates.
Music like this, while it makes you happy also makes you want to puke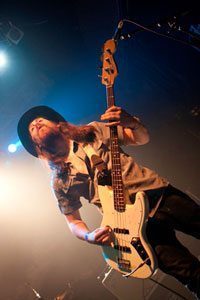 If there was any question that BIG melodies are in, then Grouplove have answered it. Feel good bombast is the sound of times. Uncritical and anti-analytical the kids just want to have fun. Given the worries of the world, an uncertain future and the bleakness expressed by the media you'd think that the music would reflect these concerns; angry young voices railing against the fuck-ups of the aged, but it ain't so. Music like this, while it makes you happy also makes you want to puke, sometimes there is too much sugar in the diet. It's a strange feeling when you like something almost in spite of yourself, you feel uncomfortable as your body rejects it. It's as though ticking all the boxes intellectually some pop music is too synthetic for the heart to take and you refuse something on an instinctual level because your DNA knows that it's being attacked by a calculated virus. This music was made to be liked, whether from a boardroom marketing meeting or from guys that badly want success, despite being loved by many for some it's stands in its own shallow shadow.
Grouplove will never you down; it's in their name, in their look and in their energetic optimism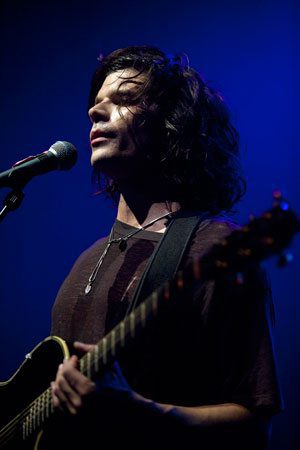 Grouplove aren't bad, it's just that it's a bit much. The final songs of their set contained elements of Ke$ha tinged female vocals over country-rock, unforgivable on paper but uncontroversial on the night. Following this with a middle eight of close harmonied variations of the Lion Sleeps Tonight became too much for me. It's like the dashboard soundtrack to a prom-night rape scene in a cautionary teen telemovie washing over you again and again.
You can't hate a party band, they are what they are and if they're a good at it they'll never let you down. Grouplove will never you down; it's in their name, in their look and in their energetic optimism and if they tend to repeat themselves a bit, well drink it up, get down with the kids and ride it out.
The lights dimmed, a corporate screen came down as the stage was set, cue expectations of tension and hope. It was obvious and unspectacular but in any case we waited.
Anna Calvi is something of a hot item at the moment. Her tour schedule for the last six months is immense as she continues to travel around the world taking her sultry noir guitar and operatic voice to post-goths everywhere. Her debut album hit a lot of people hard, to the extent that you can see people getting misty when they say her name. I hadn't seen her perform and must admit that I was excited by the prospect of seeing if she made the grade live.
Our praise was justified. She's a star.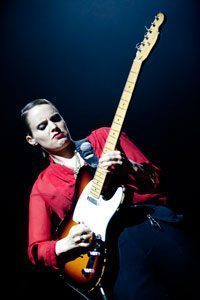 Slowly the curtain lifted and soon the chords of Rider To The Sea filled the theatre. Anna is a small woman whose stage garb is reminiscent of a Toreador's satin shirts and ruffles. Standing in above a ring of photographers she appeared nervous and fluffed a few notes during the first three songs, but as the photographers were ushered out of the pit she gained confidence. Starting to stretch out, she brought the songs home if not completely doing them justice. After the slight disappointment of her shaky start Desire came as a complete vindication. The epic harmonium and driving drums had the balconies screaming, it seems her fans have firm favourites. Desire transformed Calvi from a tiny girl with a squeaky North London voice into a 50ft heartbreaker. Finally, here was the performer that the album promised, lifting the audience, taking them somewhere epic and keeping them there. It was a relief. We hadn't been let down. Our praise was justified. She's a star.
Despite the obvious focus being on Calvi not much is usually said about the stunning work of Daniel Maiden-Wood (drums) and Mally Harpaz without which Calvi would not sound anywhere as full or as arresting. Harpaz in particular is a star in her own right, her use of texturing harmonium chords and punctuating percussion really elevates the songs' emotion and watching her on stage you get a sense of the heart of the band, pulsing and flowing with an uncommon depth and strength.
…watching her on stage you get a sense of the heart of the band, pulsing and flowing with an uncommon depth and strength.
Sadly from where I was standing Harpaz seemed lost in the mix however when she came to fore it raised the whole tone of the song, set and performance. Nowhere was this more apparently than on the extended jam in Desire where Anna's surf guitar was supported by Harpaz great arrangements and Maiden-Woods sparse but intense drumming.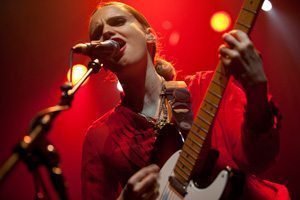 Fully warmed up, by the encore Calvi's voice sounded pitch perfect and existed in a wonderfully ethereal place, fragile and yet resilient and as the strains of The Devil died away there was a sense of satisfaction. Calvi had got there in the end and the evening had gone well.
The NME Emerge tour succeeds in bringing together disparate bands for an audience unafraid to explore new sounds. The grouping of Big Deal, Grouplove and Anna Calvi was varied enough to make it a fantastic evening of music and the lack of pretension from the London crowd was heart-warming. Highly recommended.
Emerge NME tour: Anna Calvi, Group Love, Big Deal, and the History of Apple Pie.
London 17th May at Koko, London.
Photography: Carl Batson.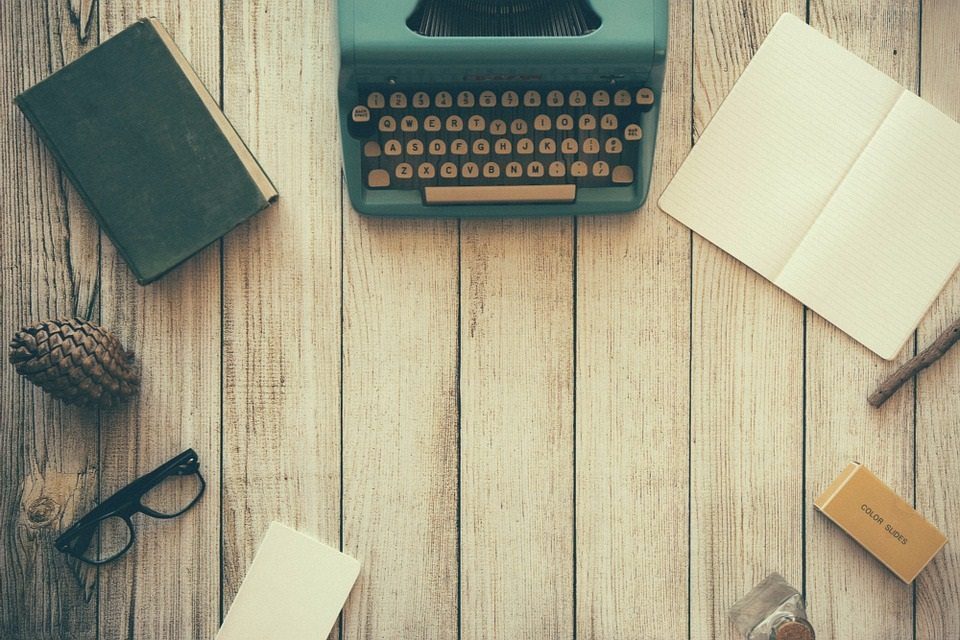 The aim of art is to represent not the outward appearance of things, but their inward significance. – Aristotle