[dropcap style="font-size:100px; color:#992211;"]J[/dropcap]ust in time to coincide with The Other Art Fair, Karen Shidlo talks to one of its many exhibitors: Anita Goldstein.
How did you get into Art? Were you always creative as a child?
Basically, I started drawing from the minute I could hold a pencil. Disney animation and everything that's Manga were my passion as a child. I think that my illustrations are actually a weird combination of the two.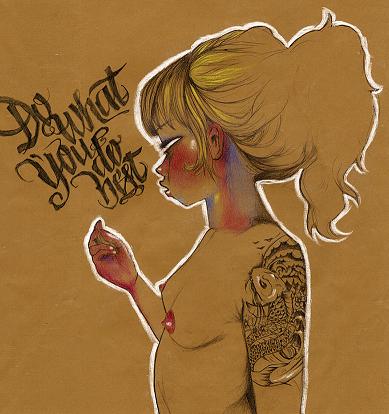 How did growing up in Israel inform and influence your art making?
Israel is an amazing place full of warm people and I had an amazing time growing up there. I think it's also a place with great tension, to which artists respond very emotionally, giving birth to some great intense work. It's impossible not to be influenced by it, even if you try, since it's very present in everyday life. Some private jokes (private, that is, to army veterans!) even sneak (via my "Army tan" illustration) into my escapist drawings.
How do you like England as an artist?
England is the most inspiring place to live and work in. Just a short stroll in East London, looking at the graffiti and fashion gives such creative energy boost – that's the power of good, cool art. Once you see it you immediately want to make one yourself, and in London you are surrounded by amazing art.
Tell us a bit about your current girl series – how did you begin?
The series is a result of an ongoing research of the feminine face and figure. After years of intense doodling and improving my technique I decided to go for it and do what I love the most: draw tattooed bad-ass girls.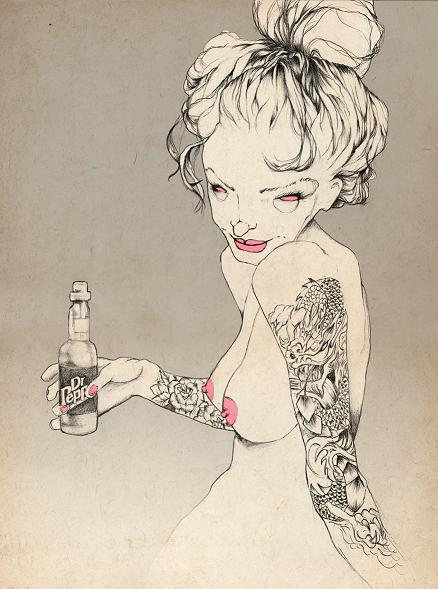 How far does your interest in tattoos go? Have you any yourself? Why use them in your illustrations?
I'm completely fascinated by tattoos. There is no real tattoo culture in Israel, so of course I was amazed by all the beautiful tattoos I saw when I came here. I don't have one myself; it's too much of a commitment for the graphic designer in me. I would immediately get bored with it.
What do you prefer and why – commercial work or fine art?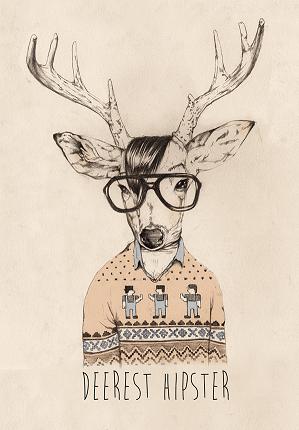 Of course I prefer to draw all day but a girl's got to pay rent and eat. Ideally, I would like to make a living solely on selling my work but I'm not in the position to quit my day job as a freelance graphic designer just yet. I am however trying slowly to move into illustration's commercial world.
Who are your influences? Which artists do you love most?
As an illustrator who draws figures and portraits I draw inspiration from Egon Schiele, and Lucien Freud. My personal heroes are Tomer Hanuka, João Ruas and Conrad Roset. I also adore Karl Cox; his (brilliant!) style is very different to the stuff I do, but he encouraged me a lot when I just started and without his support I might have given up.
What other influences are there on your work? (Music etc.?)
Not sure about music. Even though I often listen to ridiculous 90s rap when I'm drawing. I'm really inspired by Zaha Hadid. I'm in love with her chaotic fragmented geometry. She is the reason my characters are a bit geometric. I'm also inspired by vintage clothing and mocha flavoured fudge.
What's coming up for you this year artistically?
The Jester Jacques Gallery is showing my work, among other artists, at The Other Art Fair. Also, I'm going to collaborate with a few new friends and interesting artist I have met through Behance. I'm going to be working on a T-shirt and cards collection with a Paris studio and I'm trying to launch a personal project with Yossi Shamrik, one of the more talented alumni of my alma mater.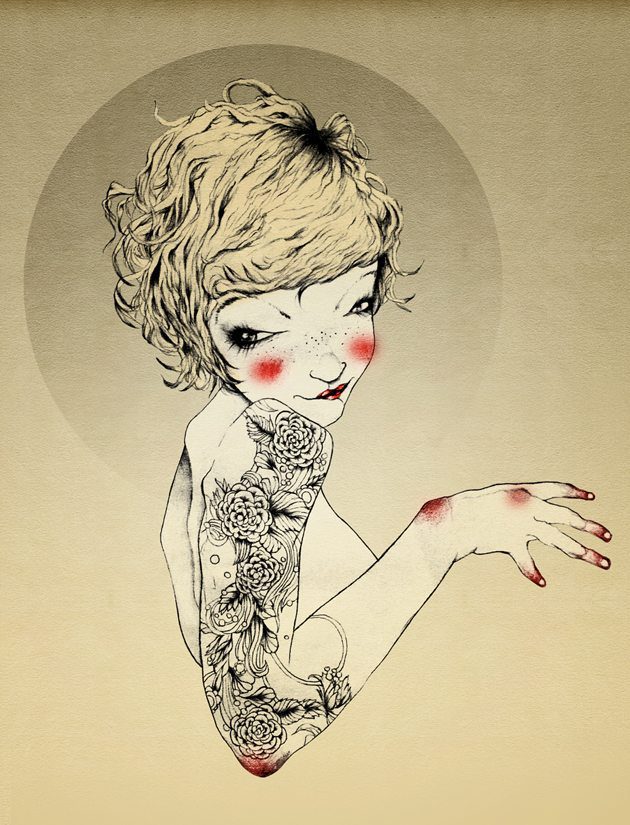 Can you comment on how the political tension in Israel influences contemporary artists there? Any personal anecdotes and experiences to highlight?
Here's an anecdote for you: The West-Bank wall is covered on its Palestinian side with lots of graffiti (many slogans, but also street art) whereas its Israeli side is completely blank.
I think it's a nice metaphor, it might also explain why most artists back home would have liked to move to Berlin.
All pictures: Anita Goldstein
[button link="http://www.theotherartfair.com" newwindow="yes"] The Other Art Fair[/button]