[dropcap style="font-size:100px; color:#992211;"]O[/dropcap]n a familiarly dull, pavement-grey London afternoon, hordes of black-clad teenagers descend upon the piss-whiffy streets of Camden Town like a Victorian funeral parade.
Not an unusual occurrence, yet the excitement was palpable as this crowd of hooded youth snaked around the distinctive Koko building. The queue didn't quite reach the ancient lake, but it was backed-the-fuck-up down the high street by the time the doors finally opened. The emerging security were met with hysterical cheers from those who'd braved hours of freezing cold in order to win that coveted spot on the barriers before the blood started pumping and the snake began to surge.
This much-anticipated tour from LA rock-rap troupe Hollywood Undead included two sold out nights at Koko. While they could, doubtless, have filled a larger space (perhaps the Forum), the choice of venue was astute. Tt made for a particularly intimate pair of shows with the promise of plenty of interaction from the stage.
[quote]we really didn't need to know about the drummer having a wank in his bunk earlier[/quote]
Hollywood Undead themselves… Some say their music is "fucking horrible shit". Some call it "immoral, immature, forgettable, lame rap rock" and that "even Limp Bizkit is better". Well, it was difficult to contextualise these comments tonight. Koko was ram-jam-packed solid. A total sell-out hormonal sweatfest was upon us, and the excitement in the air was nothing short of electric.
The press elbowed for position as the tension built and then BANG! The curtain fell. With an atomic burst of strobes, the auditorium erupted. Hollywood Undead launched into the lights wearing their trademark masks, feeding on the dramatic effect. These guys know how to work the stage and bring the party. The masks stayed put for the first few songs while the boys zapped around like supercharged pinballs.
Opening with 'Whatever It Takes' from last year's 'V' album, the crowd were hand waving, fist pumping and singing along from the outset. Indeed, the singing started in earnest before they'd even reached the stage. Whoever was in charge of sound tonight was on their A-game. It was waxy ear build-up loud (just how we like it) but also beautifully crisp and clear.
Other highlights from the latest album included 'California Dreaming', 'Bad Moon' and 'Riot' – the latter of which has the whole venue bouncing up and down, chanting "Fuck that shit, let's start a riot!" Rather than just being a shameless plug of the new material though, the set spanned their career in full. rolling back a decade to their roots with 'Undead' and 'Everywhere I Go' alongside more contemporary fan favourites such as 'Day of the Dead', the crowd word-perfect throughout.
With some laddish banter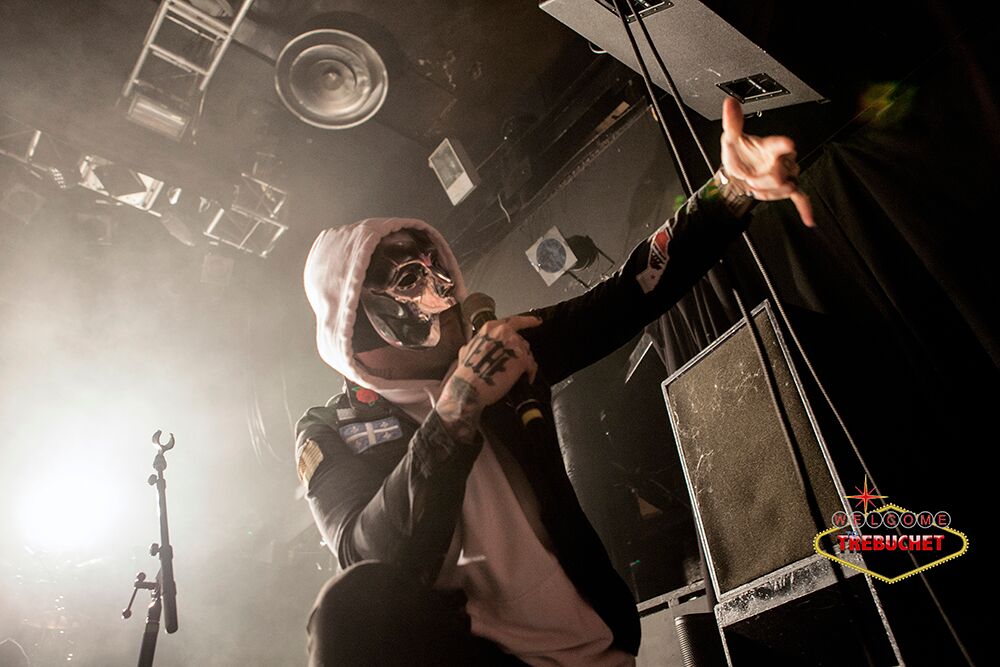 between songs (we really didn't need to know about the drummer having a wank in his bunk earlier), the audience-band chemistry was well maintained throughout, Johnny 3 Tears (looking like a contender for WWE) expressing his gratitude for the enthusiastic loyalty. There was a touching moment when a fan called Phil came on stage to propose to his girlfriend, which almost brought a tear to the eye of the self-professed bad boys in the band.
Unlike many in their genre, Hollywood Undead have a sound that's heavy yet still melodic and full, with catchy singalong choruses. There's even an occasional foray into Irish jigs; an approach which is reflected in their broad fanbase.
Forget what the haters might say as they rattle about on their keyboards and masturbate over each others' mums in their bedrooms. This is sure to be one of the best performances of 2018. Hollywood Undead are a class act and one best seen live. So do yourselves a favour and go see 'em.
Hollywood Undead played Camden's Koko on Monday 29th and Tuesday 30th January.
Photo by Carl Byron Batson. Not to be reproduced without express prior permission from the photographer.

Photographer, published poet, former party animal, body builder, grave robber
to the stars and renowned chainsaw juggler, Carl can often be spotted on his
Harley Davidson pretending to be in Terminator 2. He is also frequently seen in
the press pits of old London town, camera in hand, avoiding being hit by bottles
of wee and crippling his opposition with secret Kung Fu moves.