---
---
Jules de Balincourt: They Cast Long Shadows Victoria Miro Mayfair 14 St George Street London W1S 1FE
T

here is feeling we get from our own dreams, otherworldliness mixed with familiarity.

You might be lucky enough to still have the feeling, or perhaps you'll have to recall your early years, but the sense is wonderfully filtered, altered and preserved through Jules de Balincourt's masterful works in the show at the Victoria Miro.

The exhibition 'They Cast Long Shadows' manages to tap into this less explored aspect of dream like iconography, the slightly utopian and beautiful aspect. We may be more familiar with the more 'unhiemlich' to coin a Freudianism, Surrealist approach, which tended more towards incongruity and discomfort, fear, sex and violence which are of course rich and nightmarish subject matters.
Oneiric Painting blended with Fauvism
Balincourt's images though are positive even when they explore depressing repetitions of history or at least they take place in spaces you would like to be in where you would feel curiosity rather than cynicism, where you have time to reflect rather than react to events. This is partly achieved by the use of colour which is a more subtle take on Fauvism and with classic, surrealist-style disruptions of scale. Figures are indicated quite clearly though and the images have strong narratives accentuated by poetic titles that encourage interpretation.
Balincourt handles the
 subject  matter like Mattise
might have if he'd turned
 his hand to political satire,
The lanky Trump like figure wagging his finger at the sympathetic black everyman, both figures direct echo's of many who have gone before is perhaps the most explicitly political. The title of the show, They Cast Long Shadows, references the force and power history has over the present. While the small figures who inhabit the spaces cluster together in uterine caves or walk hand in hand across vast hopeful landscapes.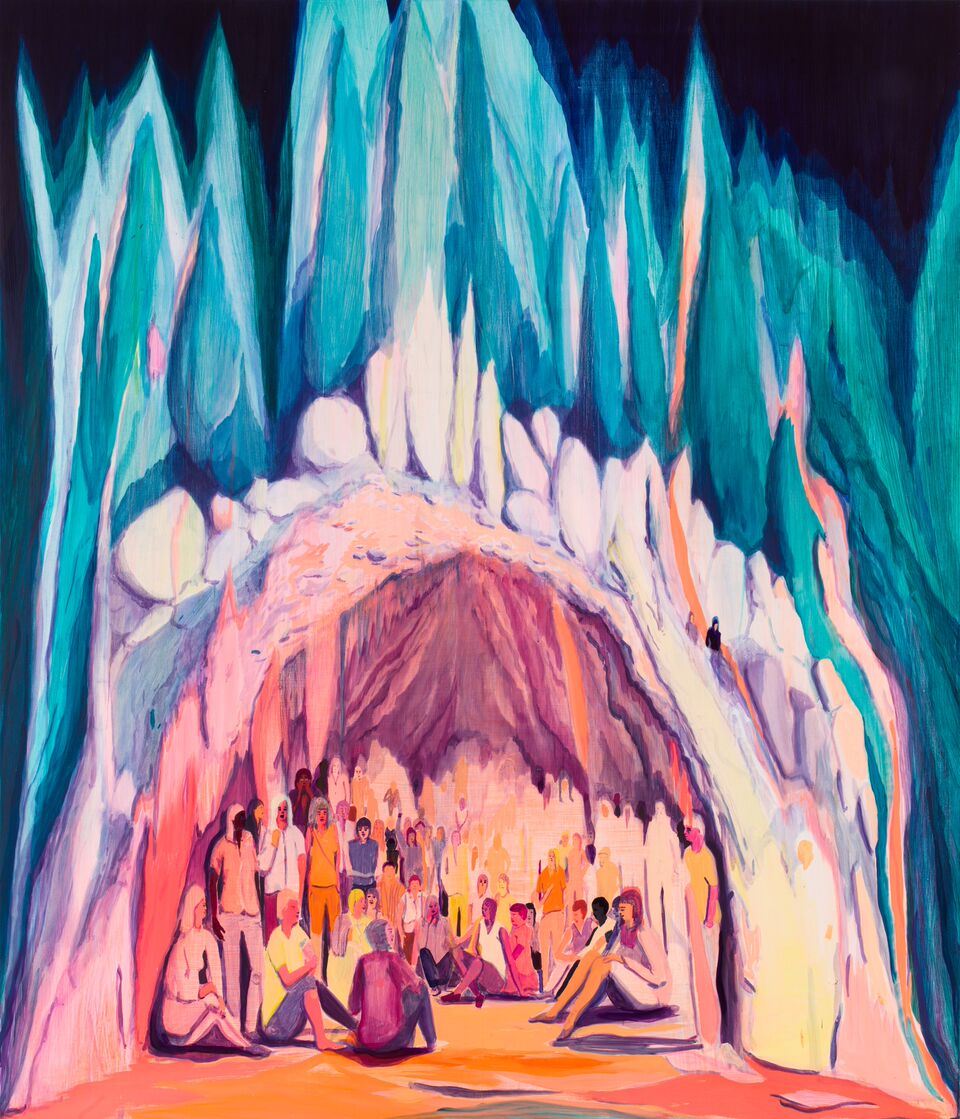 There is a feeling that something is nascent and about to happen as the people gather and its a wonderful answer to the things you hate to build new worlds rather than tearing down theirs. This quality makes the work utopian in a way that emphasizes people and nature rather than buildings or monuments and the gentle poetic reflection is a welcome rest from the screen dominated world we all inhabit at home.