[dropcap style="font-size:100px; color:#992211;"]A[/dropcap]h, Camden Rocks 2018! That handy pre-Download disctraction for media vultures and festival-starved Rock heads alike.
This cowboy arrived fresh off the train from the sunny North, with a pleasing list of must-see bands and a sturdy hip flask of spiced rum to steady the ship between other adult beverages. Unfortunately, as I'm sure you've all experienced, even the best laid festival plans go awry as we run into people we haven't seen in years (and, indeed, get led astray by interesting noises spilling out from conflicting venues).
First stop for me was The Devonshire Arms, affectionately referred to as The Dev. It's a short walk away from the tube station (for those less Camden-oriented) and I arrived in good time for unflinching Metalcore stalwarts Death Remains to play a suspiciously daytime-y set. I can still taste toothpaste – is the big hand really thrusting at metal o' clock already? The Londoners' heavy stylings get the day rolling on a high, haymaking their way though their catalogue with a heavily perspiring zeal. 'Endure and Survive' and 'No Trace' especially hammer the crowd into some early action, with one pit-happy punter launched face-first into a table like a rotten tomato into a medieval malcontent's unfortunate head. Concussion or no (we get a bleary thumbs-up), the show must go on. I have to say, my first foray into The Dev has been a very happy one. First blood to the local boys.
Next on the agenda was a wander over to the Electric Ballroom (affectionately referred to as the Lecky Bawbag… by myself, and myself alone). I get a vaguely disinterested pat-down as I descend the stairway, which fortunately leaves my already diminished hip flask unmolested. The prospect of an early daytime throwback set from Californian Nu-Metallers Crazy Town has packed the place out. It's a sight to behold when the vast bulk of the Ballroom's eleven-hundred-or-so capacity are seething for a full hour from three in the afternoon – though I won't lie to you, the majority of these people are waiting to hear that number one hit single 'Butterfly'. "Butterfly", they say. "Play Butterfly". "We want to hear Butterfly". Before the inevitable comes a full, in-depth exploration of Crazy Town's three album back catalogue. We get the lot, from 'Born To Raise Hell', to 'Megatron', 'Drowning', 'Revolving Door' and personal favourite 'Come Inside'. It's immense to see a band I've been tracking closely over the last few years attacking a festival crowd with the same level of bite they've been slinging at the intimate club shows on their way back into the saddle. There are a few serious fans dotted about the place gobbing along with every word, but it's when aforementioned hit single 'Butterfly' rears its head that the place explodes proper. Come my lady, come come my lady indeed.
From here, I find myself having to power walk over to Belushi's, and this was when my shoes started to seriously fucking rub. I mean, mum did warn me, but I simply couldn't listen. I stop and buy some socks. Now I have 4 spare pairs of socks in my pocket. Why do they only sell 5-packs?
It's on Inklings to keep me on my feet, then – a cult of personality project from ex-Fearless Vampire Killers linchpin Kier Kemp. It's fairly chirpy Indie-tinged Alt Rock fare, topped by vocals that hang somewhere in the balance between My Chemical Romance and Kurt Travis. If I'm honest, I wasn't particularly familiar with their material going into their set, but I'd been nudged by a few people to make time and 'Thanks For The Insight' is a catchy enough tune to make it worthwhile. Clearly a decent amount of people feel the same way, as they draw a good few folk into their mid-afternoon showing. What I will say in retrospect, though, is that it was entirely too sunny for the melancholy feel Inklings strive for on record to truly shine through in a live context. You'd have thought that with Camden's unparalleled vape brigade the place would be perpetually overcast. Alas, no.
The Camden Rocks contingent of Team Trebuchet unite at this point in a veritable shower of ill-advised shots. It's time to head over to big evil coporate coffee co. to sit down for a chat with SikTh's Mikee Goodman (coming soon for your perusal… lucky you).
Unfortunately, this times out my chances to catch Sonic Boom Six. InMe, Carcer City and Hacktivist are similarly casualties to my scheduling as I run into more and more old friends. During this interlude, I did pop in to the Electric Ballroom briefly to check out the vibe there. Blood Red Shoes didn't really intrigue me enough to merit sticking around longer than a few minutes, though.
I was, however, fully prepared – pint in hand, front and centre – by the time Black Orchid Empire took the stage at The Dublin Castle at eight o' clock. If you aren't familiar with these Londoners yet, I'd heartily recommend them to anyone interested in well-crafted Alt Rock. They list their influences as Foo Fighters, Deftones, Queens Of The Stone Age and Tool, and whilst I can certainly hear nods to all of those within their sound, for me there's something of a Muse feel about them. You know, good Muse – not the Bellamy standing around wanking himself off for twenty minutes out of each half hour while everyone else has a snooze, waiting for the part where it gets a bit exciting again Muse.
This was a hard set to pull off at this time of day given hard lineup clashes left, right and centre, and there's understandably less people than there should have been. Those who did congregate had a great time, though, as a three-piece tightened by near enough back to back tours with Hed PE, InMe and Black Map is a force to be reckoned with. Black Orchid Empire have just released an album called 'Yugen', which I'm currently spinning a lot on Spotify. It's solid, crunchy riffs mingling with melodic bits all over the place. They bring that vibe to the stage and more. Tracks like 'My Favourite Stranger' are just a bit more visceral in a live setting, as those instrumental sections between chorus and verse just roll a little harder in the moment.
I wasn't originally planning to see Public Image Ltd – SikTh, or maybe Confessions Of A Traitor, are perhaps a little closer to hitting the mark for my current tastes. After a few hours of hearing "PiL this" and "PiL that", however, I found myself back at the Electric Ballroom heartily anticipating my first live experience of Punk legend Johnny 'Rotten' Lydon. For the uninitiated, PiL is the project Lydon formed in the immediate aftermath of the Sex Pistols. They lasted until the early 90s before fading out, resurging with a much-altered lineup in 2009 on the back of Rotten's return to the public eye as the ostentatious spokesman of Country Life butter (the comeback financed by that same ad campaign). I went into this experience with a feeling of trepidation, to tell you the truth – while Rotten could perhaps be considered the stand-out icon of Punk, he's also a 62-year-old man fighting to stay relevant. Please don't let this be another Axl Rose experience.
I know you look to us, dear reader, to give you a definitive 'yea' or 'nay'. Unfortunately, I still haven't made my mind up as to whether I enjoyed PiL or not. You see, Johnny Rotten is clearly still a brilliantly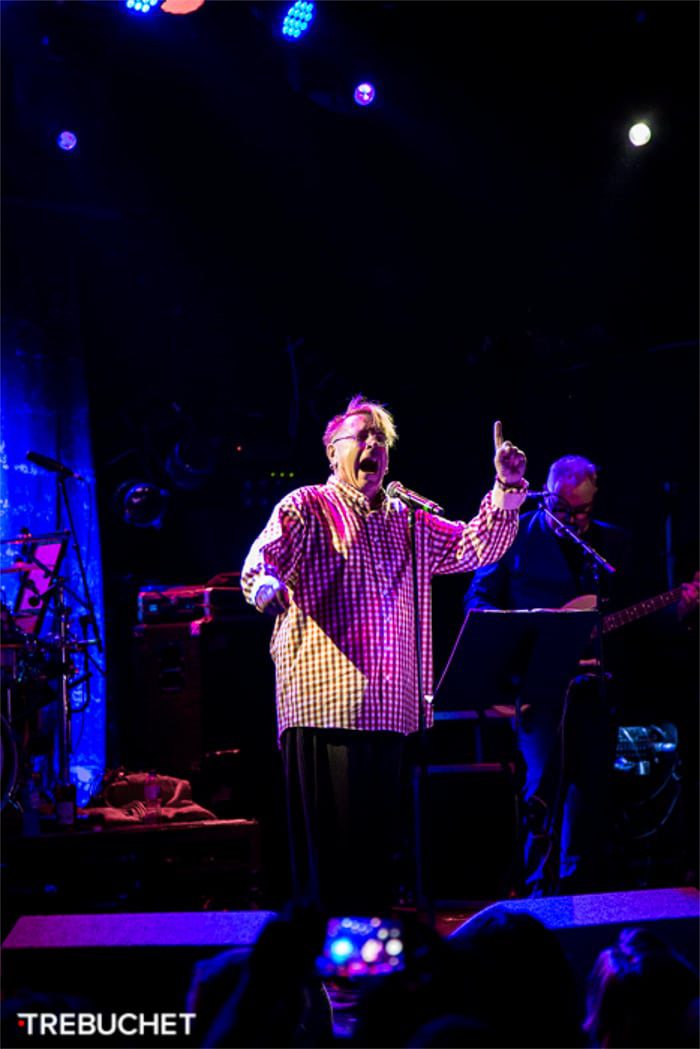 charismatic and abrasive frontman when he wants to be. His trademark snarl, when properly channeled, hasn't lost its bile. It's just that everything feels a bit forced. A bit strained. An attempt to drum up a bit of edginess when the man himself creaked on stage in a pinstripe shirt and reading glasses, complete with music stand and lyrics book, looking like a ginger Vernon Dursley at the end of an exceptionally bad day's drill sales.
Of course, there's a part of me screaming that this is what Lydon's music has always been about – direct, to the point, no bollocks. It's this rendition of 'Shoom' (see above video) which sort of sums up the experience for me. A backing band, a faded legend and a room full of crusty old Punks trying their best to recapture the resolute hostility of their youth like water in cupped hands. Worth a watch? Certainly. Would I make the same choice again with the same bands clashing? Less certain.
Well, there you have it. While Trebuchet has been fairly ever-present at Camden Rocks, this was the first time I've been free to make the trip. I'd say they've managed to find the sweet spot between festival atmosphere and city centre vibracy very well, and while I'd heard over-capacity and queueing can be an issue, I didn't find myself overly bothered by either (due, in part, to my unconventional choices of band, no doubt). Overall, an auspicious experience, albeit capped by getting thoroughly lost on the way back to my host's flat in Tooting. Oh dear.

Jed the Music Ed. is a Music Promoter/Booking Agent and general fixer with Rawkus Events. Jed's interests include a constant and reckless over-caffeination, irrationally spontaneous travel plans and maintaining an over-expensive (borderline hoarder) PC/retro gaming habit.