[dropcap style="font-size:100px;color:#992211;"]U[/dropcap]nderground England announce the first in a series of urban artist collaborations, kicking off with Dr.D aka Subvertiser. Panicky in the UK will exhibit via Underground England's online art gallery, which complements their established and rapidly growing subculture and art book offering.
Subvertiser is known for his quick-witted and morally-laden artworks that are usually sneaked into the public realm and unexpected spaces. His work has been developed through subverting and creating new outlets through billboards, the street, paste-ups, numerous festivals including Shangrila and Glastonbury.  His toolbox aims, with all the other examples of cultural strength, to put a spanner in the works and create a world against the grain. 
Underground England state, 'Panic in the streets of London, panic in the streets of Birmingham. I wonder to myself, could life ever be sane again! Prophetic words! We are looking to showcase more art and creativity that cuts through on our subcultural DNA and Dr.d was a great place to start as he catches the spirit of the times with this riff on a punk classic.'
Subvertiser says, "Not being a naturally gifted artist you have to work with what you've got. It's an aesthetic of the punk movement that I think reoccurred with my generation's illegal warehouse party scene of the late 80s. One of my old fly-posting crew came out with the phrase and I was immediately thinking Jamie Reid, of course. Early on in 2020 it seemed like a rumour that something bad was on its way, but we had no idea how bad it would get and how incompetent our government would reveal itself to be. It was certainly panicky in the supermarkets too as the shelves got cleared for no good reason other than ME FIRST!"
The new range includes T-shirts, limited-edition prints, enamel badges and the subverted Union Jack which, true to form, uses a flag made by the Queen's flag-maker, all in Underground England and Subvertiser's punk style.
Finally, to celebrate the anniversary of the Sex Pistols' Never Mind the Bollocks, from 28 October – 5 November, Underground England and Subvertiser will raffle 30 artworks from Dr.d's back catalogue, the Panicky in the UK range, and other Underground England products. All proceeds will be donated to the Trussell Trust to support a nationwide network of food banks and campaign for change to end the need. Take part in the raffle here.
Find further information on Panicky in the UK here.
Image: Subvertiser, untitled, 2020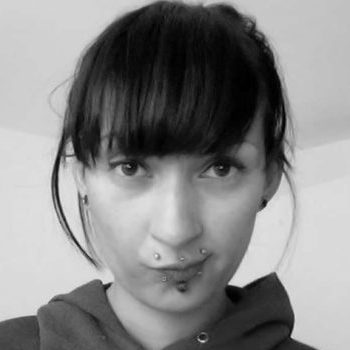 Naila Scargill is the publisher and editor of horror journal Exquisite Terror. Holding a broad editorial background, she has worked with an eclectic variety of content, ranging from film and the counterculture, to political news and finance.