[dropcap style="font-size:100px;color:#992211;"]U[/dropcap]
nit London present Tom French's major retrospective, Transcend, the pieces for which were created in the knowledge that they would most likely be the artist's last. To transcend is to go beyond the range of limits of a field of activity or conceptual sphere; French's work flows over these boundaries on both sides, it is at once elusive and illusory, thoughtful and innovative.
Transcend brings together two of Tom's most prominent bodies of work: the Parallax and Duality paintings. Both sets of work are monochromatic, figurative combinations of photorealism and abstraction that depict a psychological landscape as well as material space. They are comprised of technically tight charcoal drawings, occasionally enhanced with acrylics, oils, spray paint and even gold-leafing.
The term 'parallax' denotes the sensation surrounding the theory of perceptual variation — or, the displacement of an object caused by a change in the position from which it is viewed. The fragmented presentation of French's characters is representative of the way in which we perceive the external world, both visually and psychologically. When viewing a figure we do not see it as a whole; we construct an individual subjective image, one that is, by definition, fragmented. 
This theme of simultaneous multiple perspectives and realities has many conceptual parallels to the Duality works, which utilise illusion and double image techniques to further explore this range of ideas. The Duality paintings are meditations on the theory of dualism: the idea that the mind and body are distinct entities. In these works swirling abstraction captures consciousness and mental activity, whilst glimpses of the figurative bring attention back to the physical. When one stands back and takes in the entirety of the work a composite shape begins to appear, encapsulating both realms of a dualistic existence. In French's own words: "there is no single reality here, the realities transcend and coexist, they repeat and overlap, and — particularly with the illusion works — transcend the usual boundaries."
Transcend runs at Unit London from 30 January – 29 February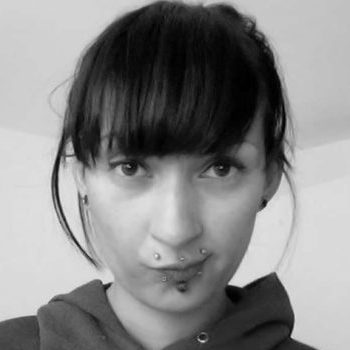 Naila Scargill is the publisher and editor of horror journal Exquisite Terror. Holding a broad editorial background, she has worked with an eclectic variety of content, ranging from film and the counterculture, to political news and finance.