[dropcap style="font-size:100px; color:#992211;"]M[/dropcap]aking a pact never to grow old invariably carries a hefty cost.
It's something I did myself a very long time ago, and is something that sits within the very germ of rock and roll culture. It is therefore quite apt that the title of Christopher Morley's book, Thunder On The Left, has been snaffled by a hard hitting young rock trio, fronted by a girl no less.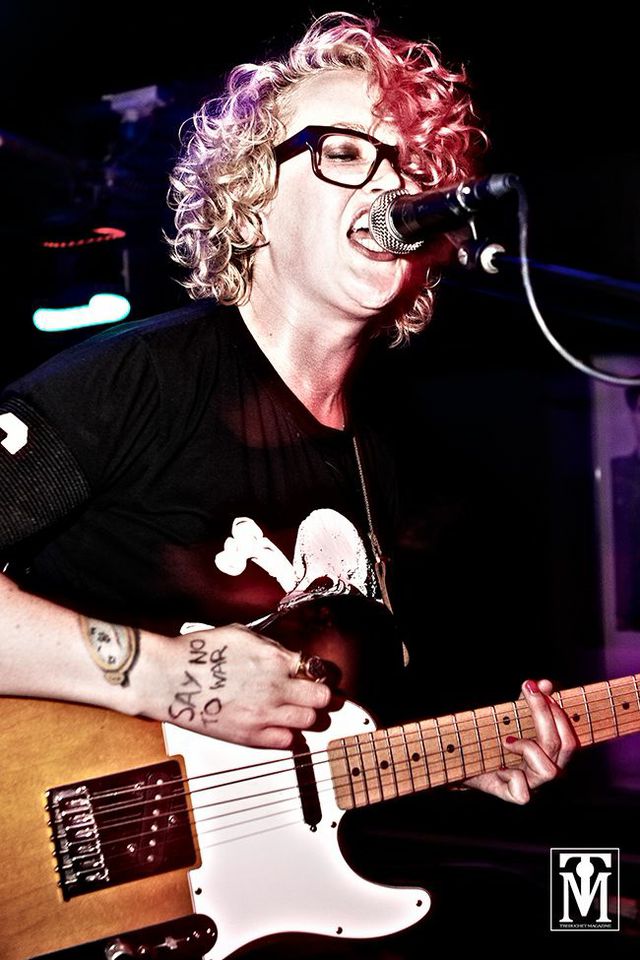 First band on of three and popping their live stage cherry, TOTL managed to fill The Garage (upstairs) with a loyal fan base (no easy thing), including a small hobbitlike gentleman in a full length black cape who had fallen into a space-time vortex sometime in the early eighties (at a Damned concert).
Set to release their debut single 'Discord' on the 11th August 2014, this gig was Thunder On The Left's moment to shine and firmly hammer their tousled blonde stamp on the rock scene.
So with the defogging of specs and swallowing of nerves, the sweet riffs and hard rocking female vocals (driven by an extremely competent skin thumper) ricocheted around the venue, lassoing the crowd and pulling them stageside.
This three piece sounded more like a four piece that sounds like a five piece. Nailing each number with precision and with any jitters now eaten up by the adrenaline there was even a little bit of showboating to be had.
Trebuchet was proud to witness this deflowering as TOTL's first outing was certainly a success. One to remember, receiving all the audience appreciation and devil horns it richly deserved.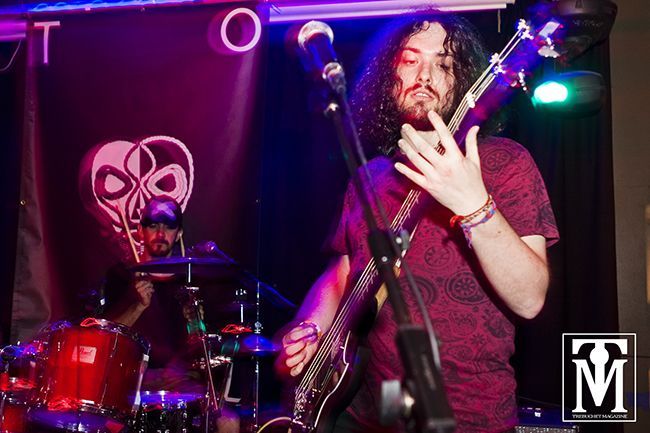 As the band put it themselves:
The Garage was the first show we've played. Releasing 'Discord' as a free download single on the 11th of August through Bandcamp (page will be up then). Also, hoping to start our own Rock night with other bands around Sept/Oct time.
Thoughts on the gig:
Great atmosphere in an awesome venue, and great to play an Artrocker Summer Of New Blood show as our first live gig.
Think the set worked well and The Garage (upstairs) is such great place to showcase our material. Think the energy of the music was delivered in the performance, and for a 3-piece  everyone said it sounded 'big' which is what we are going for.'
– TOTL
Photos: Carl Byron Batson. Not to be reproduced without express prior permission.
[button link="www.facebook.com/thunderontheleft" newwindow="yes"] Thunder on the Left Facebook[/button]

Photographer, published poet, former party animal, body builder, grave robber
to the stars and renowned chainsaw juggler, Carl can often be spotted on his
Harley Davidson pretending to be in Terminator 2. He is also frequently seen in
the press pits of old London town, camera in hand, avoiding being hit by bottles
of wee and crippling his opposition with secret Kung Fu moves.