[dropcap style="font-size:100px;color:#992211;"]T[/dropcap]
he Redfern Gallery presents THEM, an exhibition examining the work of five artists who came to prominence in the early 1970s, including
Duggie Fields
, Andrew Logan and Derek Jarman. The show's title derives from an article of the same name written by the cultural historian Peter York for Harpers & Queen, that appeared in October 1976. 
To be Them, York wrote, was to be part of 'a mysterious aesthetic conspiracy' prepared to sacrifice almost anything to 'look interesting rather than sexy'. This look was a highly refined form of camp and came at a time when, according to York, 'marketing of all sorts of things sold to non-queer people'. The date of the article's publication is significant, because one month later, The Sex Pistols released "Anarchy in the UK", an event that effectively swept away the concept of Them.
This exhibition brings together more than 20 works dating from the late 1960s to 1980s and examines the aesthetics behind the concept of Them. While some of the five featured artists were named in York's article, this was not a movement in any sense, but a sensibility around which they all loosely confederated.
It is perhaps in Kevin Whitney's Chelita Secunda (1969/70), a portrait of the late journalist and fashion stylist Chelita Secunda, that this spirit is most evident. The work depicts Secunda spilling out of the window of a sports car, her arms flailing as she clasps a small revolver. Dangerous and carefree, the smudge of glitter under her eyes alludes to her role in kickstarting the glam rock revolution.
Duggie Fields' Fireside Cookies (1969) presents two young women in swimming suits sprawled on a rug in a kitsch, domestic setting. Combining elements from disparate vocabularies, Fields' painting is a masterclass in exuberant, post-Pop figuration.
In contrast, Derek Jarman's Kingdom over the Sea (1987), strikes a darker note. One of his celebrated Black Paintings, it was created shortly after he was diagnosed with AIDS in 1986. Embedded into tar are various found objects including smashed glass on which words have been violently scratched, acting as a metaphor for Jarman's reaction to his diagnosis.
The late Luciana Martinez de la Rosa's epic painting Pru Pru (1981) offers homage to Manet's Olympia. However, here the reclining nude female figure is accompanied not by a servant but the artist herself. One of the so-called Blitz Kids, the band of fashionable club-goers that dominated the cultural dialogue in the early 80s, this work embodies that spirit of assimilation and artful contrivance. 
Andrew Logan is represented by his iconic Pegasus sculptures, Life, Birth and Death (c.1980s). In white, red and black, these three Pegasus symbolise three different aspects of existence, which are interchangeable according to the viewer's perspective.
Says curator James Birch: "It is more than 40 years since Peter York wrote about Them. It was a time — perhaps the last time — before culture became commodified. And while its time in the spotlight was fleeting, it has endured and the art created by the featured artists remains as fresh and exciting, almost timeless, and is still invested with the power to provoke and disorientate, amaze and excite."
THEM runs at The Redfern Gallery from 22 January – 15 February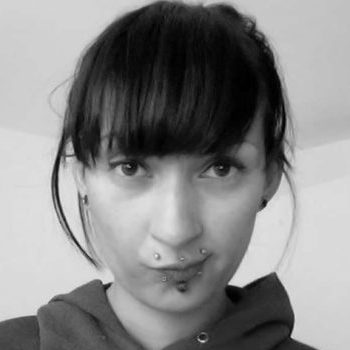 Naila Scargill is the publisher and editor of horror journal Exquisite Terror. Holding a broad editorial background, she has worked with an eclectic variety of content, ranging from film and the counterculture, to political news and finance.