[dropcap style="font-size:100px; color:#992211;"]A[/dropcap]s you will be aware music lovers, The Wedding Present have been playing a series of concert dates during 2018 to commemorate the 30th anniversary of the release of their first singles collection, Tommy.
Part 1 of this tour took place in February while Parts 2, 3, 4 & 5 were in May, June, July & October, respectively.
Part Six [of six] gives us the perfect early Christmas gift through December with support from the gifted Welsh beat combo, Melys.
11/12 : Galashiels, UK – Mac Arts with Melys
12/12 : Carlisle, UK – Old Fire Station with Melys
13/12 : Leicester, UK – Dryden Street Social with Melys
14/12 : London, UK – O2 Academy Islington with Melys
15/12 : Liverpool, UK – Arts Club [Concert moved here from 26/05 – original tickets valid] with Melys – Coincides with a screening of 'Something Left Behind'
Tommy is a compilation which gathers the band's first four singles and accompanying b-sides and adds selected tracks from two early BBC Radio 1 sessions. It was released, in July 1988, on The Wedding Present's own record label, Reception Records.
Tommy provides an overview of the The Wedding Present's frenetic output before the debut album, George Best.
Track-listing : Go Out And Get 'Em, Boy! / (The Moment Before) Everything's Spoiled Again / Once More / At The Edge Of The Sea / Living And Learning / This Boy Can Wait / You Should Always Keep In Touch With Your Friends / Felicity / What Becomes Of The Broken Hearted? / Never Said / Every Mother's Son / My Favourite Dress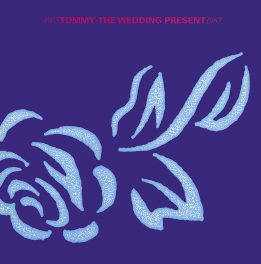 "Although it was a few years into their career before they came upon the defining idea of releasing one single a month for an entire year (brilliantly summed up on 1992's two-part Hit Parade), The Wedding Present were, from the very beginning, a singles band first and foremost. Shortly after the release of the excellent George Best, the band gathered all of their pre-LP singles and EPs onto one handy 12-track disc. Tommyis not only the definitive look at the early Wedding Present, it's one of the great albums of the mid-'80s U.K. indie scene. The speedy rush of the rhythm section and David Gedge's everyday-life lyrics and inimitable guitar style (in a scene where seemingly everyone else was mimicking Johnny Marr, Gedge's manic up-and-down strum was instantly recognizable) were so important to the development of this style of music that, without these singles, things likely would have sounded very, very different. All 12 tracks are essential indie pop but particular highlights include the definitive reading of Orange Juice's 'Felicity,' the emotional depths of 'My Favourite Dress' and the breakneck, hurtling pace of 'Go Out And Get 'Em, Boy!' This record is part of the British indie canon, every bit as historically and musically important as the Postcard label singles and The Smiths' Hatful Of Hollow". [Reviewed by AllMusic]
[youtube https://www.youtube.com/watch?v=4nAu7yRxPes&w=560&h=315]

Photographer, published poet, former party animal, body builder, grave robber
to the stars and renowned chainsaw juggler, Carl can often be spotted on his
Harley Davidson pretending to be in Terminator 2. He is also frequently seen in
the press pits of old London town, camera in hand, avoiding being hit by bottles
of wee and crippling his opposition with secret Kung Fu moves.