[dropcap style="font-size:100px; color:#992211;"]S[/dropcap]WN is the Cardiff City festival run by Huw Stephens, now in it's sixth year.
It boasts a packed schedule of brilliant bands you might want to check out, and new bands you have never heard of. Acts start around 7pm each night and it is pretty tricky trying to fit everything in.
First accidental buzz band are Kutosis. There is a massive turnout. Post-hardcore guitars and driving psychedelic garage reverb splatters across the walls, amidst mumblings and references to Devo. Next comes a dash over the alleyway to The Moon Club. Upstairs in the loft is more of a broken disco setting, metal wind fans surround the dancefloor instead of disco balls.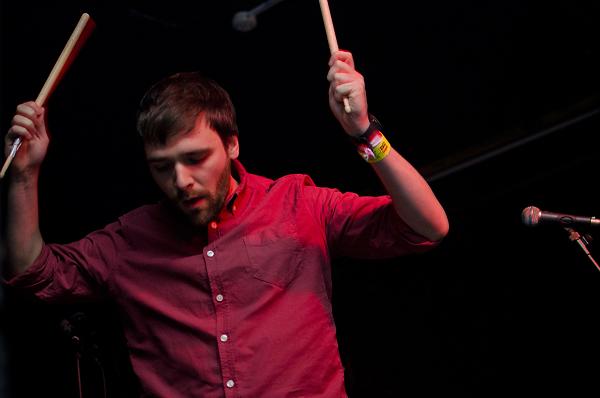 Kutosis
Withered Moustache take to the stage, broken and vulnerable, psychedelic anti-ego grunge. The feeling is honest and battered, they perform on three guitars and drums, dressed in tees, as reverb rackets form waves of harmony, cosmic and experimental. Rainbow sounds, plucky guitars, lucid vocals. We leave amidst digital beats and pattering chimes.
Back over to one of the highlights of the weekend, The Liars over at the Welsh Club. Waiting for the performance to start, the digital sounds I thought were a DJ set turn out to be the actual set, as gentle electronic sounds emanate from the speakers.  A brilliant backdrop projects images of lead singer Angus Andrews dismantling his studio and putting the guitars away. Amps are changed over and time is spent musing over a laptop computer.
Short bursts of atmospheric waves excite, industrial vibrations and slurring vocals. 'Scarecrows on a Killer Slant' starts with a more percussive angle, the reverb is still magnificent and off-kilter. Grinding basslines vibrate through our bodies. Underground post-hardcore sounds eaten up and spewed out again. Tired, authentic and knowledgeable. A certain nihilism pervades the set.
Over the alleyway again. Upstairs at the Moon club, Rangda are another pleasant surprise, essentially a Silver Apples with guitars, an atmospheric improvisational session, bright and soaring, warm mellow and woody. It is nocturnal nourishing music, avant garde and experimental guitar trance.
Outside, we catch the bus to Chapters arts centre. Upstairs we are welcomed by the warm folktronic glow of Stealing Sheep. Emily Lansley (vocals, guitar) Rebecca Hawley (vocals, keyboards), Lucy Mercer (vocals, drums) are dressed anti-fashion this evening. A giant tartan dress smothers Hawley's frame, big trousers and a flowing shirt for Emily, and Lucy wears a more pop-esque sequinned skirt. A style totally their own.
The lyrics weave poetic and lucid stories with beautiful vocal harmonies, voices that each sound quite different but perfectly enhance each other. 'Genevieve' is a lighter, more upbeat tale: a dance through a story about friendship. 'You said to me you'd like to meet me in my world in your head.' 'Paper Moon' is more experimental, and has a medieval feel to it. The vocals still coincide perfectly, 'paper moon, you're in the sky, we'll melt into the moon and we'll soak right in, drowning in its core..' the lyrics roll into one another.
Sunday
Face + Heel over at the Buffalo Bar. Dressed in a ballerina-style dress, Sinead McMillan records and plays back her vocals, whilst Luke Taylor twists knobs and pushes buttons. The feel is atmospheric electronica, Sinead's body moves effortlessly with the noise as notes fill the void. Vocals lurch forward as smooth, mellow, fuzzy dreamscapes fill the Buffalo Bar.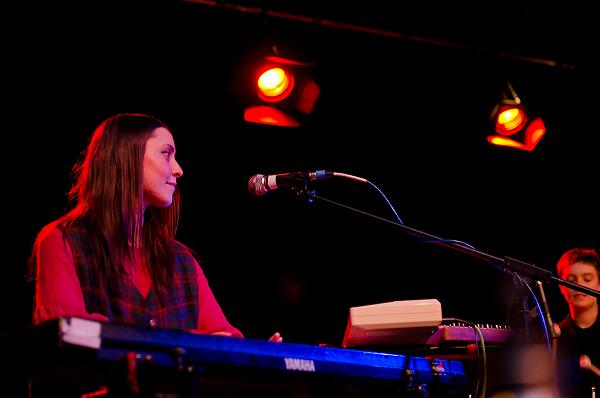 Stealing Sheep
Back to The Full Moon Club. Upstairs at The Loft, we wait for around fifteen minutes as the crowd fill the room waiting for Tall Ships.  This whimsical grunge moves like a mellow bloodbath, white noise-soaked melodies with organic backing tracks, the vocals are raw, yet still warm.
Moving through the electronic delights of live digitalism from Gallops, back to the Buffalo Bar to see the energetic guitar pounding of Splashh performing a rendition of their new single, 'Vacation'.  There is a surfy, almost laid-back Black Lips feel, vocals lovingly delivered on fuzzy warm melodies. Then over to Cold Pumas, lo-fi garage rock.
Probably the most exciting act of the weekend are Toy.  The band members stand in a row as they release an onslaught of psych-rock noise, a barrage of sound patterns are accompanied by quirky and off-kilter digital beats.  Tom Dougall wears a mahogany velvet coat, Alejandra Diez to his left pushes and melts keys with shimmering blasts of sunlight, reminiscent in many ways of Kaleidoscope and Neu!.
The sound effects work in perfection with the crunchy guitars, the rushes of noise energy are harmonious and almost violent in places. At the end they move into the prettier antics of 'Dead and Gone', played with a melancholy tinge.
A most electrifying end to the weekend before catching the last train. Best new finds for the weekend included Rangda and Withered Moustache. The already-established Toy and Stealing Sheep were pretty awesome too!  A brilliant little festival. Lots going in on, all within a stone's throw.
Photos: Matt Evans
[button link="http://www.swnfest.com/" newwindow="yes"] SWN Festival[/button]