It is a rare occasion when one encounters a Minnie Mouse doll and is simultaneously delighted and extremely disturbed. Welcome to Delaine Le Bas's Witchunt: a riot of joyful colour and texture, with an unsettlingly dark undercurrent.
Walking into Cambell Works, everyone smiles. The two rooms are full of intricately stitched and woven tapestries and mannequins dressed in bright silks and sequins. Like the costume cupboard for a Bollywood epic or Rosie and Jim's birthplace. Where not adorned with swathes of fabric, the walls are covered in what at first appear to be random scribbling in red and black, perhaps notes for a novel or some harmless poetry?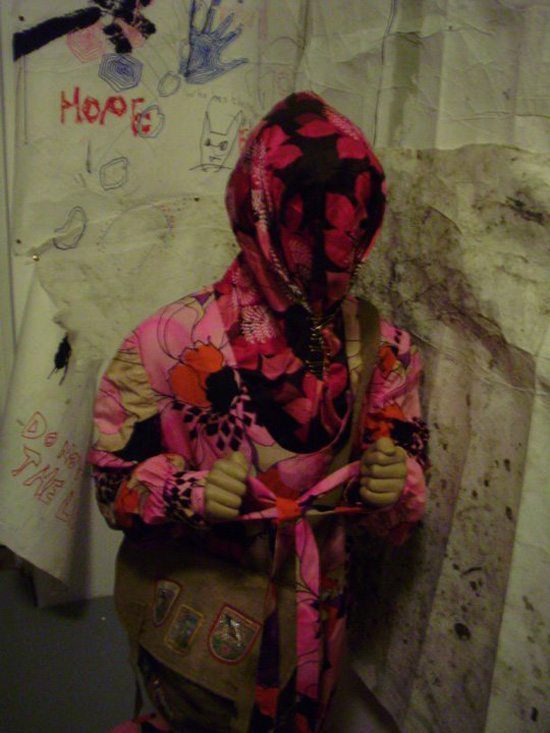 Things Are Not Always What They Seem, My Child…
As we step closer to each intricate piece, a feeling of trepidation arises, and these harmless scrawls and figures and toys transform. So childishly inviting with their candy colours, elements of the alluring collage reveal a sinister message. Dresses turn out to have sewn up hoods to silence mannequins, dolls are splattered with suggestive red paint, medieval prints of etchings depict witch burnings, and in one corner a doll sits on a rocking horse, its head lolling in guillotine.
In a kind of makeshift holy tent in one room sits a beautiful altarpiece comprised of a faceless patchwork Madonna, surrounded by her plastic children. She sits underneath the oppressive image of Control or Society (actually Action Man on a duvet cover). The scrawlings on the wall scream statements of fear and oppression, calling for human rights and tolerance.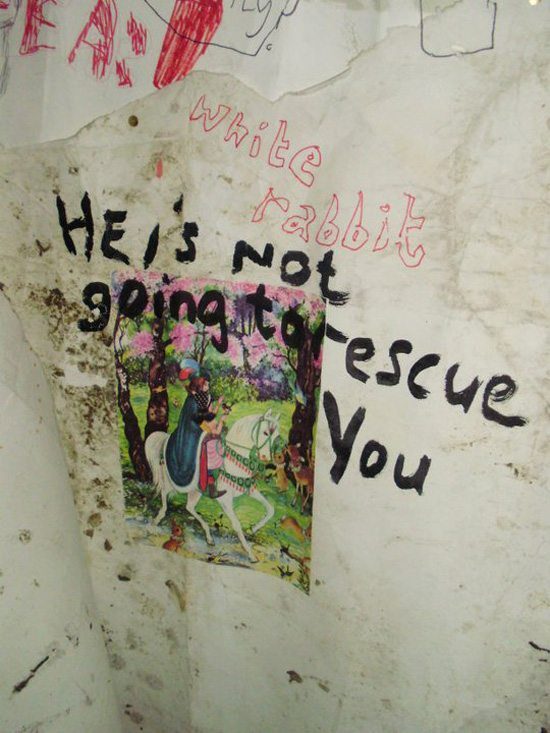 Beautiful Politics
These are universal themes of religious strife, racial and sexual inequality, the need for human compassion. These are things artists are forever depicting, often in the most horrific of ways (think about the AIDS-related work of the 80s). What Delaine Le Bas manages to do is show how these issues can not only be downplayed and skipped over using commercialisation and glossy altered images in the media, but also how these same constructs can be used to invite people back into the debate. Her works entices people into thinking seriously, rather than horrifying them. Craig Baldwin once managed this with his anti-USA-propaganda film Tribulation 99 that used the brainwashing rapid image techniques of the news to alert people to that very method.
Whilst I read these general themes in the work, the ongoing piece does in fact have a loose base in the presentation in our society of the Romany Gypsy as Other, much as a witch was. De Bas, who trained in fashion and textiles, sees the piece rather than one simple statement, as part self portrait, part evocation of the structures within structures that create control, fear and prejudice in society. In this she succeeds.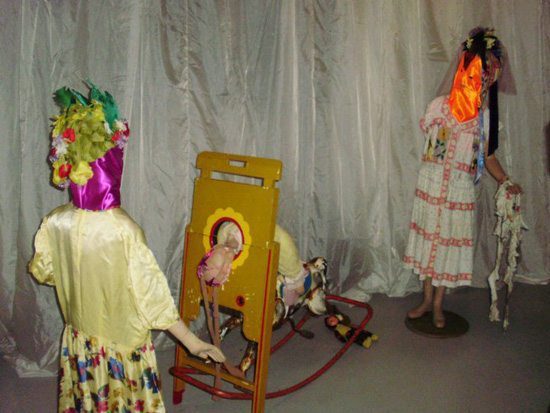 Sigh.
But then, there was an 'innovative performance'. Oh dear. We were sent out of one room for 15 minutes whilst Delaine and the two other performers prepared. We were ushered back in to crouch at the entrance to the tent/temple where she lay on the floor with tights on her head in front of the Madonna, flanked by two masked men holding a flag. She sat up, played a Gypsy song on a radio, and ripped the tights off her face and arms, and then grabbed a tiny tambourine and left the room. The audience, so disbelieving that that was all we were in for (I mean, really, come on), sat and stared at the two men for a excruciating 90 seconds in silence. Eventually one of them said 'er… that's it', and we all applauded. I'm not even going to bother dismantling the meanings and metaphors that were doubtless meant to be there.
As quickly as possible we all shoved that pointless blip in the evening out of our minds and went back to admiring the sumptuous subtlety of the shrine we were standing in. And as we poured out into the dark industrial street later on the juxtaposition of beauty and politics came with us. However for some reason tights now make me angry. Maybe that was what the 'performance' was all about. Maybe she just hates tights. Who knows. Despite this I look forward to one day perhaps seeing what this ever growing work has become, and I hope her message has been heard.
Exhibition dates: 21st January 2011 – 13th February 2011
Thur – Sun 12.00 – 6.00pm or by appointment

Closing event: 11th February 6 – 9pm
Book Launch and Film premier of 'Chanctonbury Ravens', with Delaine Le Bas, and readings by Damain James

Rread more by Rebecca Collins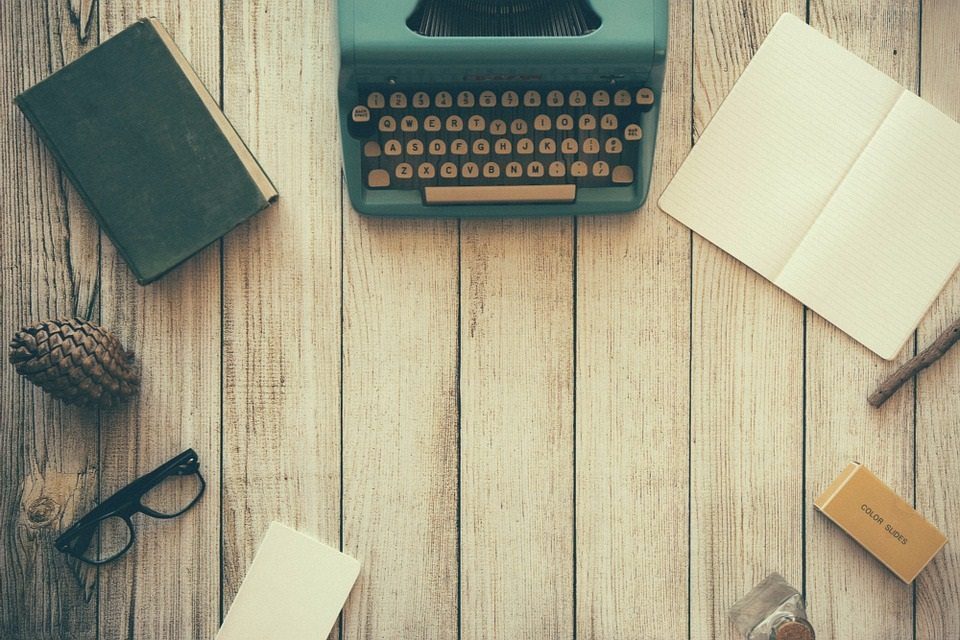 The aim of art is to represent not the outward appearance of things, but their inward significance. – Aristotle